Poetry
Welcome to Poetryclass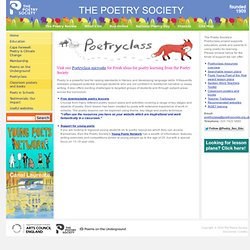 The Highwayman-Part 2
The Magic Box
The Door
'Twas brillig, and the slithy toves Did gyre and gimble in the wabe; All mimsy were the borogoves, And the mome raths outgrabe. "Beware the Jabberwock, my son The jaws that bite, the claws that catch! Beware the Jubjub bird, and shun The frumious Bandersnatch!"
Jabberwocky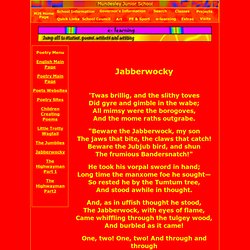 Little Trotty Wagtail Little trotty wagtail he went in the rain, And tittering, tottering sideways he neer got straight again, He stooped to get a worm, and looked up to get a fly, And then he flew away ere his feathers they were dry. Little trotty wagtail, he waddled in the mud, And left his little footmarks, trample where he would.
The Little Trotty Wagtail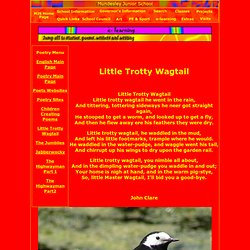 I They went to sea in a Sieve, they did, In a Sieve they went to sea: In spite of all their friends could say, On a winter's morn, on a stormy day, In a Sieve they went to sea!
The Jumblies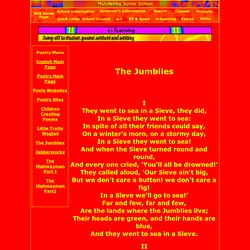 The Highwayman-Part 1
Welcome to Brian Patten's official website
Carol Ann Duffy : Sheer Poetry
extract from A FINE ROMANCE Excuse me darling, in advance for the slow, macabre dance I may one day lead you into.
Roger McGough - Home
:: Michael Rosen - The Website ::
Can I Have A Word?
BBC - Arts - Poetry - On Display
BBC - Arts - Poetry
Children's Poetry Bookshelf: Home Page
The Children's Poets - Children's Poetry Archive