Projet community free words
Média - L'intelligence artificielle et les jeux vidéo. Les jeux vidéo font largement appel à l'intelligence artificielle pour gérer l'interaction entre le jeu et le joueur.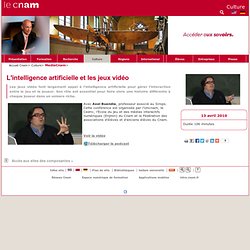 Son rôle est essentiel pour faire vivre une histoire différente à chaque joueur dans un univers riche. Avec Axel Buendia, professeur associé au Sirops.Cette conférence est organisée par l'Unicnam, le Cedric, l'Ecole du jeu et des médias interactifs numériques (Enjmin) du Cnam et la Fédération des associations d'élèves et d'anciens élèves du Cnam.Voir la vidéo Télécharger le podcast. Digital Journalism » Page » Auteurs. Lancé initialement par les auteurs de BD, un mouvement plus large des auteurs semble en train de décoller, avec l'Appel du numérique des écrivains et illustrateurs de livres.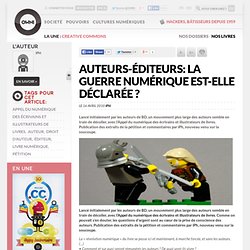 Publication des extraits de la pétition et commentaires par iPh, nouveau venu sur la soucoupe. Photo CC Flickr Ricecracker. Les 5000 trucs et Astuces informatiques de Michel.powerpoint Intégrer une animation Flash dans une diapositive sous powerpoint 2003. Open Source PageFlip. MegaZine3 recreates the look and feel of actual books or magazines on the screen.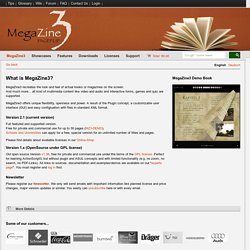 And much more... all kind of multimedia content like video and audio and interactive forms, games and quiz are supported. MegaZine3 offers unique flexibility, openness and power. A result of the Plugin concept, a csutomizable user interface (GUI) and easy configruation with files in standard XML format. Version 2.1 (current version) Full featured and supported version.Free for private and commercial use for up to 30 pages (MZ3-DEMO).Schools and Universities can apply for a free, special version for an unlimited number of titles and pages. Newsworthy. Quel avenir pour le "media on demand" ? Les journaux italiens perdent annonceurs - Façonner l'avenir du blog quotidien.
The Italian advertising sector grew 3.8 percent in the first five months of the year, according to a Nielsen report.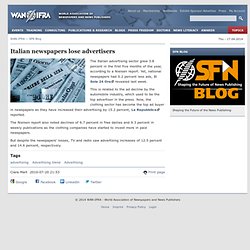 Yet, national newspapers had 0.2 percent less ads, Il Sole 24 Ore revealed last week. This is related to the ad decline by the automobile industry, which used to be the top advertiser in the press. Et si l'on créait, tous ensemble, un livre collectif? - Tittine sur LePost.fr. Web 20/07/2010 à 10h03 - mis à jour le 20/07/2010 à 20h29 | vues | réactions Que diriez-vous d'une aventure collective ?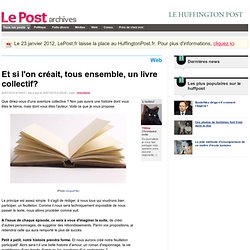 Non pas suivre une histoire dont vous êtes le héros, mais dont vous êtes l'auteur. Voilà ce que je vous propose. (Photo morgueFile) Libera Informazione. Journalisme: enjeux, avenir, débats. Italy. Avenir journalisme.
Astuces
Dissertation research - online news. Julian Assange : le dénonciateur | Médias. Everything about this is odd.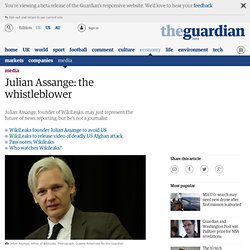 Julian Assange, the founder, director, frontman, guiding spirit of global whistleblowing service WikiLeaks looks a bit odd for a start. Tall, cadaverous, dressed in ripped jeans, brown jacket, black tie, battered trainers. Somebody says he looks like Andy Warhol with his prematurely white hair, but I can't remember who, which will bother the hell out of him because accuracy is everything. He detests subjectivity in journalism; I fear that part of him detests journalists, too, and that WikiLeaks – which describes itself as an "uncensorable system for untraceable mass document leaking" – is essentially a way of cutting out subjectivist idiots such as me.
Outils Froids. Pearltrees. Around pearltrees.
---