Mobile
It's becoming a mobile-first world. In the last day, I've gotten two notes from start-ups that began on the web but have seen their businesses transformed by mobile, as users increasingly shift their consumption to mobile apps and browsers.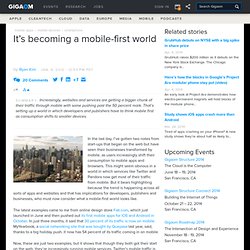 This might seem obvious in a world in which services like Twitter and Pandora now get most of their traffic from mobile. But it bears highlighting because the trend is happening across all sorts of apps and websites and that has implications for developers, publishers and businesses, who must now consider what a mobile-first world looks like. The latest examples came to me from online design store Fab.com, which just launched in June and then pushed out its first mobile apps for iOS and Android in October.
In Europe, Apple iOS Ecosystem Twice the Size of Android When Accounting for Mobile Phones, Tablets and Other Connected Media Devices. April 21, 2011 In Europe, Apple iOS Ecosystem Twice the Size of Android When Accounting for Mobile Phones, Tablets and Other Connected Media Devices comScore Releases First European Data on Media Tablet Users from MobiLens Service London, UK, 21 April, 2011 – comScore, Inc.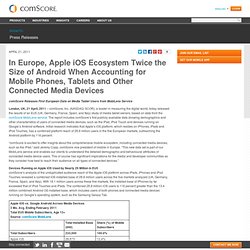 (NASDAQ: SCOR), a leader in measuring the digital world, today released the results of an EU5 (UK, Germany, France, Spain, and Italy) study of media tablet owners, based on data from the comScore MobiLens service. The report includes comScore's first publicly available data showing demographics and other characteristics of users of connected media devices, such as the iPad, iPod Touch and devices running on Google's Android software. StatCounter Global Stats - Browser, OS, Search Engine including Mobile Market Share. 1 in 4 iPhone and Android Users Plan to Buy a Car in Next Year and 78% Will Use a Mobile Device in the Search and Purchase Process. Over a quarter of iPhone, iPod Touch and Android users plan to buy a car in the next year – and 78 percent will use their mobile device to facilitate the process, according to findings from a recent study Greystripe sponsored.
During Q4 2010 and Q1 2011, we conducted an exploration of our touch device users, focusing on auto purchasing and mobile's role in the auto purchasing process. We also measured consumer sentiment around types of cars that are being considered for purchase. According to the survey, 15.6 percent of users are looking to buy a new car in the next year and an additional 10.4 percent of users are looking to buy a used car in the next year, for a total of 26 percent of users in the market for a car in the next 12 months. The auto industry understands that touch device users are a strategically valuable consumer base. Americans prefer to email on the go, social network at home. We do like a pretty chart around here, and these latest ones from Nielsen are positively gorgeous.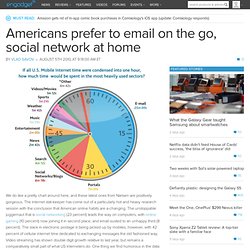 The internet stat-keeper has come out of a particularly hot and heavy research session with the conclusion that American online habits are a-changing. The unstoppable juggernaut that is social networking (23 percent) leads the way on computers, with online gaming (10 percent) now joining it in second place, and email ousted to an unhappy third (8 percent). The slack in electronic postage is being picked up by mobiles, however, with 42 percent of cellular internet time dedicated to exchanging messages the old fashioned way. Global mobile statistics 2011: all quality mobile marketing research, mobile Web stats, subscribers, ad revenue, usage, trends… The mobiThinking compendium of mobile statistics and research The stats, all the stats and nothing but the stats… In the past three years, we have gone from a smattering of mobile statistics to an abundance of useful information.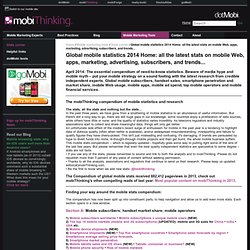 But there's still a long way to go, there are still huge gaps in our knowledge, some countries enjoy a proliferation of data sources, while others have little or none; and the quality of statistics varies incredibly. As telecoms regulators and industry associations start to collect and share meaningful data, things will only get better. An unfortunate side effect of the media's recent surge of enthusiasm for mobile in the past year is a tendency to highlight data of dubious quality (often when better is available), and/or widespread misunderstanding, misreporting and failure to qualify figures they have cherry-picked. This isn't just misleading and confusing, it's damaging.
Mobile gaming in Japan: A different world. From time to time I like to drop in on What Japan Thinks, a website that translates into English an enormous number of market research studies conducted in Japan.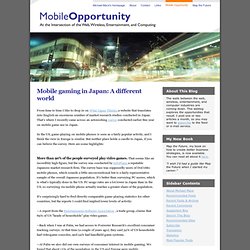 That's where I recently came across an astonishing survey conducted earlier this year on mobile game use in Japan. In the US, game-playing on mobile phones is seen as a fairly popular activity, and I think the view in Europe is similar. But neither place holds a candle to Japan, if you can believe the survey. Global mobile statistics 2011: all quality mobile marketing research, mobile Web stats, subscribers, ad revenue, usage, trends… The essential compendium of need-to-know statistics.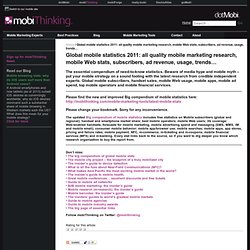 Beware of media hype and mobile myth – put your mobile strategy on a sound footing with the latest research from credible independent experts. Global mobile subscribers, handset sales, mobile Web usage, mobile apps, mobile ad spend, top mobile operators and mobile financial services. Please find the new and improved Big compendium of mobile statistics here: Please change your bookmark.
Sorry for any inconvenience.
---