Methodologies
Get flash to fully experience Pearltrees
Si vous avez le projet de vous engager sur les médias sociaux , voici un exemple de cahier des charges à personnaliser pour choisir l'agence qui pourra vous accompagner. Il est recommandé de lancer un appel d'offres en sollicitant plusieurs agences , que vous pouvez identifier en vous appuyant par exemple sur ma sélection d'agences 2.0 . Avant de rentrer dans le vif du sujet, j'attire votre attention sur un point capital. Dans une étude de Waggener Edstrom Worldwide (repérée chez DocNews ), j'ai lu avec inquiétude que « plus de la moitié des directeurs de la communication se prononcent en faveur de l'externalisation des fonctions relatives aux nouveaux médias…» S'il est souvent indispensable de se faire accompagner par une agence sur un terrain en perpétuelle ébullition, il est tout aussi important que l'entreprise s'implique à travers ses collaborateurs.
Communication design is a mixed discipline between design and information-development which is concerned with how media intermission such as printed , crafted , electronic media or presentations communicate with people. A communication design approach is not only concerned with developing the message aside from the aesthetics in media, but also with creating new media channels to ensure the message reaches the target audience. Some designers use graphic design and communication design interchangeably.
Experience maps have become more prominent over the past few years, largely because companies are realizing the interconnectedness of the cross-channel experience. It's becoming increasingly useful to gain insight in order to orchestrate service touchpoints over time and space. But I still see a dearth of quality references. When someone asks me for examples, the only good one I can reference is nForm's published nearly two years ago.
Lorsque l'on aborde l'Open Innovation à travers le prisme de la collaboration avec les utilisateurs, les critiques et rejets de l'approche sont fréquents et parfois virulents . Ainsi les membres de l'équipe Design d'Apple ont déclarés : « Nous ne perdons pas notre temps à interroger les utilisateurs via une méthode construite pour donner aux managers fragiles un faux sentiment de sécurité.». De la même façon, au sein d'IKEA « L'entreprise montre aux gens la voie » et non pas l'inverse. Au delà de ces positionnements tranchés le sentiment général qui peut transparaitre est finalement que ce type d'approche ne peut en aucun cas permettre l'innovation de rupture. Tout au plus l'utilisateur devrait être sollicité durant les phases avancées pour « lisser » un service ou un produit.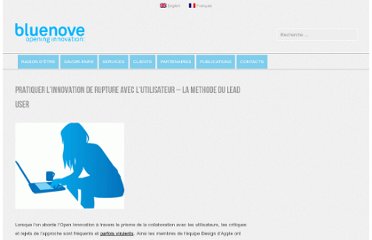 Next Media Strategy Will Be Multiscreen Content Development by Jeremiah McMillan , Wednesday, July 20, 2011 The recent demise of another premium and studio-backed producer of original Web series and entertainment content — NBC Universal Digital Studios — shows two main problems that exist with a Web -only strategy. First, executives at digital studio within the studio system often have advertising or marketing experience, but sometimes little experience with creative content, TV production and leading a content strategy across platforms. Second, there's a problem with the emphasis on original stand-alone content for online audiences only. The benefit of a "real content" strategy when approaching digital platforms.