Browser compatibility
IE Collection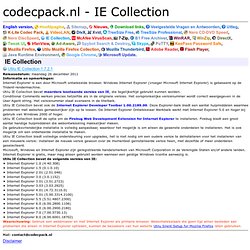 Releasedatum: maandag 26 december 2011 Informatie en opmerkingen: Internet Explorer is een door Microsoft ontwikkelde browser.
Get started today
Pricing - Litmus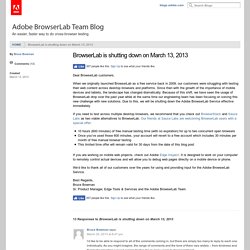 Dear BrowserLab customers, When we originally launched BrowserLab as a free service back in 2009, our customers were struggling with testing their web content across desktop browsers and platforms. Since then with the growth of the importance of mobile devices and tablets, the landscape has changed dramatically. Because of this shift, we have seen the usage of BrowserLab drop over the past year while at the same time our engineering team has been focusing on solving this new challenge with new solutions. Due to this, we will be shutting down the Adobe BrowserLab Service effective immediately.
Screen capture and Remote Access service for cross platform compatibility testing and HTML design quality assurance.