Librillos
Cosecha de Agua y Tierra
LIBROS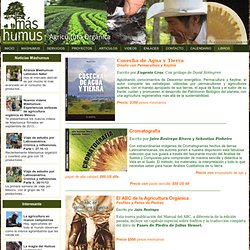 Bread Matters: Why and How to Make Your Own: Amazon.co.uk: Andrew Whitley
Ediciones anteriores
Técnicas rompedoras utilizadas por los mejores chefs del mundo "El libro más importante en las artes culinarias desde Escoffier." —Tim Zagat Una revolución está en marcha en el arte de la cocina.
Modernist Cuisine. El arte y la ciencia de la cocina. Libros TASCHEN (XL-Format)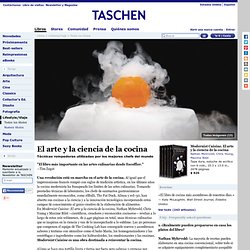 Welcome to Calliope, an electronic publication dedicated to promoting the creative endeavors of the online community.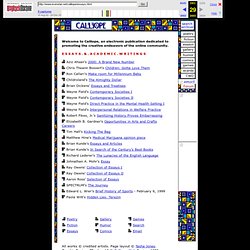 Calliope - Essays and Academic Writings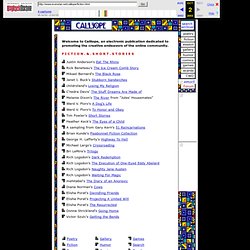 Welcome to Calliope, an electronic publication dedicated to promoting the creative endeavors of the online community.
Calliope - Fiction Selections
Bienvenidos a Las Cañadas
Sustainable Living at Melliodora Hepburn Permaculture Gardens : A Case Study in Cool Climate Permaculture 1985-1995 David Holmgren, 1995, Holmgren Design Services, inglés Este libro fue escrito dentro de la propiedad que describe - es también una especie de autobiografía del co-originador del concepto de la permacultura. Se redactó durante un periodo de cinco años, mientras se estaba desarrollando la propiedad, hoy uno de los mejores ejemplos de permacultura aplicada en Australia. Una obra ideal para qualquier persona interesada en la vida sostenible, ofrece tanto los aspectos prácticos como también una buena dosis del pensamiento holístico de Holmgren.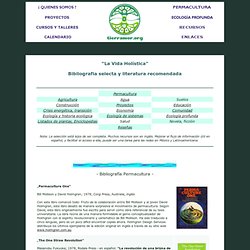 Bibliografía (pag. 1) - Literatura recomendada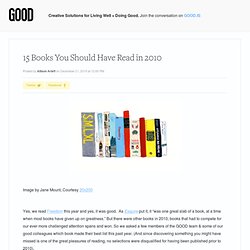 Image by Jane Mount, Courtesy 20x 200
19th Century British and Irish Authors
libros
Quizás opacada por sus disidencias con los intelectuales mexicanos y en particular por la inmensa sombra de Octavio Paz, quien fuera su esposo, Elena Garro construyó una importante obra en el exilio, cuyas marcas, precisamente, asoman en estos cuentos de mujeres errantes, persecuciones y fugas. Nacida en Puebla en 1920, Elena Garro se inició en la literatura en la capital de su país y, muy joven, se casó con Octavio Paz. Del viaje que hiciera con su famosísimo marido quedó el relato testimonial Memorias en España, 1937. Desavenencias con otros intelectuales mexicanos le valieron un rechazo que la empujó a un exilio hacia Estados Unidos, Francia y España. Una notable obra –novela, teatro cuento, testimonio– la ubica en un lugar relevante en la literatura mexicana y continental, sin embargo, la calidad de sus textos no fue pareja con el reconocimiento, quizá debido a la sombra imperiosa de Octavio Paz.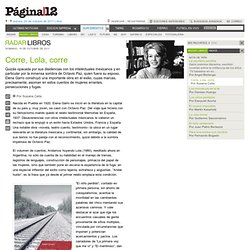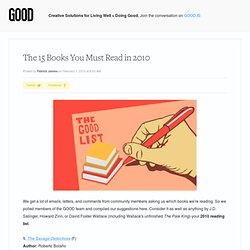 We get a lot of emails, letters, and comments from community members asking us which books we're reading.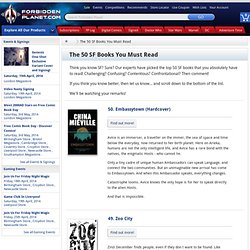 11. Ringworld Pierson's puppeteers, strange, three-legged, two-headed aliens, have discovered an immense structure in a hitherto unexplored part of the universe. Frightened of meeting the builders of such a structure, the puppeteers set about assembling a team consisting of two humans, a puppeteer and a kzin, an alien not unlike an eight-foot-tall, red-furred cat, to explore it. The artefact is a vast circular ribbon of matter, some 180 million miles across, with a sun at its centre - the Ringworld. But the expedition goes disastrously wrong when the ship crashlands and its motley crew faces a trek across thousands of miles of the Ringworld's surface.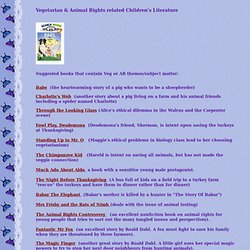 Vegetarian & Animal Rights related Children's Literature Suggested books that contain Veg or AR themes/subject matter: Babe (the heartwarming story of a pig who wants to be a sheepherder)
Veg/AR Children's Literature
2011 septiembre
"Gracias, Jeeves", publicada en 1934, es otra novela de la serie dedicada por el escritor inglés Pelham G. Wodehouse a sus entrañables personajes Bertie Wooster y su mayordomo Jeeves. En esta ocasión, Bertie está firmemente decidido a tocar el banjo pero esto le trae más de un problema. El incomprendido "artista" es desalojado de su casa por el administrador de su edificio, porque ni él ni sus vecinos aguantan un minuto más que les destroce los oídos con su horrible manera de tocar el instrumento.