Blog
20 Websites That Will Make You A Better Blogger | Make Money Online. Hello Everyone, Everyone has to constantly educate themselves to keep ahead of the game and to improve their business, because of this I decided to share with you the 20 resources I use to learn, improve and get inspired.
There are 1000's of blogs that talk about blogging and internet entrepreneurship but to be honest, a lot are doing it completely wrong and quite a lot are teaching out of date information that will only slow down your chances of becoming a top blogger. Websites Teaching Blogging: The Hedonistic Pleasureseeker. E! Science News. Reality Sandwich. Hack a Day. A Hole in the Head. A Hole in the Head 45 years of accumulation -- musical finds, ephemera, soul searching, hilarity ensuing random thoughts.
Wednesday, January 23, 2008. How to Avoid the 10 Worst Energy Zappers - Dumb Little Man. Lack of SleepDuh, right?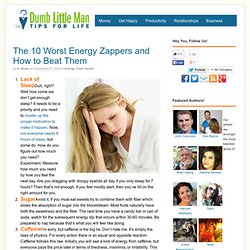 Well how come we don't get enough sleep? It needs to be a priority and you need to muster up the proper motivation to make it happen. Now, not everyone needs 8 hours of sleep, but some do. How do you figure out how much you need? Experiment. WebGyver - Wen development blog w/ great graphics. Pink Tentacle. TechEBlog. The Simple Dollar. Spotplex.com :: Find most visited blog articles today! 7 Reasons the 21st Century is Making You Miserable.
---