Street art
GRAFF - Que se passe-t-il lorsque des graffeurs disposent d'un espace entier dans lequel exercer leur art en toute liberté ? Vous pouvez découvrir le résultat dans la vidéo ci-dessus. Le film, d'une durée de cinq minutes, suit le processus créatif des graffeurs SOFLES, Fintan Magee, Treas et Quench sur un fond de dubstep.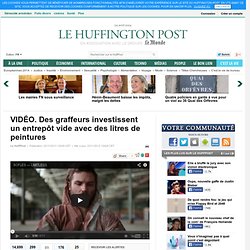 VIDÉO. Des graffeurs investissent un entrepôt vide avec des litres de peintures
Ptib - Paris - La to...
STREET ART
Episode 1 | Le Squelette
Back to videos Episode 1 | Le Squelette EPISODE 01 | LE SQUELETTE (Skeleton) (Paris) | NOVEMBER 24th| Subtitles : English In this first part we will meet with a parisian artist known on the streets as Squelette (Skeleton) . Interview, live painting and road trip are on the menu of this new rendez-vous with street and underground culture. EPISODE 01 | LE SQUELETTE (Paris) | LE 24 NOVEMBRE | Subtitles : English Dans ce premier volet , ce sera l'occasion de rencontrer un artiste parisien, connu sur les sols de la capitale sous le nom du Squelette.
Photos De Street Art
Vu dans la rue
Extrait Streetosphere Paris - ThomThom on Vimeo
Favela Painting
Photos De Street Art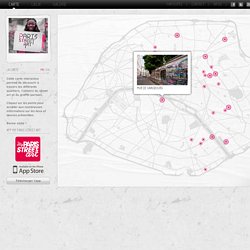 Cette carte interactive permet de découvrir à travers les différents quartiers, l'univers du street art et du graffiti parisien. Cliquez sur les points pour accéder aux nombreuses informations sur les lieux et œuvres présentées. Bonne visite ! This interactive map enables anyone to discover the universe of Paris' street art and graffiti, in many of its neighborhoods. Click on the dots to have access to plenty of information on the places and works presented. Have a nice visit!
Galleries / Street Art