Typographie
Dans un monde où les outils et supports de communication connaissent d'incessants changements, la typographie demeure la base inébranlable de la création graphique. Elle continue cependant d'évoluer grâce en particulier à des designers graphiques qui, par leur réinterprétation des formes anciennes, façonnent des créations hybrides au pouvoir puissamment évocateur. C'est à l'analyse de ce style "vintage" que s'attache ce livre, style dont la caractéristique principale est de se réapproprier des caractères conçus dans un passé plus ou moins lointain afin d'en exploiter ou d'en détourner la charge expressive. Les cinq chapitres qui composent Typographie vintage concernent chacun un moment précis de l'histoire de la typographie ; ils décrivent ainsi les réalisations graphiques s'inspirant successivement de l'époque victorienne, de l'ère des caractères en bois, du style Art Déco, du modernisme et des formes excentriques du XXe siècle.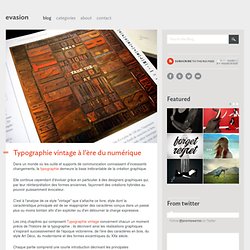 Typographie vintage à l'ère du numérique - Magazines / Livres
a collection of 1500+ Fonts to download @ ShockBlast - inspire yourself.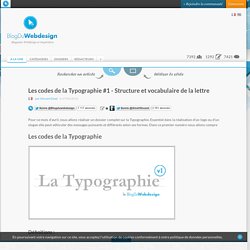 by Ginet Vincent - le 07/04/2010 Définitions : Caractère : Désigne une lettre. On l'emploie également pour désigner un alphabet complet Police de caractère : Ensemble complet des signes typologiques (lettres minuscules,chiffres et lettres capitales) de même style et de même graisse.
35 Fresh FreeFonts for Designers and Developers | Fonts
It's essential for Designers to have a good understanding of typography and selection as the importance of typography in design can't be neglected. The proper selection of typography can convert your normal design into attractive piece of art.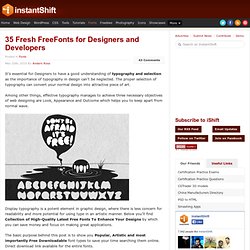 20 Beautiful High Quality Fonts for Your Design
Home » Resources » 20 Beautiful High Quality Fonts for Your Design
Apprendre les bases de la typographie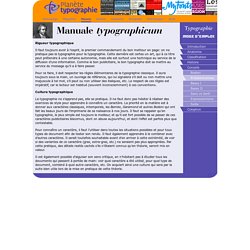 Rigueur typographique Il faut toujours avoir à l'esprit, le premier commandement du bon metteur en page: on ne pratique pas la typographie pour la typographie. Cette dernière est certes un art, qui à ce titre peut prétendre à une certaine autonomie, mais elle est surtout une technique au service de la diffusion d'une information.
Préléminaires typographiques
CONCEPTION EDITORIALE - - - 01. La typographie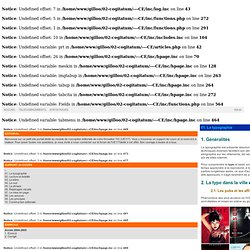 Notice: Undefined offset: 7 in /home/www/gilloo/02-cogitatum/---CE/inc/log.inc on line 43 Notice: Undefined offset: 5 in /home/www/gilloo/02-cogitatum/---CE/inc/functions.php on line 272
Le projet Creative Commons a été initié en 2001, à la Stanford Law School Center for Internet and Society (université de Stanford), sous l'impulsion de diverses personnalités dont la plus emblématique est sans doute Lawrence Lessig, spécialiste incontesté du droit sur Internet et défenseur de la liberté du Web contre les multinationales qui souhaitent s'en emparer...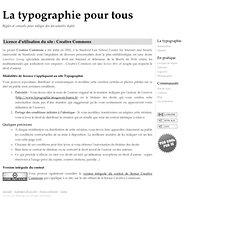 La typographie, site sous licence Creative Commons
Blue Vinyl Fonts
ps.2 arquitetura + design - ps.2 Annual Gift: Game - Self-Promotional Gift
Helvetica Experiments on Typography Served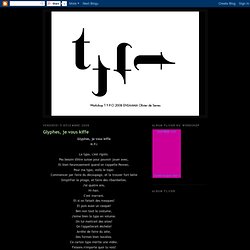 Workshop t·y·p·o 2008
Glyphes, je vous kiffe M.P.c La typo, c'est rigolo. Pas besoin d'être suisse pour pouvoir jouer avec, Et bien heureusement quand on s'appelle Pennec. Pour ma typo, voilà le topo:
BoucléBouclé is a monoline decorative typeface family of three subfamilies - Plain, Round and Loopy.
Bouclé Typeface on Typography Served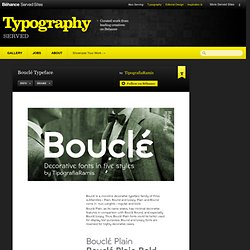 Type Trumps | Work | Face37
type foundry: Playing card deck 2008
type specimen playing cards
Silvia H. González (Buenos Aires, Argentina, 1953) graduated with the degree in Visual Communications Design from the National University of La Plata, Argentina.
Card Game: Typography and System
Futura on the Behance Network
Dovde™ on the Behance Network
Tapeography on the Behance Network
Quad™ on the Behance Network
Official Classic Art Prints - Shop Canvas and Framed Wall Art by Official Classic
Narani Kannan on the Behance Network
Body Type on the Behance Network
Typography on the Behance Network
Ogaki typeface on the Behance Network
ONTHEFONT on the Behance Network