Intelligence collective
Thèse - Les pratiques du socialbookmarking dans le domaine de l'
Par Rémi Sussan le 01/12/10 | 15 commentaires | 4,393 lectures | Impression Qu'entend-on généralement par "intelligence collective" ? Pour le monde du web, la messe est dite : c'est le produit émergent de l'interaction entre plusieurs milliers, voire millions d'individus, certains ne partageant avec les autres qu'une quantité minimale de leur réflexion (c'est la théorie du surplus cognitif chère à Clay Shirky, comme il l'a développe dans on livre éponyme ou chez TED).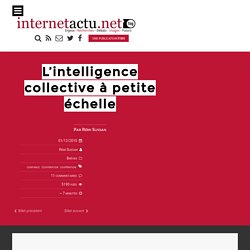 FACE à l'irruption des nouvelles technologies de la communication et de l'information, certains penseurs mettent en garde contre les dérives et les dangers que cela suppose pour la démocratie. D'autres, comme l'auteur de l'article ci-dessous, y voient, au contraire, l'occasion d'un nouvel élan pour la participation civique des citoyens. Sa thèse, en particulier, de « l'intelligence collective » est séduisante qui annonce, grâce aux performances du multimédia, une nouvelle étape du projet républicain garantissant « l'accès de tous au savoir ». par Pierre Lévy, octobre 1995 Aperçu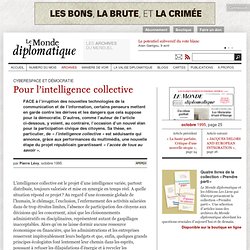 From Handbook of Collective Intelligence Handbook of Collective Intelligence Welcome! Terms and conditions. Please see following section on using and contributing to this handbook.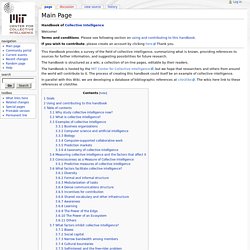 Center for Collective Intelligence
L'esprit wiki : intelligence collective, Wikimedia et wikis de territoire