Ideas
Top 40 Useful Sites To Learn New Skills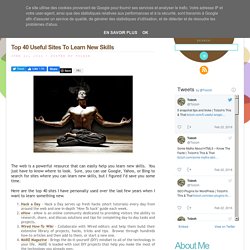 The web is a powerful resource that can easily help you learn new skills. You just have to know where to look. Sure, you can use Google, Yahoo, or Bing to search for sites where you can learn new skills , but I figured I'd save you some time. Here are the top 40 sites I have personally used over the last few years when I want to learn something new.
post written by: Marc Chernoff Email All education is self-education.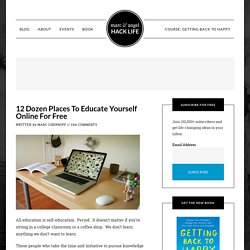 12 Dozen Places To Educate Yourself Online For Free
Get inspired. Get motivated. Practice. Improve your drawing skills!
How to Develop a Photographic Memory
Robot For President YouTube - Hitler Banned From iSketch!Content Aware Image Resizing (found by J-Roen)SeaDragon @ TEDThe Bad Signage PoolDice StackingFantoche (2 times)RENT - online auditionsPolo without the horse3d motion portraitFruit VesselMonkey Loves PigeonJessica the Pet Hippo (found by Julia)Treadmill MadnessBending LightSleeping Concert In SpainPartial Face TransplantsCop riding Segway runs down suspectcolor matching coffee cupSão Paulo No Logosuper fun happy slide Daft HandsCrowd FarmzZzBabies Eating LemonsType the SkyScreaming BeansVisible Only Through a Digital CameraWalk it Out (found by Lauren)Inmate ThrillerThe Moment the Tallest Man Met the Shortest ManDavid Shrigley Music VideoBrain CloudPictures at Right Angles (found by Doodles)The New Internet HeroLaughing Yoga 2Jed MovieThe WindApneeTypography ToysLetter of the Day (found by Paul Drew)Origins of Punctuation Marks
Exciting Links for Boring Days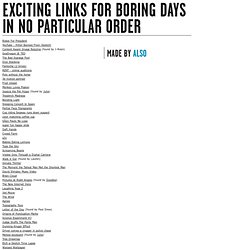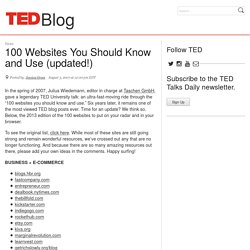 Entertainment Meet David Peterson, who developed Dothraki for Game of Thrones There are seven different words in Dothraki for striking another person with a sword.
100 Websites You Should Know and Use
Brain Pickings
By: Maria Popova "Through our scopes, we see ourselves. Every new lens is also a new mirror." Given my longtime fascination with the so-termed digital humanities and with data visualization, and my occasional dabbles in the intersection of the two, I've followed the work of data scholars Erez Aiden and Jean-Baptiste Michel with intense interest since its public beginnings. Now, they have collected and contextualized their findings in the compelling Uncharted: Big Data as a Lens on Human Culture (public library) — a stimulating record of their seven-year quest to quantify cultural change through the dual lens of history and digital data by analyzing the contents of the 30,000 books digitized by Google, using Google's Ngram viewer tool to explore how the usage frequency of specific words changes over time and what that might reveal about corresponding shifts in our cultural values and beliefs about economics, politics, health, science, the arts, and more.
The RSA: meeting 21st century challenges by showcasing ideas, undertaking innovative research and building civic capacity around the world. To learn more about the RSA, visit: thersa.org Our events are made possible with the support of our Fellowship. Support us by donating or applying to become a Fellow. Download the podcasts to listen to events in full (unedited versions available including Q&A sessions) thersa.org/events/audio-and-past-events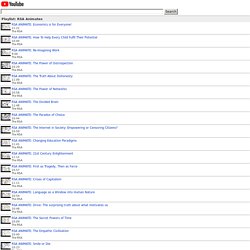 RSA Animates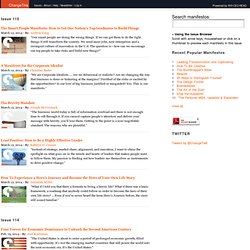 We're on a mission to spread important ideas and change minds.
Issue 112 The HUMAN Brand: How We Relate to People, Products and Companies Dec. 20, 2013 - By: Chris Malone "Warmth and competence are the universal foundation for all human behavior and relationships.
So…I saw your tweet. You're "bored"? I am…absolutely floored. Hopelessly lost in admiration!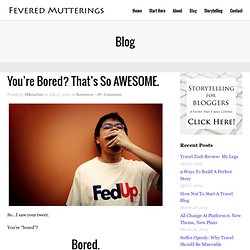 You're Bored? That's So AWESOME.
50 Most Influential Books of the Last 50 (or so) Years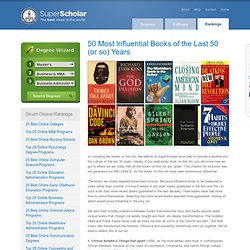 In compiling the books on this list, the editors at SuperScholar have tried to provide a window into the culture of the last 50 years. Ideally, if you read every book on this list, you will know how we got to where we are today. Not all the books on this list are "great."
SExpand Back in August, we told you about a free course on artificial intelligence being offered by Stanford University, and co-taught by two world-renowned AI experts. The class officially started today, so if you managed to register for it on time, then good on you. But if you didn't manage to register for the course in time, fear not.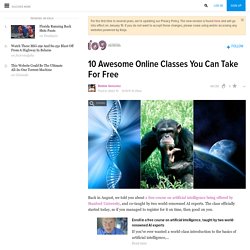 10 Awesome Online Classes You Can Take For Free
Top 6 Sites that Inspire and Educate
If you're a professional who likes to be intellectually stimulated and you enjoy keeping up with the latest news and breaking trends, the internet provides you with an endless choice of carefully curated sites to visit. Today, we bring you six of them that we believe are leaps and bounds above the rest. These sites will not only educate you on topics ranging from business and technology to art and design, they'll motivate you to find your own, original ideas and see them through. They're culturally relevant, they're idea driven and most of all, they're deeply inspirational. TED is short for three incredibly important subjects in our modern world; technology, entertainment and design. Started in 1984, TED brings together the most brilliant minds to teach us about issues that matter.