Film
Editorial, Issue 70 | March 2014 Welcome to Issue 70 of our journal Readers may find it odd at first to see Federico Fellini's name appear as an author on the content's page of our current issue – perhaps for no other reason than the fact the Italian director passed away in 1993,
Screen International - Film industry news from UK, US, Europe, Asia and The World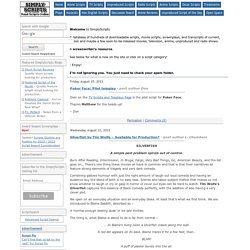 When young Harry needs money to buy a gift, he learns that crime does pay, but in an unexpected way. There's something about scripts involving school boy crushes, and first loves. Then again – who doesn't like stories about disreputable (yet somehow charming) con men?
Chaz's Blog An amazing video: 1,001 Movies You Must See (Before You Die) by The Editors Jonathan Keogh presents an exuberant video about the movies. Festivals & Awards Live-Streamed Panels Announced For 16th Annual Ebertfest