Tools - Utilitaires
Path. Path.
CRM, relation clients
Copious. Forum. Infographics and charts - interactive data visualization | Infogr.am. The Zooming Presentation Editor. Map - routes. Personal Profile Page. Online Presentation Tools | Free Presentation Software | SlideRocket. Scheduling Made Easy. Create stories using social media - storify.com.
TimeLine
Mobile | Photo App. Martview - Unique Reading Experience - FREE Download! Posterous - The place to post everything. Just email us. Dead si. 101 Apps for Your Web App Startup Toolbox. With the multitude of web applications available today, it can be difficult choosing, let alone finding, an application that fits your needs and wants.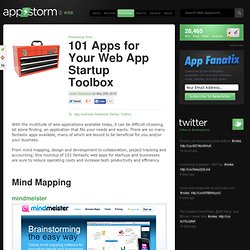 There are so many fantastic apps available, many of which are bound to be beneficial for you and/or your business. From mind mapping, design and development to collaboration, project tracking and accounting; this roundup of 101 fantastic web apps for startups and businesses are sure to reduce operating costs and increase both productivity and efficiency. Mind Mapping mindmeister.
Post it. Project management - Collaboration. Facturation en ligne pour TPE, PME, PMI, autoentrepreneurs - MyF. Emailing. File-Sharing Service | Partage de fichiers. 20 Apps to Organize Your Thoughts | Men With Pens. I always did like those posts that list a bunch of apps and tools I'd never heard of.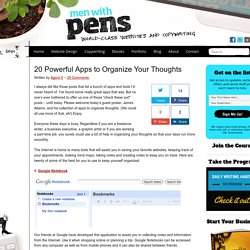 I've found some really great apps that way. But no one's ever bothered to offer us one of those "check these out!" Posts – until today. Please welcome today's guest poster, James Adams, and his collection of apps to organize thoughts. 25 Free Portable Programs For Designers and Web Developers | Cre. Being a designer or may be even being a web designer it can be very expensive in order to purchase the best design application .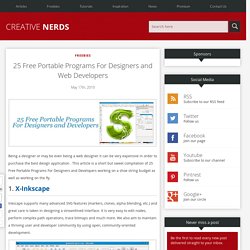 This article is a short but sweet compilation of 25 Free Portable Programs For Designers and Developers working on a shoe string budget as well as working on the fly. Inkscape supports many advanced SVG features (markers, clones, alpha blending, etc.) and great care is taken in designing a streamlined interface. It is very easy to edit nodes, perform complex path operations, trace bitmaps and much more. We also aim to maintain a thriving user and developer community by using open, community-oriented development.
The GIMP (GNU Image Manipulation Program) is a freely distributed program for such tasks as photo retouching, image composition and image authoring. Tsooji. Tumblr.
---