Code snippets
Welcome on scriptech.net where you can find all the things you need to make profitable websites. Here you can find useful information on WordPress, website building tips, online marketing, SEO and on other related topics. We hope we can help to have a successful online business.
Wordpress, Software and Scripts for Internet Marketing, SEO and Website Building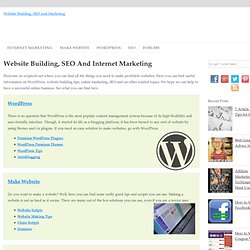 Why reinvent the wheel? And by extension, why keep re-typing or copy/pasting commonly-used pieces of code over and over again? Copying and pasting pieces of code into text files and the like is disorganized and wastes your precious time. Instead, you can use code snippets to quickly call code you repeatedly use. There are applications that let you save, organize, and use your code snippets – for practically all of the major programming languages.
10 Free Desktop Applications for Managing Your Code Snippets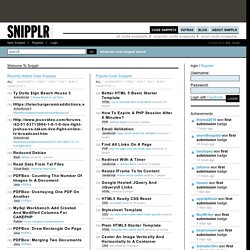 Change style: advanced code snippet search login / Register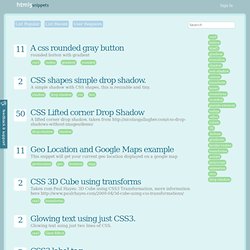 rounded button with gradient A simple shadow with CSS shapes, this is resizable and tiny. A lifted corner drop shadow, taken from http://nicolasgallagher.com/css-drop-shadows-without-images/demo/ This snippet will get your current geo location displayed on a google map
headache relief for programmers :: regular expression generator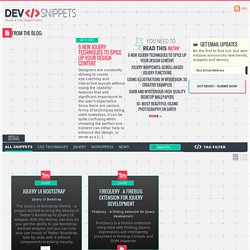 6 New jQuery Techniques to Spice Up Your Design Content Designers are constantly striving to create eye-catching and interactive layouts without losing the usability features that add significant importance to the user's experience. Since there are various forms of techniques being used nowadays, it can be quite confusing when choosing the perfect one. Content can either help to enhance the design, or serve as a [...]