Space
Discover the cosmos! Each day a different image or photograph of our fascinating universe is featured, along with a brief explanation written by a professional astronomer. 2014 April 17 Waterton Lake Eclipse Image Credit & Copyright: Yuichi Takasaka / TWAN / www.blue-moon.ca Explanation: Recorded on April 15th, this total lunar eclipse sequence looks south down icy Waterton Lake from the Waterton Lakes National Park in Alberta, Canada, planet Earth.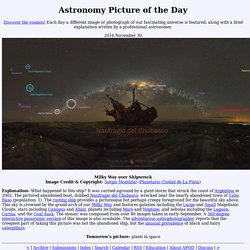 Heavens Above
ISS - Visible Passes
STS-132 - Visible Passes
Cassini
Phoenix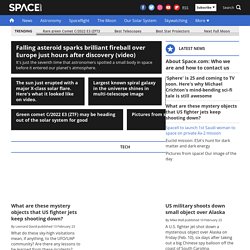 Star Trek Enterprise Pizza Cutter Boldly cut pizza where no man has cut before! $29.99 NASA Worm Logo 4.5" Sticker - Red Get your own piece of NASA history! $6.95 Star Wars Han Solo in Carbonite Silicone Ice Cube Tray Freeze your own Han Solo! Here comes an innovative Star Wars kitchen product from a galax... $11.99 NASA 'Meatball' Official Logo 4.5" Sticker - Full Color NASA Logo Sticker - 4" Great for party favors, books, bikes and more. $4.95 50 Years of Human Spaceflight - Regular Print Poster (12"x44") Celebrate five decades of human spaceflight with our exclusive wall poster, measuring 12"... $11.99 Solar Racers Sun Powered Micro VehiclesTake'em outside and watch'em race. $7.95 Meteorite 3-Pack Own a real piece of space.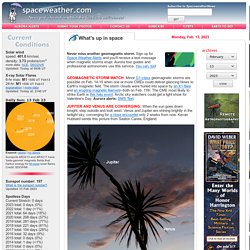 COUNTDOWN TO PLUTO: NASA's New Horizons spacecraft is closing in on Pluto. Officials say the encounter begins less than a year from now. Although Pluto has been demoted from planethood by a small group of professional astronomers, it is still a sizable world, some 5000 miles around the equator with a system of moons and perhaps even rings. New Horizons is heading for one of the most exciting planetary flybys of the Space Age.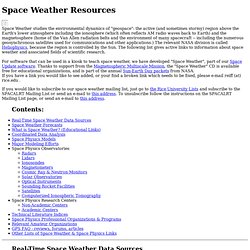 Weather Resources
Space Weather studies the environmental dynamics of "geospace": the active (and sometimes stormy) region above the Earth's lower atmosphere including the ionosphere (which often reflects AM radio waves back to Earth) and the magnetosphere (home of the Van Allen radiation belts and the environment of many spacecraft -- including the numerous geosynchronous satellites used for communications and other applications.) The relevant NASA division is called Heliophysics, because the region is controlled by the Sun. The following list gives active links to information about space weather and associated fields of scientific research. For software that can be used in a kiosk to teach space weather, we have developed "Space Weather", part of our Space Update software. Thanks to support from the Magnetospheric Multiscale Mission, the "Space Weather" CD is available free for educational organizations, and is part of the annual Sun-Earth Day packets from NASA.
From Sky & Tel... http://www.skyandtelescope.com/observing/highlights/94277259.html We rarely see a good comet when it's at its best.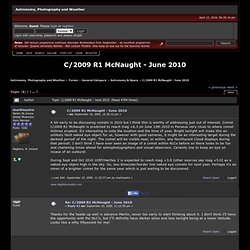 C/2009 R1 McNaught - June 2010