TRAVAIL PERSO
SQY
ASX | AMERICAN SUBURB X | Photography & Culture. Edition. PetaPixel. World Wildlife Fund's #LastSelfie Campaign Uses Snapchat to Raise Awareness About Endangered Species In a world filled with more social media platforms than you can shake a stick at, it's inevitable companies are going to do their best to exploit the social media platforms to their benefit.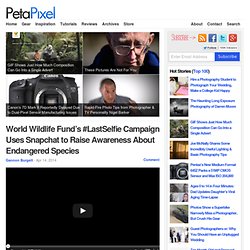 Oftentimes it's tacky, but once in a while it's creative, unique and powerful — as this ad by the World Wildlife Fund in Denmark and Turkey goes to show. Read more… Joe McNally Shares Some Incredibly Useful Lighting & Basic Photography Tips.
Déambulation. PHOTOGRAPHIE. Mars society. FAQ fr.rec.photo - I - Une contribution de Patrice Motte.
Il y a quelques temps, nous avons discuté sur ce forum du problème de remplacement des joints en mousse et des butées de miroir. Les solutions proposées à l'époque étaient : - des lamelles de néoprène découpées dans un tapis de souris - des bandes de mousse anti-dérapante pour carpettes. A la suite de ce fil, j'ai eu a remplacer encore plusieurs joints, et j'ai pu, je pense, trouver des solutions plus performantes (et testées :) ). 1) Néoprène de sous-vêtement de plongée. ----------------------------------------- J'ai retrouvé dans ma cave des chutes de néoprène de 2mm et 2,5mm de néoprène, utilisé pour la confection de sous-vêtements de plongée ou de maillots de bain isothermes. (Voir votre revendeur/plongée/baignade préféré...). Prix Pictet: Home. What's Next. Flak Photo. Immaterials: the ghost in the field. Light Painting WiFi.
ViteVu. Expérimenté depuis la mise en ligne du nouveau site de la SFP en mars dernier, le catalogue en ligne de la bibliothèque (hors inventaire des périodiques) est une avancée majeure pour la mise en ligne des données des collections.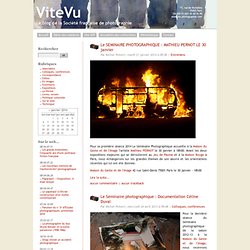 Exécuté à l'initiative et sous la direction de Luce Lebart, directrice des collections, et entièrement réalisé par Vincent Guyot, documentaliste et manageur en ressources numériques en Service civique à la SFP, ce catalogue a été élaboré à partir des quelques 8 000 références bibliographiques que contenait une base de données informatique dont la constitution avait été entamée dès le milieu des années 1990 avec l'aide de nombreux et vaillants lecteurs bénévoles et stagiaires, à partir notamment des informations du meuble à fiches de la bibliothèque. Ce premier répertoire informatique avait permis à de nombreux lecteurs de naviguer dans l'inventaire de la bibliothèque et de générer des listes. The Big Picture. Many indigenous groups, including the Huni Kui, Ashaninka, and Madija, live in villages in the Brazilian rainforest near the border with Peru.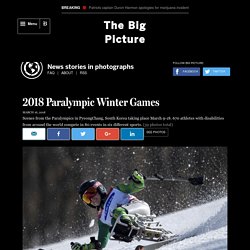 Over the past three years, the Ashaninka and Madija say that they have seen more and more incursions on their territory from uncontacted tribes, defined by Survival International as groups who have no peaceful contact with mainstream society. The "Bravos," or "Braves," as uncontacted Indians are called in the region, carry out raids on other villages, putting the communities along the Envira River on permanent alert.
New Photographers: Feature Shoot. Polka Galerie. Au sommaire. ?tudes photographiques. Société Française de Photographie - L' Association. BOOOOOOOM! - CREATE * INSPIRE * COMMUNITY * ART * DESIGN * MUSIC * FILM * PHOTO * PROJECTS. Babel collectif. The Massive Dev Chart: B&W film development database.
---