Vegitarian
VeganYumYum. Chrissie Hynde's VegiTerranean. Vegitariantimes.com. Becoming a Vegetarian. People are drawn to vegetarianism by all sorts of motives.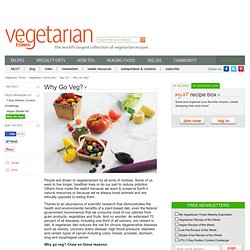 Some of us want to live longer, healthier lives or do our part to reduce pollution. Others have made the switch because we want to preserve Earth''s natural resources or because we''ve always loved animals and are ethically opposed to eating them. Thanks to an abundance of scientific research that demonstrates the health and environmental benefits of a plant-based diet, even the federal government recommends that we consume most of our calories from grain products, vegetables and fruits. Ask the Experts | Nutrition, Health and the Vegetarian Diet. Vegetarian Recipes Search. Welcome to the world's largest collection of vegetarian recipes!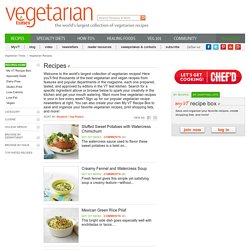 Here you'll find thousands of the best vegetarian and vegan recipes from features and popular departments in the magazine, each one prepared, tasted, and approved by editors in the VT test kitchen. Search for a specific ingredient above or browse below to spark your creativity in the kitchen and get your mouth watering. Want more free vegetarian recipes in your in box every week? Sign up for our popular vegetarian recipe newsletters at right. Vegan Appetite: Iron Chef Challenge for Vegan MoFo: Apple Peanut Butter Fritters. You can probably guess the special ingredients: apples and peanut butter.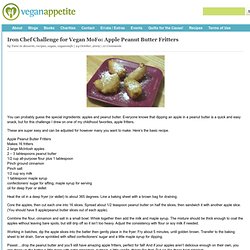 Everyone knows that dipping an apple in a peanut butter is a quick and easy snack, but for this challenge I drew on one of my childhood favorites, apple fritters. These are super easy and can be adjusted for however many you want to make. Here's the basic recipe. Apple Peanut Butter FrittersMakes 16 fritters2 large McIntosh apples2 – 3 tablespoons peanut butter1/2 cup all-purpose flour plus 1 tablespoonPinch ground cinnamonPinch salt1/2 cup soy milk1 tablespoon maple syrupconfectioners' sugar for sifting, maple syrup for servingoil for deep fryer or skillet Heat the oil in a deep fryer (or skillet) to about 365 degrees. S Vegetarian/Vegan Starter Kit.
People for the Ethical Treatment of Animals (PETA) | International Landing Page. PETA Prime: Celebrating Kind Choices. Peta2.com // Interviews, Giveaways, and Free Stickers.
The Modern VEGETARIAN - Recipes.
---