Guitar
Intervallic Techniques. Welcome to Neal's Intervallic studies for the guitar.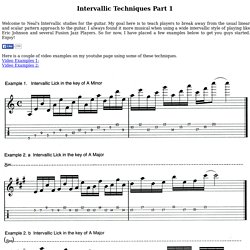 My goal here is to teach players to break away from the usual linear and scalar pattern approach to the guitar. I always found it more musical when using a wide intervallic style of playing like Eric Johnson and several Fusion Jazz Players. 21 Cool 3 Notes-Per-String Exercises to Rock On! Photo by Jsome1 Playing 3 notes per string exercises is something I do on a regular basis.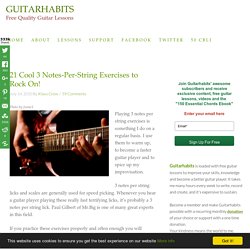 I use them to warm up, to become a faster guitar player and to spice up my improvisation. 3 notes per string licks and scales are generally used for speed picking. Whenever you hear a guitar player playing these really fast terrifying licks, it's probably a 3 notes per string lick. Finger Strength Exercises For Guitar. Dear Friend, If you follow this simple plan, you'll immediately and dramatically improve your playing, guaranteed.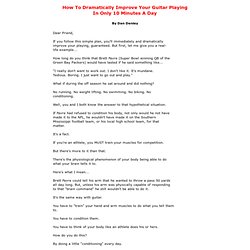 But first, let me give you a real- life example... Key Chords. Key Chords is an interactive chord chart that allows you hear and see and arrange chords. - Click on a chord to preview how it sounds. - Drag and drop to arrange chords on the timeline - Tweak the settings to control the playback speed Or role the dice until you discover something that fits your mood.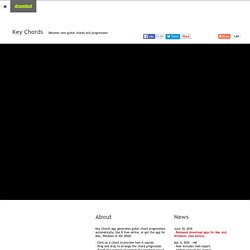 Select a Key: Select your favorite "Key" and whether you want to use the "Major" or "Minor" scale. The resulting chord chart will display a good number of "usable" chords that all work "in the key of" the selected scale. ULTIMATE GUITAR TABS ARCHIVE | 300,000+ Guitar Tabs, Bass Tabs, Chords and Guitar Pro Tabs! Such Great Heights tab by Iron And Wine. Random Chord Progression Generator. Songwriter Tip: The ambitions and goals of all songwriters are essentially the same.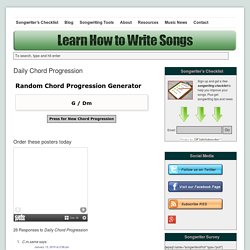 They are all looking for recognized success of their talent, publication of their songs and instrumental themes, and to receive money earned as royalties from the exploitation of their songwriting, composing and performances. The main difference is that songwriters and composers are seeking publishing deals, to have artists record their songs and to see any instrumental themes succeed in television programs and advertising, whereas performing songwriters are not only seeking publishing deals but also management deals and record deals.
---