Graphisme
Vector | Blugraphic
40+ Vector Ribbons (Ai, Eps) A collection of flat ribbon designs with variations in colors and styles ; vector material downloadable file opens with illustrator. Continue Reading 100+ Infographic Elements (Vector)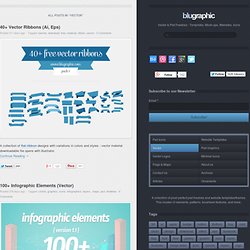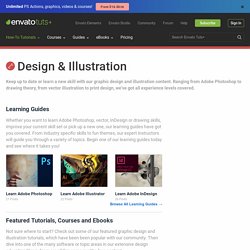 One of the biggest advantages of the Adobe Creative Cloud is the speed at which new features can ... One of the biggest advantages of the Adobe Creative Cloud is the speed at which new features can be deployed. When the Adobe Creative Cloud was first announced, Adobe promised that their software would be updated much more frequently than in the past. Recently, Adobe made good on that promise and announced some new updates to Photoshop, as well as some of their other applications. In this article, we will explain everything you need to know about Photoshop's new features including Perspective Warp, Linked Smart Objects, 3D Printing Support, as well as all the other minor improvements.
Ink IV disponible en ligne!! Par Patrick², dimanche 28 juin 2009 à 14:29 + numéros Ink est enfin commercialisé sur la toile et ce grâce à la nouvelle éléctro-librairie Deslivres.com. + lire la suite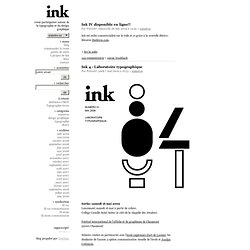 ink /blog
SPUNK UNITED MAGAZINE v2
Business-Class Web Hosting by (mt) Media Temple Le tatouage n'est plus aujourd'hui l'exclusivité des marins ou des prisonnier, il ne se pratique plus dans les arrières-salles des bistrots de quartiers mais dans des lieux plus ouverts, aux grandes baies vitrées et aux yeux de tous. Pourtant, malgré cette nouvelle démocratisation, il reste aujourd'hui un art méconnu. C'est un moyen d'expression fort aux influences multi-culturelles : sa diversité puise dans les cultures ancestrales, le mouvement graffiti, les icônes pop, les extraits littéraires, mais surtout dans les moments de vie, l'introspection et les échanges humains. Le mondial du tatouage – ce week-end à Paris – était l'occasion de proposer une sélection d'image différentes, à découvrir dans la suite de l'article.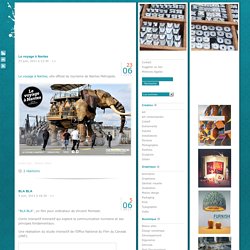 Le voyage à Nantes Le voyage à Nantes, site officiel du tourisme de Nantes Métropole. mots clés : Beaux sites
Envato Studio is an online marketplace for freelance services focused on design and web-development. Services range from designing a logo to WordPress customization, and all service providers have been reviewed and recommended by our expert review team. If you were a user of the FreelanceSwitch Job Board (as either a freelancer or client) we recommend you check out Envato Studio. Also check out the Envato Studio Blog. This is now home to some of the content published on FreelanceSwitch (including the Freelance Freedom Comic) as well as fresh content that may be of interest.