Web
Códigos HTML,Javascript y Ajax Gratuitos | AjaxShake.com |Pagina-1. Otra galería de fotos estilo polaroid donde las imagenes son cargadas de manera aleatoria sobre un sector de su pagina web, cuando un item especifico es seleccionado este se abre al medio mientras las otras fotos dejan espacio.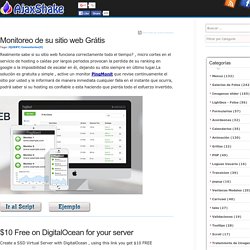 Cuando se trabaja con elementos en 3D, es posible que note que no tienen ninguna sombra y parecen ser muy planos. En la vida real, los objetos al bloquear la luz tienen sombras. Las superficies pueden ser mate, brillosas etc. De hecho, podemos hacerlo mejor, este tutorial le muestra como crear sombras en objetos 3D. Hosting, alojamiento web multidominio. DirectAdmin El panel de control DirectAdmin en Español Todos nuestros planes de Hosting vienen equipados con DirectAdmin.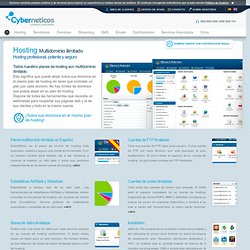 DirectAdmin es el panel de control de hosting más avanzado, estable y seguro en el mercado. Tiene un interfaz sencillo de navegar y agradable a la vista con el que puede trabajar día a día. Herramientas. LibrosWeb.es - Libros gratuitos sobre HTML, CSS, JavaScript, AJAX y otras tecnologías web. Formularios de correo y scripts javascript. Esta página, con el formulario, complementa a las páginas de scripts de correo php y asp.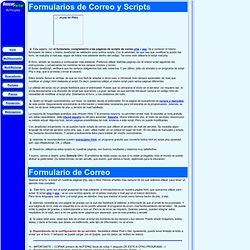 Va a contener el mismo formulario de datos, y mismo JavaScript de validación para ambos scripts. Con la salvedad, de que hay que modificar la acción del form, de mail.php a mail.asp, según se indica mas adelante dentro del código. Tal como está utilizaría el script mail.php El form, simple, se muestra a continuación mas adelante. Podemos utilizar distintas páginas con el mismo script siguiendo las instrucciones, y conservando los nombres de los campos nombre y correo. Manual de PHP. ¿Qué podemos hacer con XML y PHP ? Quizás de primeras no seamos conscientes del potencial de estas dos tecnologías juntas, pero si nos fijamos bien, podemos darnos cuenta de que XML y PHP pueden funcionar de una forma muy similar a como puede trabajar PHP con una base de datos.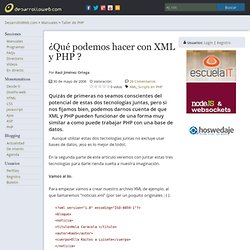 Aunque utilizar estas dos tecnologías juntas no excluye usar bases de datos, ¡eso es lo mejor de todo!. En la segunda parte de este artículo veremos con juntar estas tres tecnologías para darle rienda suelta a nuestra imaginación. Vamos al lío. Para empezar vamos a crear nuestro archivo XML de ejemplo, al que llamaremos "noticias.xml" (por ser un poquito originales ;-) ): Web Design Theory. 35 logos basados en animales. 16 FREE web 2.0 fonts for your designs | Tom Slayer's blog. Webdesign. Stream Web Video, No Flash Knowledge Required. If you've ever wanted to include streaming video in your designs, but didn't want to bother with messy code solutions (or Flash), we've got two quick and easy solutions for you.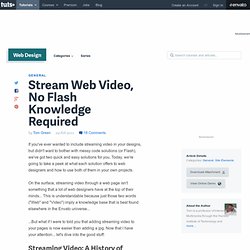 Today, we're going to take a peek at what each solution offers to web designers and how to use both of them in your own projects. On the surface, streaming video through a web page isn't something that a lot of web designers have at the top of their minds... This is understandable because just those two words ("Web" and "Video") imply a knowledge base that is best found elsewhere in the Envato universe... ...But what if I were to told you that adding streaming video to your pages is now easier than adding a jpg. Now that I have your attention... let's dive into the good stuff: Stripe Generator - ajax diagonal stripes background designer.
Ultimate CSS Gradient Generator - ColorZilla.com. Background: #1e5799; /* Old browsers */ background: -moz-linear-gradient(top, #1e5799 0%, #2989d8 50%, #207cca 51%, #7db9e8 100%); /* FF3.6+ */ background: -webkit-gradient(linear, left top, left bottom, color-stop(0%,#1e5799), color-stop(50%,#2989d8), color-stop(51%,#207cca), color-stop(100%,#7db9e8)); /* Chrome,Safari4+ */ background: -webkit-linear-gradient(top, #1e5799 0%,#2989d8 50%,#207cca 51%,#7db9e8 100%); /* Chrome10+,Safari5.1+ */ background: -o-linear-gradient(top, #1e5799 0%,#2989d8 50%,#207cca 51%,#7db9e8 100%); /* Opera 11.10+ */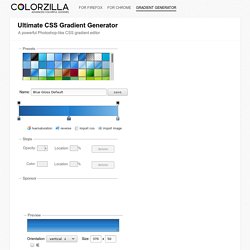 CSS Ya. 3D-box maker » 3d-box & package on-line for free. CSS3 Menu. Free CSS Menu Maker. CSS3 Button Generator. 250 Quick Web Design Tips (Part 1) As web professionals, we're always looking for ways to improve our knowledge and skills.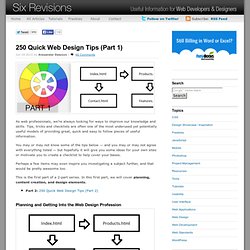 Tips, tricks and checklists are often one of the most underused yet potentially useful models of providing great, quick and easy to follow pieces of useful information. You may or may not know some of the tips below — and you may or may not agree with everything listed — but hopefully it will give you some ideas for your own sites or motivate you to create a checklist to help cover your bases. Perhaps a few items may even inspire you investigating a subject further, and that would be pretty awesome too. This is the first part of a 2-part series. In this first part, we will cover planning, content creation, and design elements. Create a Professional Web 2.0 Layout. In this Photoshop tutorial we're going to learn how to create a web 2.0 layout, As we go through the tutorial we'll deal with so many Photoshop techniques.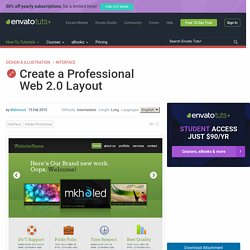 Seems kind of long? That's because it's very detailed. I assure you'll find easy to follow and to get done, just give it a try! Step 1 To keep everything aligned we're going to use 960s Grid System (Get it from here) once downloaded open up the file "960_grid_24_col.psd". Free Textures from TextureKing.
---