HAITI
CauseWorld Lets Users Give To Haiti Via Their iPhone. CauseWorld (iTunes link), an iPhone app from Shopkick, is off to a strong start.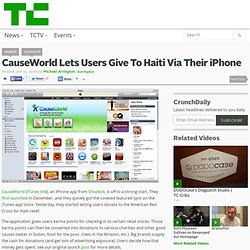 They first launched in December, and they quickly got the coveted featured spot on the iTunes app store. Yesterday, they started letting users donate to the American Red Cross for Haiti relief. Up to 150 UN staff still missing in Haiti after quake. The UN could not confirm that its top officials in Haiti were dead Officials at the UN say between 100 and 150 people from its 9,000-strong peacekeeping mission in Haiti are still missing after the earthquake.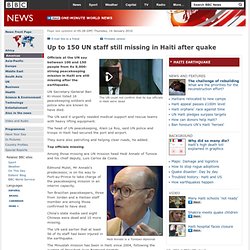 UN Secretary-General Ban Ki-moon listed 16 peacekeeping soldiers and police who are known to have died. The UN said it urgently needed medical support and rescue teams with heavy lifting equipment. The head of UN peacekeeping, Alain Le Roy, said UN police and troops in Haiti had secured the port and airport. They were also patrolling and helping clear roads, he added. Earthquake: News updates. Look here for news updates on the aftermath of a 7.0 earthquake that struck Haiti. 10:49 p.m. -- The Argentine Foreign Ministry said in a statement that the Argentine Mobile Military Hospital -- which they say is the only hospital functioning in Port-au-Prince -- has treated more than 800 people.
Argentine Armed Forces helicopters are helping evacuate the "gravely injured" people to Santo Domingo, in the neighboring Dominican Republic. Argentina also plans to send an airplane with aid to the area, the statement said. 10:42 p.m. -- CNN Chief Medical Correspondent Sanjay Gupta, who is reporting from Haiti, wrote on his Twitter feed: "what i have seen here in #haiti, i have never seen before. while i hate to say this, it seems somewhat hopeless. bodies still in the streets" Follow Sanjay Gupta's reporting from Haiti through his Twitter feed. FBI Warns Against Online Haiti Relief Scams - The Two-Way - Brea. First U.S. military aid reaches quake-stricken Haiti.
First team team will assess what Haiti needs to cope with the immediate aftermathOne task is to set up temporary air traffic control systemsAircraft carrier, ships with medical facilities heading toward Haiti Washington (CNN) -- With the first of its flights touching down in earthquake-devastated Haiti late Wednesday afternoon, the U.S. began deploying military planes, ships and ground troops to the Caribbean nation.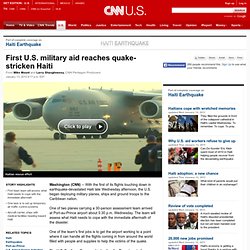 One of two planes carrying a 30-person assessment team arrived at Port-au-Prince airport about 5:30 p.m. Wednesday. The team will assess what Haiti needs to cope with the immediate aftermath of the disaster. One of the team's first jobs is to get the airport working to a point where it can handle all the flights coming in from around the world filled with people and supplies to help the victims of the quake. FBI warning of Haiti earthquake scams.
Haiti quake survivors line up to get water from a fire truck.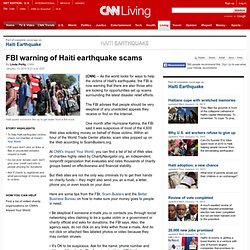 To help Haiti earthquake victims, check out charities at Impact Your WorldFBI says don't click on links or files in unsolicited donation request e-mailsDo not ever donate cash; don't give your credit card info to people phoning for donationsAsk if charity is registered and what percentage of money goes to victims (CNN) -- As the world looks for ways to help the victims of Haiti's earthquake, the FBI is now warning that there are also those who are looking for opportunities set up scams surrounding the latest disaster relief efforts. The FBI advises that people should be very skeptical of any unsolicited appeals they receive or find on the Internet. One month after Hurricane Katrina, the FBI said it was suspicious of most of the 4,600 Web sites soliciting money on behalf of those victims. In Haiti, Survivors Search for the Dead, and for Solace - NYTime.
Haitian capital largely destroyed in quake - Americas. PORT-AU-PRINCE, Haiti — At a collapsed Caribbean Supermarket where search teams from Florida and New York City worked, rescuers late Sunday pulled two survivors from what had been its fourth floor.
Officials said both were in stable condition, able to survive for so long by eating food trapped along with them. Earlier in the day, a policeman reported three other people had been rescued from the rubble. Crews had located the pair on Sunday afternoon and worked to get them out, NBC's Kerry Sanders reported from the scene. One official coordinating the rescue efforts there told Sanders that a text message believed sent from under the rubble indicated that "more than 60" people were alive there.Officials later said that number was probably a mistake. The supermarket's manager, Samer Tahmoush, estimated that there would have been around 75 to 100 shoppers inside the market in the Delmas neighborhood when the quake hit.
Archbishop of Port-au-Prince dies in earthquake - Breaking News. Haiti quake survivors spend second night in streets. The BBC's Andy Gallacher: The hospital car park was strewn with bodies Thousands of Haitians are spending a second night in the open after the country's catastrophic earthquake which may have killed tens of thousands.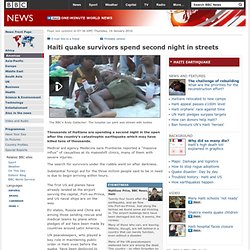 Medical aid agency Medecins sans Frontieres reported a "massive influx" of casualties at its makeshift clinics, many of them with severe injuries. The search for survivors under the rubble went on after darkness. CNN.com Live - Breaking news, live events, and today's top stori. Haiti earthquake: Victims forced to dig through rubble with bare. By David Gardner and Liz Hazelton Updated: 09:29 GMT, 14 January 2010 Red Cross fears around three million people affected by 7.2 quakeUp to 100 UN staff including believed dead after headquarters collapseCharities launch emergency appeals to help stricken survivorsPresidential palace crumbles, hospital collapses and houses swept awayBritain sends emergency team as Obama vows 'unwavering' support Bloodstained bodies are piled high in the streets of the Haitian capital of Port-au-Prince today amid fears that thousands have died in a catastrophic earthquake.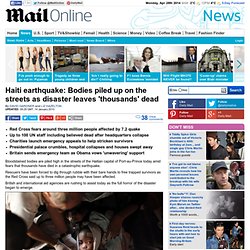 Destruction in Haiti. Séisme en Haïti: deuxième nuit d'angoisse pour 3 millions de sin. >> Cet article est actualisé en temps réel, cliquez ici pour rafraîchir 23h25: le bilan des victimes françaises s'alourditIl est passé de deux à six morts, indique le ministère français des Affaires étrangères. 23h05: Obama et Sarkozy s'entretiennent au téléphoneIls ont discuté de la situation en Haïti et sont tombés d'accord sur la nécessité de coordonner l'aide internationale pour les victimes du séisme.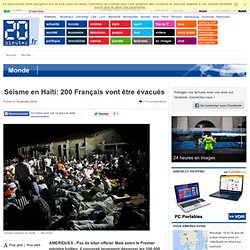 Google Offers Satellite Images of Haiti, Post-Earthquake. In the immediate aftermath of a 7.0 earthquake that caused an unbelievable amount of destruction to Haiti's capital, Google has been asked by relief organizations and users to show images of what's actually happening on the ground.
In partnership with geospatial imagery company GeoEye, Google has just released a new layer for Google Earth showing post-earthquake devastation. Haiti was first added to Google Map Maker in response to hurricanes that wreaked havoc on the country more than a year ago. Read on for before-after pictures and details. The Red Cross has stated that as many as 3 million Haitians have been affected by the earthquake, with as many as 100,000 deaths likely, according to Haiti's prime minister. Since the quake's epicenter was right off the capital city, Port-au-Prince, most of the official buildings, from government officials' residences to jails and hospitals, have been significantly damaged or completely leveled. Increíble!/satteliteimage. Quake devastates Haiti, thousands feared dead: AP news | adn.com. PORT-AU-PRINCE, Haiti — Dazed survivors wandered past dead bodies in rubble-strewn streets Wednesday, crying for loved ones, and rescuers desperately searched collapsed buildings as fear rose that the death toll from Haiti's devastating earthquake could reach into the tens of thousands.
The first cargo planes with food, water, medical supplies, shelter and sniffer dogs headed to the Western Hemisphere's poorest nation a day after the magnitude-7 quake flattened much of the capital of 2 million people. Tuesday's earthquake brought down buildings great and small — from shacks in shantytowns to President Rene Preval's gleaming white National Palace, where a dome tilted ominously above the manicured grounds. Earthquake in Haiti: Celebrities and fans respond in the Twitter. Celebrities and their fans are responding with prayers, news and calls for aid after Haiti was hit earlier today by a powerful earthquake, and many serious aftershocks, centered 10 miles offshore and near the capital city of Port-au-Prince. There's a lot of damage, and many casualties are expected -- click here for a photo gallery that's growing as more pictures come in. Wyclef Jean, whose uncle is the Haitian ambassador to the U.S., was speaking to a person in Haiti when the quake hit.
He told CNN, "We're gonna need immediate aid, and we're gonna need the United States and the international community to react immediately. This is the worst devastation that we as Haitian people have faced. " His Twitter feed has unique updates. Burning tires illuminate what remains of Haitian town. Residents in Jacmel, Haiti, sleeping on mattresses, boxes in drivewaysGwenn Goodale Mangine tells CNN schools, homes, churches destroyed in townMangine: "There's no way to dig them out. No big machinery. No tools. There's nothing"Earthquake tore a "big chunk of the hearts of the Haitian people," Mangine says (CNN) -- In Jacmel, Haiti, as light rain fell with the darkness Wednesday, Gwenn Goodale Mangine and a group of 35 people prepared to spend their second night sleeping outside on mattresses and cardboard boxes in her driveway. Doctors Without Borders. Make your gift monthly Become a Doctors Without Borders Field Partner Thank you for your support!
Before we process your donation, will you consider making it go even further by converting it into a monthly gift? By joining us as a Field Partner, you become a vital part of our work every day. U.S. Department of State. Bill Clinton on the Disaster. White House Taps Bush, Clinton to Help Lead Haiti Relief. Limbaugh: Obama will use Haiti to boost credibility with "light- Haiti and the Politics of Disaster - Opinionator Blog - NYTimes. Bodies lining Haiti's roadsides are grim tally of earthquake - T. MSF creates tent medical facilities in post-quake Haiti. Crowing Rooster Arts. Courage... Using .ORG Directory to Find Haiti Relief Organizations. SCUM: Haiti Disaster Attracts Hoaxes and Scammers. FRONTLINE/WORLD . Dispatches . iWitness . Haiti Quake: Improvisa. Doctors Without Borders. 8 Specific Ways to Pray for Haiti « OperationSAFE. Share photos on Twitter. Untitled. Haitian Earthquake: Made in the USA | CommonDreams.org.
Stéphane Jourdain : «Nous n'avons que nos doigts pour chercher l. MLB, NFL Help Haiti Relief Efforts. iTunes Store. Founder/Owner of Hotel Montana Dead | Kreyol Network. Twitter hoax spreads rumors of airlines' free flights to Haiti - White House Taps Bush, Clinton to Help Lead Haiti Relief. U.S. Military Readies Disaster Response to Haiti Quake. Captured Photo Collection » Earthquake in Haiti Photos. Willing To Help. Haiti Earthquake: Corpses Pile Up Across Port-au-Prince - The Ha. Devastation in Haiti: Pictures from the Earthquake - Photo Essay. War Correspondent Steve Harrigan Breaks Down in Haiti!
Envíe su iReport a CNN en Español: News & Videos about Envíe su. Pillages et coups de feu à Port-au-Pri. Haiti quake. Haiti: Resources and how to help. Time running out for people trapped by quake. Earthquake in Haiti: How to Help The Top 5 Most Effective Charit. USA Waives Call Charges to and From Haiti... - T-Mobile Communit. Haitian Earthquake: Made in the USA | CommonDreams.org. Haiti Earthquake Relief. Haiti Earthquake Relief | America's North Shore Journal. Carel Pedre, les yeux d'Haïti - Monde. Why Haiti's Earthquake Is France's Problem. Cuba Agrees to U.S. Medevac Flights. Captured Photo Collection » Earthquake in Haiti Photos. Three-Star General to Head U.S. Relief in Haiti.
Barbados: Economy in 2009 and Prospects for 2010 - Central Bank. Using Animation to Help Children with Trauma « OperationSAFE. I Am Looking For. HDabrowski: iReporter User Profile. Time running out for people trapped by quake. Jacqueline Charles (jacquiecharles) Earthquake hits home - Akron, OH - The Suburbanite. Haiti. Partners in Health: What We're Hearing on the Ground - mweb's po. UNICEF Home. CANDLELIGHT VIGIL AT U.N. TO HONOR VICTIMS OF HAITI'S EARTHQUAKE. HaitiConnexion. OpSAFE International. Haiti Earthquake Pictures: Devastation on the Day After. HootSuite. Haiti earthquake: News updates. Wyclef Jean's Yele Haiti Foundation under fiscal scrutiny - wash. Some Hospitals in Haiti .::. Haiti Medical.
Reuters AlertNet - HAITI: US remittances keep the homeland afloa. Player Window. Organizing Armageddon: What We Learned From the Haiti Earthquake.
---
sjr1 May 19 2010

This is certainly the complete thing. Excellent.

grimsel Jan 20 2010

sorry, for my late reply cyril. I often get lost in all those interfaces i am playing with. Would love to get some feedback while you are on Haiti , greetings.

cyril Jan 14 2010

I'm also a film producer and I have been preparing a web-documentary on Haiti that is about to be shot, your pearltree will be very useful for me

cyril Jan 14 2010

Many thanks for this pearltree on Haiti. You can visit mine that is gathering articles about Haiti's earthquake in French.
---