Lizzi
UK Online Parish Clerks. Warwickshire Online Parish Clerks. Important: please read the explanation of the scheme before contacting an Online Parish Clerk (OPC) (if you have previously read this explanation, jump to the list of parishes but please remember that new information is being added to this explanation, as well as to the table) If you are looking for research help click on the initial letter of the parish in which you are interested in the main table on this page (alternatively use your browser's search/find facility).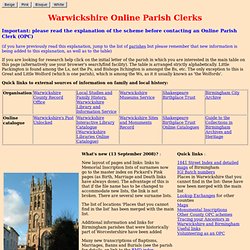 The table is arranged strictly alphabetically. Genes Reunited. Find A Grave - Millions of Cemetery Records. Burial records, cremation records, grave maps, genealogy and ancestry at Deceased Online. Passengers, Ships, Shipwrecks. Ellis Island - FREE Port of New York Passenger Records Search.
Long Island Genealogy. Victims of the Triangle Fire (listing) New Jersey Department of State. Genealogical Society of New Jersey. Ancestry.com. American Ancestors - Home. Family Search. Free Genealogy and Family History Online - The USGenWeb Project. Mocavo - The Largest Free Genealogy & Family Tree Search Engine.
RootsWeb. Cyndi's List. Review of the Top 40+ FREE Online Genealogy Websites Where You Can Start Your Ancestry Search « Obituarieshelp.org/Blog. (Update: September 26, 2011: To celebrate the two year anniversary of this post, we have added 40 more free links to a new updated post.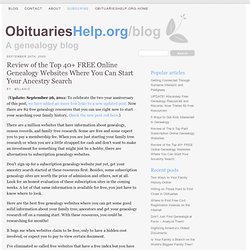 Now there are 82 free genealogy resources that you can use right now to start your searching your family history. Check the new post out here.) There are a million websites that have information about genealogy, census records, and family tree research. Some are free and some expect you to pay a membership fee. Genealogy Research Guides - Census, Military, Naturalization & V. Genealogy Sleuth Search for your Ancestors on the Internet | Pro. US GenWeb Sites Alabama, Alaska, Arizona, Arkansas, California, Colorado, Connecticut, Delaware, District of Columbia, Florida, Georgia, Hawaii, Idaho, Illinois, Indiana, Iowa, Kansas, Kentucky, Louisiana, Maine, Maryland, Massachusetts, Michigan, Minnesota, Mississippi, Missouri, Montana, Nebraska, Nevada, New Hampshire, New Jersey, New Mexico, New York, North Carolina, North Dakota, Ohio, Oklahoma, Oklahoma/Indian Territory, Oregon, Pennsylvania, Rhode Island, South Carolina, South Dakota, Tennessee, Texas, Utah, Vermont, Virginia, Washington, West Virginia, Wisconsin, Wyoming Search the USGenWeb Archives Search the USGenWeb All Pages American History & Genealogy Project State and County QuickFacts Rootsweb Search Thingy Place Names & Maps Ancestry's U.S.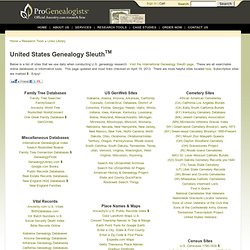 Public Records Index $ Color Landform Maps U.S.
---