Actionscript 1
Tutorial: Flash Frequently Asked Questions (FAQ) page 1
Why does my preloader start at 40% (or some other unnecessarily high value)? The Quick: Items in your library such as movie clips and sounds set to be exported for ActionScript (exported in first frame) are loaded before your preloader is loaded even if your preloader is placed on the first frame of your movie.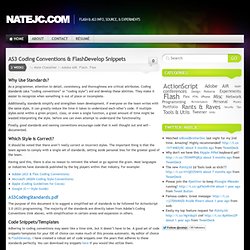 If you haven't, first go read Steve Jobs' " Thoughts on Flash ".
Flash & ActionScript 3 info, source, & experiments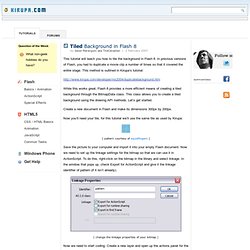 Tiled Background in Flash 8
by Jesse Marangoni aka TheCanadian | 2 February 2007
changer la couleur d'un texte dynamique - Flash/ActionScript - Programmation
Quick Modal Window ActionScript.org Forums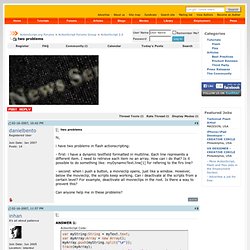 hi, i have two problems in flash actionscripting: - first: i have a dynamic textfield formatted in multiline.
Using asfunction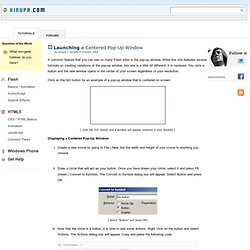 Launching a Centered Pop-Up Window by kirupa | revised 9 October 2004
Launching a Centered Pop-Up Window
Please read: SWFObject 2.0 has been released and is now hosted on github: https://github.com/swfobject/swfobject .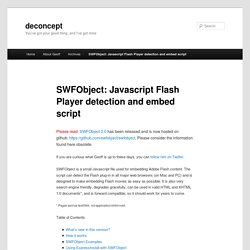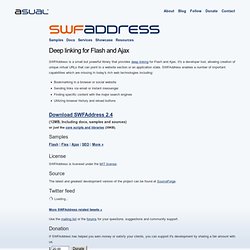 SWFAddress is a small but powerful library that provides deep linking for Flash and Ajax. It's a developer tool, allowing creation of unique virtual URLs that can point to a website section or an application state.
Due to the success (and quality) of Asual's SWFAddress , I've decided to stop work on this project. SWFAddress is now capable of all the things that StateManager is, so it doesn't seem very beneficial to the open source community to continue development on StateManager. The source code and examples will remain available but no longer be updated, but keep checking xa for other open source code!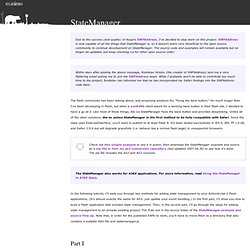 stateManager
http://www.helpqlodhelp.com/stuff/loaderclass/LoaderClass.doc.html
1 Introduction 2 Examples 2.1 Basic examples, single file 2.2 Basic examples, multiple files 2.3 Displaying the loading progress 2.4 Using targetspecific listeners 2.5 Errorhandling 2.6 Queuemanagement 2.7 Miscellanous 3 API 3.1 Constructor 3.2 Static constants 3.3 Loading and observing targets 3.4 Managing the queue 3.5 Managing listeners 3.6 Events 3.7 Configuration 3.8 Getters, getting information about the loading process 4 FAQ 5 Donations 6 Bugs 7 Support 8 History 9 Status and copyright 10 License For Use
Prototype ¬ new methodsForBuiltInObjects(); (BETA)
AS_Toolkit
zeh - portfolio version 12
Using a grid fit type -- Version 8
Sound Object Tutorials by Kenny Bellew of Cowfly.com
Using pixel fonts - ActionScript.org Flash, Flex and ActionScript Resources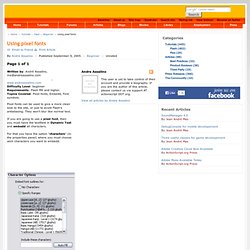 This user is yet to take control of their account and provide a biography.
Using Shared Fonts
Description MovieClip.scale9Grid You can use 9-slice scaling to specify component-style scaling for movie clips. 9-slice scaling lets you create movie clip symbols that scale appropriately for use as user interface components, as opposed to the type of scaling typically applied to graphics and design elements. With the previous flash versions you had an unwanted behavior when you scaled a symbol with rounded corners:
Working with 9-slice scaling
David Stiller's blog » Blog Archive » Loading and Tracking Multiple Files at the Same Time (Part 1)
Not long ago, a blog guest entered into conversation with me about loading and tracking multiple files at the same time (see Event Handlers versus Event Listeners comments, starting with the eighth comment).
TweeningParameters - tweener - Google Code
Edit : Mise jour et dernière version par ici Voici une mise à jour mineure pour l'animation Flash permettant de lire des mp3 en ligne : Extrait de Madonna tout et de rien, à vous de deviner... Cette mise à jour consiste en une petite refonte interne pour plus de personnalisation à l'avenir, mais aussi des corrections de bugs et 3 4 options en plus : autoreplay (1|true|yes) : lire en boucle volume (1 à 100) : définir un volume par défaut bgcolor (#xxxxxx) : couleur de fond de l'animation, pour que certains codes html puissent rester valides en omettant le paramètre bgcolor proposé par défaut par Flash rajout de dernière minute : on peut maintenant se déplacer dans le mp3 en cliquant sur la barre de temps Téléchargement Dewplayer
Dewplayer reloaded - dew's blog
play.ground » Lightweight Scrollbar Component
Free TextScroller. I was looking for free, lightweight scrollbar to use with Flash Text Formatter .
Flash Professional 8 comes with a good collection of components that you can use in your projects.
Dynamic Movie Clips and the ScrollPane in Flash
Style-Force Semplice™ Pixelfonts
sIFR Documentation & FAQ
NAILS
Advanced Flash Components Blog
Google / Windows Virtual Earth Maps Flash API v1.0 AS2 Source » Lost In Actionscript - Shane McCartney
http://www.gotoandlearn.com/download.php
FOAN82™ | Illustrator & New Media Designer &copy2006 ::::::::::::::::::::::::::::::::::::::::::::::::::::::::::
fab channel
gotoandplay - flash stuff
Entreprise et construction durable
HAL9000 S.r.l.::High resolution photos::Iconos Technology
Welcome to flashpanoramas.com
riva flv encoder
Intervals in Flash with setInterval
les ressources du webdesigner - Newsticker
XSPF Web Music Player (Flash) - Plays MP3 on your website
O'Reilly -- The Art of Flash 5 Preloading
gt;> asdg>> technotes>> repositioning content when a movie is resized
Text In Flash: Make it Legible!