Economic/career/opportunity
Facebook's Sheryl Sandberg: 'I want women to be paid more' It took Sheryl Sandberg a long time – "too long" – to realise she was a feminist, and even longer to say it out loud.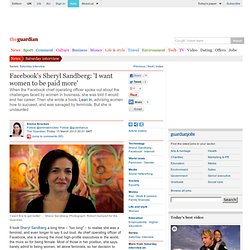 As chief operating officer of Facebook, she is among the most high-profile executives in the world, the more so for being female. Most of those in her position, she says, barely admit to being women, let alone feminists, so her decision to publish Lean In, a book of feminist advice for women in the workplace, constitutes a radical departure. Female academics pay a heavy baby penalty. Photo by Cristi M/iStockphoto/Thinkstock In 2000, I greeted the first entering graduate-student class at Berkeley where the women outnumbered the men.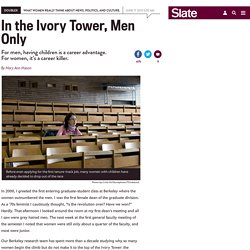 I was the first female dean of the graduate division. As a '70s feminist I cautiously thought, "Is the revolution over? Have we won?" Hardly. The Unspoken Stigma of Workplace Flexibility. "Do Women Have Too Many Rights?" Abby Johnson's Dangerous Message Delivered With Sugar. If Abby Johnson, former Texas Planned Parenthood Director-cum-pro-life maven, came to your event, she would respect your rights.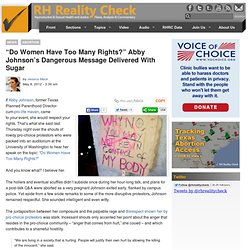 That's what she said last Thursday night over the shouts of rowdy pro-choice protestors who were packed into an auditorium at the University of Washington to hear her speak on the topic: "Do Women Have Too Many Rights? " And you know what? I believe her. The hollers and eventual scuffles didn't subside once during her hour-long talk, and plans for a post-talk Q&A were aborted as a very pregnant Johnson exited early, flanked by campus police. Argentinian sex workers take to the walls. A series of Argentinian advertisements for sex workers' rights has been making a small but well-deserved splash.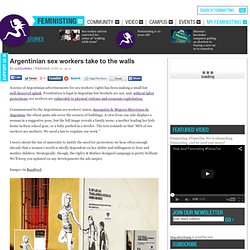 Prostitution is legal in Argentina but brothels are not, and, without labor protections, sex workers are vulnerable to physical violence and economic exploitation. Commissioned by the Argentinian sex workers' union, Asociación de Mujeres Meretrices de Argentina, the wheat paste ads cover the corners of buildings. A view from one side displays a woman in a suggestive pose, but the full image reveals a family scene: a mother leading her kids home in their school gear, or a baby pushed in a stroller.
The text reminds us that "86% of sex workers are mothers. We need a law to regulate our work." Game Of Thrones' George RR Martin Is 'Feminist at Heart' I wouldn't say it's just men.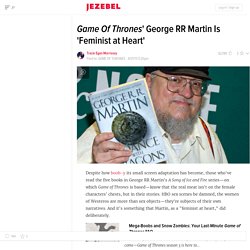 There are a lot of women who love Arya or Brienne for being physically strong and having exciting storylines but who hate Sansa or Catelyn because they're emotionally and intellectually strong. I do love most of the female characters, but it does annoy me that the women who are physically strong (Brienne, Arya, Ygritte) are described as being ugly or looking boyish. On a different note, I have a feeling that we're never going to get to see Dacey Mormont on the show, which makes me sad because she was one of those small side characters I always wanted to know more about. 4/01/13 6:11pm. Tips for Keeping your Tenement Tidy (in 1911) Mabel Hyde Kittredge, activist and founder of the hot lunch program for public schools in New York, was the Martha Stewart of tenement living.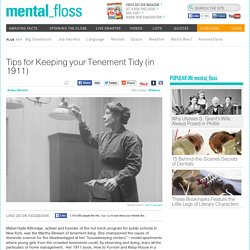 She championed the cause of domestic science for the disadvantaged at her "housekeeping centers"—model apartments where young girls from the crowded tenements could, by observing and doing, learn all the particulars of home management. Her 1911 book, How to Furnish and Keep House in a Tenement Flat, was organized as a series of lessons to be used at the housekeeping centers in New York or in other cities which had started to establish centers of their own. The young girls who took the courses were meant to see the model apartments as "an illustration of the sanitation and beauty which lie within reach of the laborer's income. " Miss Representation. Magazine - Why Women Still Can't Have It All. It's time to stop fooling ourselves, says a woman who left a position of power: the women who have managed to be both mothers and top professionals are superhuman, rich, or self-employed.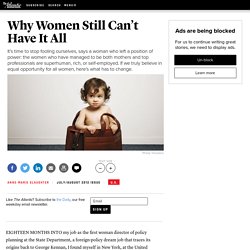 If we truly believe in equal opportunity for all women, here's what has to change. Phillip Toledano Eighteen months into my job as the first woman director of policy planning at the State Department, a foreign-policy dream job that traces its origins back to George Kennan, I found myself in New York, at the United Nations' annual assemblage of every foreign minister and head of state in the world. On a Wednesday evening, President and Mrs. Obama hosted a glamorous reception at the American Museum of Natural History. Science: It's a sexist thing #sciencegirlthing. The best of non-profit advertising and marketing for social causes Posted by Tom Megginson | 26-06-2012 23:19 | Category: Women's Issues It was the marketing fail heard round the world, and I got a call this morning at my office asking me what the problem was.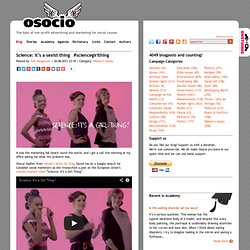 'Science: It's a Girl Thing!' - Insipid Ad. Turns Out Being Born a Woman Is a Major Financial Mistake. I can't understand why so many Americans think their health care system is better than ours here in the UK, where the National Health Service is paid for out of general taxation.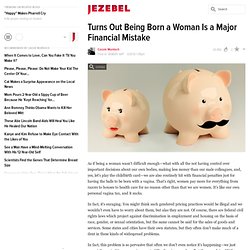 The more you earn, the more you pay. If you earn less or nothing at all, you pay less or nothing at all - and you're still entitled to the health care you need. Women don't pay more. People with long term conditions don't pay more.
---