EV
Electric Cars, Hybrid Cars & More | Green Car. Tesla Motors. Autoblog — Plug-In Hybrid & Electric Vehicles - PHEVs - News & Reviews | PluginCars.com.
Green Car Congress. New Hybrid Reviews, News & Hybrid Mileage (MPG) Info. Plug In America | We Drive Change. EV Links & Resources | Plug In America. The links and listings are provided for information purposes only.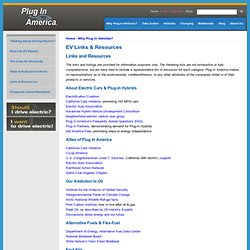 The following lists are not exhaustive or fully comprehensive, but we have tried to include a representative list of resources for each category. Plug In America makes no representations as to the workmanship, creditworthiness, or any other attributes of the companies listed or of their products or services. About Electric Cars & Plug-In Hybrids Electrification CoalitionCalifornia Cars Initiative, promoting 100 MPG carsElectric Auto AssociationAdvanced Hybrid Vehicle Development ConsortiumNeighborhood electric vehicle user groupPlug In America's Frequently Asked Questions (FAQ)Plug In Partners, demonstrating demand for Plug-In HybridsSet America Free, promoting steps to energy independence. EV Photo Album: Our Electric Cars on the Web.
---