Recipes to try
Tucking white chocolate truffles into the centers of these fluffy cupcakes creates a sweet surprise. Ingredients: Directions:
The Pampered Chef, Ltd.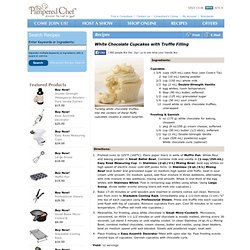 Cucumber-Walnut Raita
Caramelized Onion Dip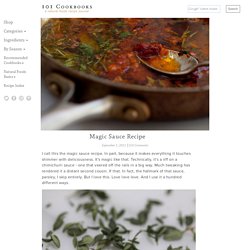 I call this magic sauce. In part, because it makes everything it touches shimmer with deliciousness. It's magic like that. Technically, it's a riff on a chimichurri sauce - one that veered off the rails in a big way. Much tweaking has rendered it a distant second cousin. If that.
Giveaways Feb. 20-24th, 2012!If you're here from Pinterest, Welcome! I hope you'll take a look around and follow along! Thanks for stopping by! The inspiration for this came via pinterest, my newest obsession.
DIY Smoothie Packs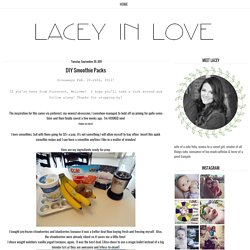 Ricotta Stuffed Zucchini Rolls | The Joy of Clean Eating
I'm always looking for ways to satisfy my pizza cravings without going off the deep end. It's always tough to attempt "paleo baking" and most of the pizza crusts I have attempted in the past turned out soggy and fall apart pretty quickly. Recently I found a recipe for cauliflower pizza crust on a Facebook site called Kickass Fitness. While I haven't yet tried the recipe myself, this lady experiments with paleo/primal recipes all of the time, and so far her recipes have turned out pretty tasty. Here are the instructions: Pre-heat oven to 400 F.
CrossFit Intrepid » Cauliflower Pizza Crust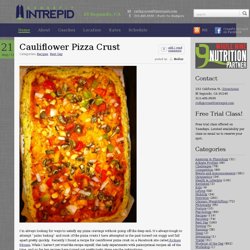 November 10, 2008 | By Adam Roberts | 295 Comments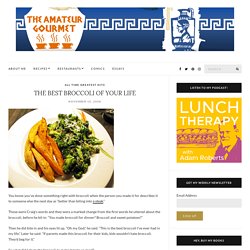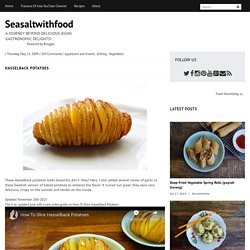 These Hasselback potatoes looks beautiful, don't' they? Here, I also added several cloves of garlic to these Swedish version of baked potatoes to enhance the flavor. It turned out great, they were very delicious, crispy on the outside and tender on the inside..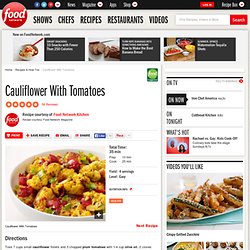 Cauliflower With Tomatoes Recipe : Food Network Kitchens
Toss 7 cups small cauliflower florets and 3 chopped plum tomatoes with 1/4 cup olive oil, 2 cloves minced garlic, 1 1/2 teaspoons cumin seeds, 1/4 teaspoon turmeric, a pinch of cayenne, 1/2 teaspoon salt, and pepper to taste on a baking sheet. Roast in a 450 degrees F oven, about 25 minutes. Sprinkle with lemon juice and chopped cilantro.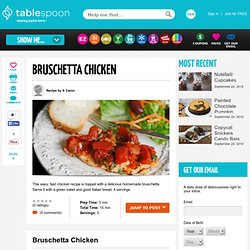 The best dinner is the one that takes only a little time to make but tastes so good that everyone is gazing around for seconds. And I am not talking about tasting good for a quick-cook dish. I am talking about honestly, really truly, undeniably good. Good because it is good.
Bruschetta Chicken Recipe
Fiber-One Parmesan Crusted Chicken Recipe
I was eating healthy and exuding surprising self control until around the second week of December when I started free falling into the land of calorie laden desserts. Now, my pants are tighter and I can officially be added to the list of people who will have "lose weight" on their list of New Year's resolutions. This Fiber One Parmesan Crusted Chicken is an easy and delicious dinner to start your year off eating right. The cereal creates a crust that can easily be mistaken for fried chicken.
These fries ROCK plain and simple. Funny how one would still call them "fries" when really they are not "fried" in anything. Nope, these fries are too sophisticated for greasy oil, and much like a skinny swim suit model they prefer to be lightly oiled, slightly accentuated by a few minor spices and baked lying on a cookie sheet basking in the golden glow of the oven, BUT the one thing that sets these fries apart from the skinny swim suit model is that you can actually LOVE them instead of secretly hating them :)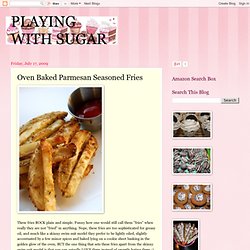 On The Glow Basic Oatmeal Squares
There are fancy squares and then there are not-so-fancy squares. These are the not-so-fancy squares. In fact, they are downright boring, but the beauty is you can dress them up anyway you like. Just like a basic bowl of oatmeal, these squares can be changed up on a whim. My goal was to make a basic everyday oatmeal square for on-the-go breakfasts or snack attacks. They aren't super sweet or bursting with chocolate and fancy mix-ins, although, you could make them that way if you wanted too!