Recipes to try
The Pampered Chef, Ltd. Tucking white chocolate truffles into the centers of these fluffy cupcakes creates a sweet surprise.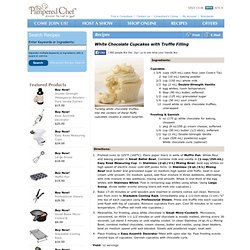 Ingredients: Directions: Cucumber-Walnut Raita. Caramelized Onion Dip. Magic Sauce Recipe. I call this magic sauce.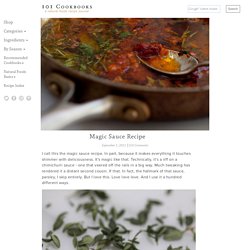 In part, because it makes everything it touches shimmer with deliciousness. It's magic like that. Technically, it's a riff on a chimichurri sauce - one that veered off the rails in a big way. Much tweaking has rendered it a distant second cousin. If that. DIY Smoothie Packs. Giveaways Feb. 20-24th, 2012!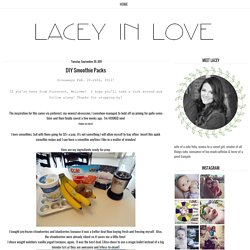 If you're here from Pinterest, Welcome! I hope you'll take a look around and follow along! Thanks for stopping by! The inspiration for this came via pinterest, my newest obsession. Ricotta Stuffed Zucchini Rolls | The Joy of Clean Eating. The Best Broccoli of Your Life. November 10, 2008 | By Adam Roberts | 331 Comments You know you've done something right with broccoli when the person you made it for describes it to someone else the next day as "better than biting into a steak."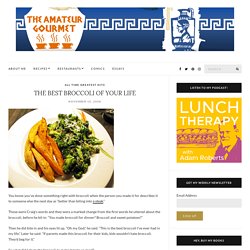 Those were Craig's words and they were a marked change from the first words he uttered about the broccoli, before he bit in: "You made broccoli for dinner? Broccoli and sweet potatoes?" Then he did bite in and his eyes lit up. Hasselback Potatoes. These Hasselback potatoes looks beautiful, don't' they?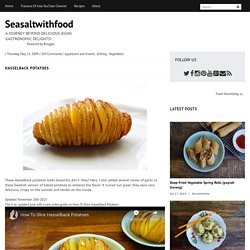 Here, I also added several cloves of garlic to these Swedish version of baked potatoes to enhance the flavor. It turned out great, they were very delicious, crispy on the outside and tender on the inside.. Cauliflower With Tomatoes Recipe : Food Network Kitchens. Bruschetta Chicken Recipe. Fiber-One Parmesan Crusted Chicken Recipe. Oven Baked Parmesan Seasoned Fries. These fries ROCK plain and simple.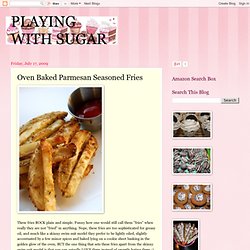 Funny how one would still call them "fries" when really they are not "fried" in anything. Nope, these fries are too sophisticated for greasy oil, and much like a skinny swim suit model they prefer to be lightly oiled, slightly accentuated by a few minor spices and baked lying on a cookie sheet basking in the golden glow of the oven, BUT the one thing that sets these fries apart from the skinny swim suit model is that you can actually LOVE them instead of secretly hating them :) On The Glow Basic Oatmeal Squares. There are fancy squares and then there are not-so-fancy squares.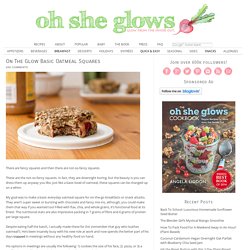 These are the not-so-fancy squares. In fact, they are downright boring, but the beauty is you can dress them up anyway you like. Just like a basic bowl of oatmeal, these squares can be changed up on a whim. My goal was to make a basic everyday oatmeal square for on-the-go breakfasts or snack attacks. They aren't super sweet or bursting with chocolate and fancy mix-ins, although, you could make them that way if you wanted too!
---