Crochet
How to knit a GIGANTO-BLANKET. Grumpygirl: Tutorial: The amazingly flat crochet seam. DROPS Pattern Library: Crochet patterns. DROPS pattern library contains patterns, and it keeps growing every day!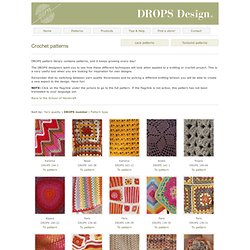 The DROPS designers want you to see how these different techniques will look when applied to a knitting or crochet project. This is a very useful tool when you are looking for inspiration for own designs. Remember that by switching between yarn quality thicknesses and by picking a different knitting tension you will be able to create a new aspect to the design. Jersey Yarn Rug / Sewing and Quilting. How to Make Simple Crochet Slippers « Crafts.
IMPORTANT NOTE: This pattern uses US crochet terminology.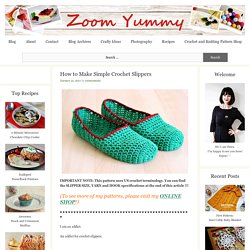 You can find the SLIPPER SIZE, YARN and HOOK specifications at the end of this article !!! (To see more of my patterns, please visit my ONLINE SHOP!) Urban Jungle Slouchy Beanie. Ever since I took up crocheting again, I wanted to make myself a hat.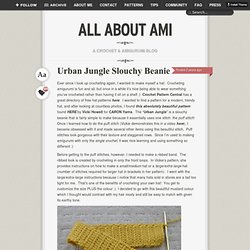 Crocheting amigurumi is fun and all, but once in a while it's nice being able to wear something you've crocheted rather than having it sit on a shelf :) Crochet Pattern Central has a great directory of free hat patterns here. I wanted to find a pattern for a modern, trendy hat, and after looking at countless photos, I found this absolutely beautiful pattern found HERE by Vicki Howell for CARON Yarns. The "Urban Jungle" is a slouchy beanie that is fairly simple to make because it essentially uses one stitch: the puff stitch! Once I learned how to do the puff stitch (Vickie demonstrates this in a video here), I became obsessed with it and made several other items using this beautiful stitch.
Granny Stripe Blanket :: the beginning. Hello my lovelies, great to be here in the Attic :: truthfully I should not be tucked up nattering in the Attic at all, should be attending to the business of making clean the piles of dirty laundry and packing/preparing for our trip away in Connievan tomorrow (woooooooohooooooo, four nights away by the coast!!!!)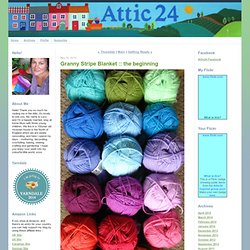 However..........before I leave to go jollying off on my giddy-trip to the seaside, I really, really desperately want to have a quick chat about Acrylic yarn and granny stripe goings on. Cos I need to share, and you need to know, right? It will NOT WAIT, right?? Crochet School. Sorry I've taken so long to post this very last post of the crochet school series.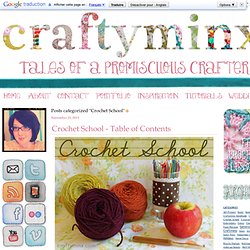 Would you believe me if I said I don't want it to end? Haha That's not the real reason, although it is a little weird to be writing the last crochet school post (for now). I've just been busy designing new patterns and crocheting my butt off for the craft show I'm in next month, Deluxe. I was also waiting for all of you to have time to put in questions you want answered in this post. Let's cover those questions first: ePatterns and eProjects. S Best Photos of grannysquares.
Flickr Hive Mind is a search engine as well as an experiment in the power of Folksonomies.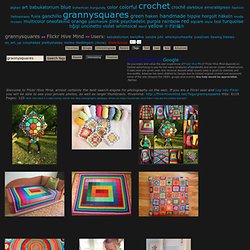 All thumbnail images come directly from Flickr, none are stored on Flickr Hive Mind. These photos are bound by the copyright and license of their owners, the thumbnail links take to you to the photos (as well as their copyright and license details) within Flickr. Because some other search engines (Google, etc.) index parts of Flickr Hive Mind, you may have been led here from one of them. Welcome to Flickr Hive Mind, almost certainly the best search engine for photography on the web. If you are a Flickr user and use Flickr Stats you may have seen people being led to your photos via Flickr Hive Mind (as a Referrer).
Handcuffs - Amigurumi Patterns.net. How to Crochet - Crochet Chevron Stitch Motive. Crochet A Blanket - Starting and Finishing Part 1 Pattern In Info. Sweet Flower Granny Blanket :: Ta-dah! Hello my lovelies, thanks as always for taking time to call in and see me, so happy to have you here.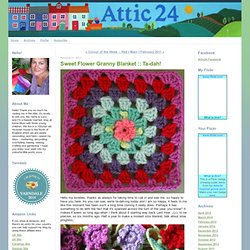 As you can see, we're ta-dah-ing today and I am so happy, it feels to me like this moment has been such a long time coming it really does. Perhaps it has something to do with the fact that it's spanned across the turn of the year, you know? It makes it seem so long ago when I think about it starting way back Last Year. July to be precise, so six months ago. Half a year to make a modest size blanket, talk about slow progress. Carina's Craftblog: Granny square joining tutorial. Just a warning before we get started with the tutorial, there's LOTS of pictures and I may go into too much detail, but that's just what I do. ;-) By the way, this is the yarn I use.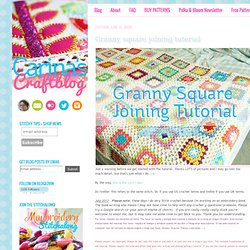 Dc/treble: this refers to the same stitch. Dc if you use US crochet terms and treble if you use UK terms. July 2012 - Please note: these days I do very little crochet because I'm working on an embroidery book. The book writing also means I may not have time to help with any crochet-y questions/problems. Loop and Nub Stitch Tutorial.
Warning: Incorrect key file for table 'cache_page'; try to repair it query: SELECT data, created, headers, expire FROM cache_page WHERE cid = ' in /home/content/a/l/e/aleiphein/html/home/includes/database.mysql.inc on line 172 Warning: Cannot modify header information - headers already sent by (output started at /home/content/a/l/e/aleiphein/html/home/includes/database.mysql.inc:172) in /home/content/a/l/e/aleiphein/html/home/includes/bootstrap.inc on line 488.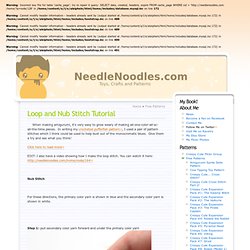 Yarn Bombing / Guerrilla Crochet – A Collection | STREET ART UTOPIA. Vickie Howell for CARON | Urban Revival.
---