Buy
M1.25.66 Straight Fit Kurabo
Thursday, August 30, 2012, by Izzy Grinspan Rendering via WWD Since Nordstrom won't officially open in New York for another six or so years, the Seattle-based brand has to find new and clever ways to make its presence felt locally. For Fashion Week, they're pairing up with GQ on a men's pop-up shop inside Treasure & Bond in Soho. The store, which grew out of an integrated marketing program GQ has with Nordstrom, will carry big names like Ralph Lauren and Band of Outsiders alongside smaller companies like Hav-A-Hank handkerchiefs.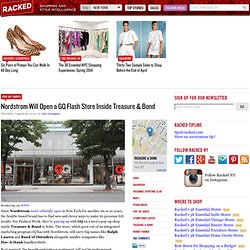 Nordstrom Will Open a GQ Flash Store Inside Treasure & Bond - Pop-Up Shops
Steal Like an Artist, by Austin Kleon
Proper Suit - Bespoke Suits for Men - Home
NOAH LAMBERT
David Yurman | Men | Best Sellers: 7.3mm Box Chain Bracelet
Tie Bar in aluminum custom stamped perfect by SpiffingJewelry
Dr Denim | Dr Denim Roland Floral Shirt at ASOS
Prada - Criss Cross Sandals
The Gifts of Imperfection: Let Go of Who You Think You're Supposed to Be and Embrace Who You Are: Brene Brown: 9781592858491: Amazon.com
The Knottery, Attainable Style
Adorn your wall with rasterbations.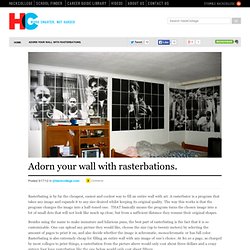 Rasterbating is by far the cheapest, easiest and coolest way to fill an entire wall with art. A rasterbator is a program that takes any image and expands it to any size desired whilst keeping its original quality. The way this works is that the program changes the image into a half-toned one. THAT basically means the program turns the chosen image into a lot of small dots that will not look like much up close, but from a sufficient distance they resume their original shapes. Besides using the name to make immature and hilarious puns, the best part of rasterbating is the fact that it is so customizable.
iPhone Apps That Will Improve Your Phone and Impress Your Friends
How often do you spend countless hours searching for new apps on Apple's App store? Probably not that many if you have a life, unlike me. Thankfully this list of iPhone apps will keep you up to date with your smartphone's capabilities, and your friends might think you're a tech-savvy super star. Here are a few apps I have on my phone that are definitely worth the download: Square Receiving the check at group dinners is one of today's top first world problems.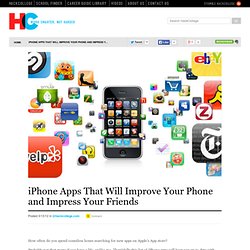 The Kickstarter is over, but if you missed out on backing us, not to worry. You can still join the thousands of other awesome Twine owners by pre-ordering on Supermechanical . It's the next best thing to being an original backer! Follow us on Facebook or Twitter . Want to hook up things to the Web?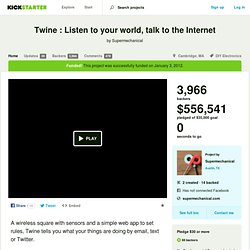 Winter Boat Shoes