Self improvement
Get flash to fully experience Pearltrees
by Celes on Jul 27, 2011 | ShareThis
By: Alvaro Fernandez Let's review some good lifestyle options we can fol­low to main­tain, and improve, our vibrant brains. Learn what is the "It" in "Use It or Lose It". A basic under­stand­ing will serve you well to appre­ci­ate your brain's beauty as a liv­ing and constantly-developing dense for­est with bil­lions of neu­rons and synapses. Take care of your nutri­tion . Did you know that the brain only weighs 2% of body mass but con­sumes over 20% of the oxy­gen and nutri­ents we intake?
Contrary to popular belief, you don't have to make drastic changes in order to notice an improvement in the quality of your life.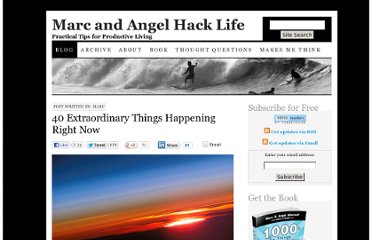 post written by: Marc Email
post written by: Marc
post written by: Marc Email The Web is grand.
post written by: Marc Email These questions have no right or wrong answers.
post written by: Marc