Helping People
UNIFEM Australia Promotes women's human rights, political participation and economic security. The Smith Family, helping disadvantaged Australian kids. Home » salvos.org.au. Amnesty International Australia. Home | Greenpeace Australia Pacific. International Home. Equality Now | End violence and discrimination against women and girls. iTE To End Violence Against Women. Orange Day The Secretary-General's UNiTE to End Violence against Women campaign proclaims every 25th of the month as Orange Day!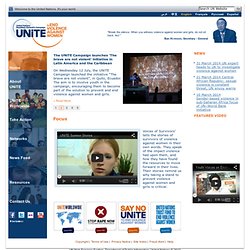 More information on Orange your World. » Read More The UNiTE Campaign launches 'The brave are not violent' initiative in Latin America and the Caribbean On Wednesday 12 July, the UNiTE Campaign launched the initiative "The brave are not violent", in Quito, Ecuador. Homepage. Welcome to the Frontpage. World Vision Australia - Official site for child sponsorship and donations. Half The Sky. Global Fund for Women.
Job Futures+Green Jobs - Australian Red Cross | Australian Red Cross - The Power Of Humanity. GoVolunteer. Home – Everyday Hero Australia. The Fred Hollows Foundation | Restore sight for $25 and help Fred's dream live on. ACF | Australian Conservation Foundation. Wwf - Australia: global environmental conservation organisation. Oxfam Australia. CARE Australia - International humanitarian aid organisation fighting global poverty. Home | Greenpeace Australia Pacific.
Bush Heritage Australia. The Bill. Amnesty International Australia. Your local Action Centre is there to assist you in defending human rights.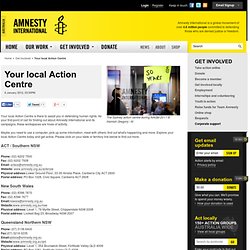 As your first point of call for finding out about Amnesty International and its campaigns, these workspaces are hives of activity. Maybe you need to use a computer; pick up some information; meet with others; find out what's happening and more. Explore your local Action Centre today and get active. Please click on your state or territory link below to find out more. Take action online.
---