Helping People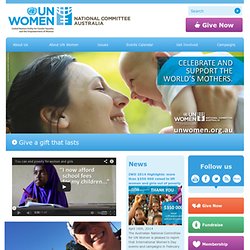 The message at the first-ever awards ceremony of the UN Trust Fund to End Violence against Women was simple: "they count on us; we count on you." Organised by the Trust Fund, the ceremony put a spotlight on ground-breaking initiatives that address the crucial needs of survivors of gender-based violence around the world and recognised individuals who have dedicated their lives to the cause. One of the people honoured for her extensive work advocating to end violence against women was UN Women Goodwill Ambassador Nicole Kidman.
UNIFEM Australia Promotes women's human rights, political participation and economic security
The Smith Family, helping disadvantaged Australian kids
Home » salvos.org.au
Amnesty International Australia
Home | Greenpeace Australia Pacific
Equality Now | End violence and discrimination against women and girls
You can support and get involved in Equality Now's critical work in many ways: Make a donation | Join our Equality Action Network | Take action now "I'm tired of being polite about something that matters so much....next year: more, louder, crazier." Listen to Joss Whedon's inspirational call to action on behalf of Equality Now, filmed... Your purchase supports Equality Now's work on behalf of women and girls around the world!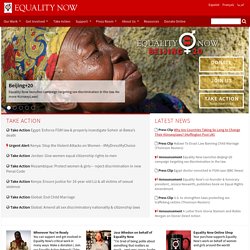 iTE To End Violence Against Women
The Birthing Kit Foundation (Australia) is an organisation dedicated to improving the conditions for women who give birth at home in developing countries. "Every 90 seconds, a woman dies of complications related to pregnancy and childbirth" With an estimated 385,000 women dying annually in childbirth, many from infections acquired during childbirth, there is a great need for our clean birthing kits. Most women we assist for reasons of isolation, cultural choice or poor transport have little or no assistance during childbirth. Many mothers and babies die from preventable infections.
Homepage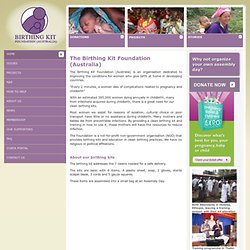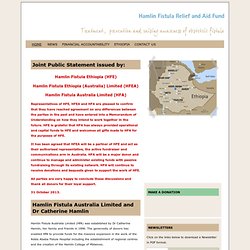 Hamlin Fistula Ethiopia (HFE) Hamlin Fistula Ethiopia (Australia) Limited (HFEA) Hamlin Fistula Australia Limited (HFA)
Welcome to the Frontpage
World Vision Australia - Official site for child sponsorship and donations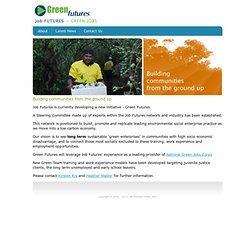 Building communities from the ground up Job Futures is currently developing a new initiative - Green Futures. A Steering Committee made up of experts within the Job Futures network and industry has been established. This network is positioned to build, promote and replicate leading environmental social enterprise practice as we move into a low carbon economy. Our vision is to see long term sustainable 'green enterprises' in communities with high socio economic disadvantage, and to connect those most socially excluded to these training. work experience and employment opportunities.
Job Futures+Green Jobs -
Australian Red Cross | Australian Red Cross - The Power Of Humanity
GoVolunteer
Spread the word, inspire support and raise money for a cause you care about. Start Here For charities However you want to fundraise, however donors want to give, Everyday Hero provides you with a single platform to promote, manage and report fundraising campaigns across offline and online channels. From direct donation appeals to peer-to-peer fundraising events, Heroix 3.0 allows you to create fully customised microsites that provide richer giving experiences for your fundraisers and donors.
Home – Everyday Hero Australia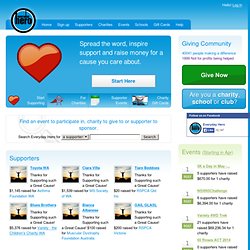 The Fred Hollows Foundation | Restore sight for $25 and help Fred's dream live on
ACF | Australian Conservation Foundation
wwf - Australia: global environmental conservation organisation
Stop hunger in Timor-Leste Judit lives with her family in Timor-Leste and is about to confront the 'hungry season' head-on. "My biggest concern as a mother is when my children cry when there is no food".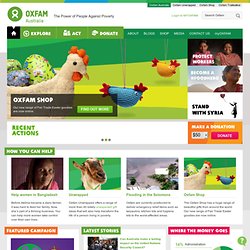 Oxfam Australia
CARE Australia - International humanitarian aid organisation fighting global poverty
Home | Greenpeace Australia Pacific
Bush Heritage Australia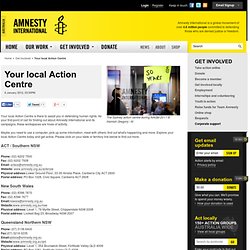 Your local Action Centre is there to assist you in defending human rights. As your first point of call for finding out about Amnesty International and its campaigns, these workspaces are hives of activity. Maybe you need to use a computer; pick up some information; meet with others; find out what's happening and more. Explore your local Action Centre today and get active. Please click on your state or territory link below to find out more.
Amnesty International Australia
Take action online