Crafts
Paper Flowers. All Things Thrifty Home Accessories and Decor. Paper beads. By Kate on October 30, 2010 I made these paper beads a while ago and dug them out the other day for my eldest son to play with.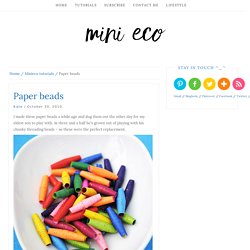 At three and a half he's grown out of playing with his chunky threading beads – so these were the perfect replacement. 10 T-Shirt Scarf Tutorials. Zessie87/things-to-make-and-do/ DIY + How To. An occasion for dispensing confetti doesn't present itself too often, so why not do it with appropriate aplomb?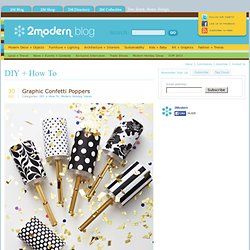 As if we didn't already know that black-and-white, bold graphics, and a dash of sparkle are a surefire route to a memorably festive visual statement, along come these confetti poppers—a DIY project — Continue reading Talk about a gem of a DIY project! This shimmering, beautifully faceted holiday ornament, which we discovered on the unfailingly industrious site, A Beautiful Mess, was fashioned at home with the help of standard craft staples: balsa wood, X-Acto knife, gold paint—and, yes, a dose of motivation which (we admit) — Continue reading.
About Recycle This | How can I recycle this? This site started from a bowl of pistachio nut shells.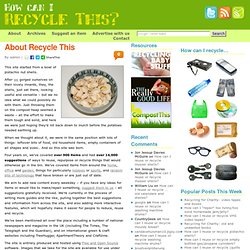 After we gorged ourselves on their lovely innards, they, the shells, just sat there, looking useful and versatile – but we no idea what we could possibly do with them. Just throwing them on the compost heap seemed a waste – all the effort to make them tough and solid, and here we were just hoping they'd rot back down to mulch before the potatoes needed earthing up. Owl- bedside lamp : Dominika Drop. Tutorials. Hola there!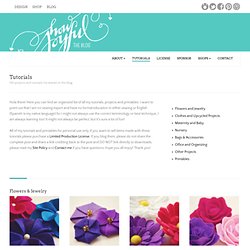 Here you can find an organized list of all my tutorials, projects and printables. I want to point out that I am no sewing expert and have no formal education in either sewing or English (Spanish is my native language) So I might not always use the correct terminology or best technique, I am always learning too! It might not always be perfect, but it's sure a lot of fun!
30Day.jpg (600×776) THE WEEKENDER. Featured: Lex Trip Bag So this weekend will have you jetting off to the coast for sun & surf?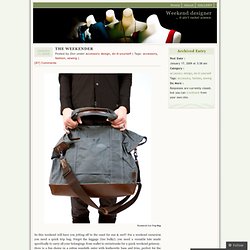 For a weekend excursion you need a quick trip bag. Forget the luggage (too bulky); you need a versatile tote made specifically to carry all your belongings from wallet to swimtrunks for a quick weekend getaway. Here is a fun choice in a cotton waxcloth outer with leatherette base and trim, perfect for the do-it-yourselfer, similar to the Lex Trip Bag from PROPERTY OF. Dimensions: approximately 18″ x 8 x 17″ [45cm x 20.5cm x 43cm]. I think I caught the DIY bug. | Charlotte Tang. I'm alive!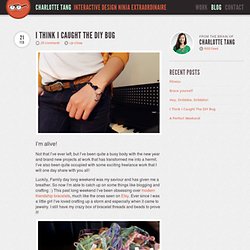 Not that I've ever left, but I've been quite a busy body with the new year and brand new projects at work that has transformed me into a hermit. I've also been quite occupied with some exciting freelance work that I will one day share with you all! Luckily, Family day long weekend was my saviour and has given me a breather. So now I'm able to catch up on some things like blogging and crafting : ) This past long weekend I've been obsessing over modern friendship bracelets, much like the ones seen on Etsy. Ever since I was a little girl I've loved crafting up a storm and especially when it came to jewelry. MADE. 21 ways of turning pallets into unique pieces of furniture. Wood pallets have been around for decades as mechanisms for shipping and storing larger items (among other things).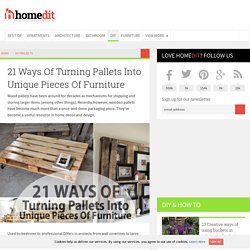 Recently, however, wooden pallets have become much more than a once-and-done packaging piece. They've become a useful resource in home décor and design. My love for you… | sfgirlbybay. Posted by my illustrious guest blogger //// 25 Comments hello everyone!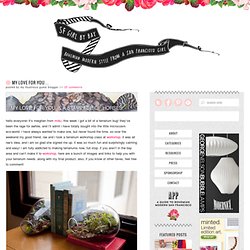 It's meighan from ml4u. this week i got a bit of a terrarium bug! They've been the rage for awhile, and i'll admit i have totally bought into the little microcosm eco-world. i have always wanted to make one, but never found the time. so over the weekend my good friend, rae and i took a terrarium workshop class at workshop. it was all rae's idea, and i am so glad she signed me up. it was so much fun and surprisingly calming and easy! I am fully addicted to making terrariums now, full stop. if you aren't in the bay area and can't make it to workshop. here are a bunch of images and links to help you with your terrarium needs. along with my final product. also, if you know of other faves, feel free to comment!
Top 100 Tutorials of 2010. Home PomPom Pillow from Living with Punks.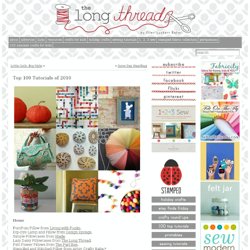 Dip-Dye Lamp and Pillow from Design Sponge. Simple Pillowcases from Made. Lazy Daisy Pillowcases from The Long Thread. Felt Flower Pillows from The Purl Bee. Diy and Crafts.
---