Recipes
New Tab. New Tab. (4) Facebook. Setup your profile. Print Braised Lamb Shoulder Chops Recipe - Food.com - 64776. Zucchini Garlic Soup Recipes from The Kitchn. Zucchini Garlic Soup makes 1 1/2 quarts 4 tablespoons unsalted butter1 white onion, sliced8 to 9 large cloves garlic, sliced thinly 4 medium zucchini, about 1 1/2 pounds4 cups chicken or vegetable broth1/2 teaspoon powdered gingerSalt and pepper.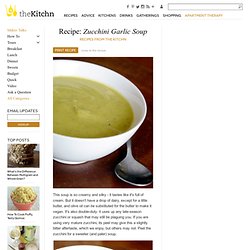 Asian Inspired Slow Cooker Short Ribs with Cabbage & Carrots. When I recently visited the library and sat down to flip through the latest Real Simple, I didn't expect to be copying a recipe down before returning it to the shelf.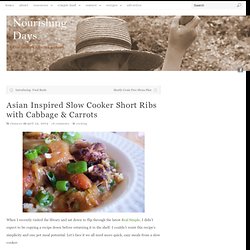 I couldn't resist this recipe's simplicity and one pot meal potential. Let's face it we all need more quick, easy meals from a slow cooker. I changed up the original recipe a bit by halving the amount of meat and doubling the cabbage. I didn't even notice that there was less meat. The cabbage melts down into the rich, savory broth and becomes almost buttery. Korean BBQ Short Ribs (Gal-Bi) Recipe. Banana/Date Muffins! (Oh & TGIF) « The Paleo Angel. Since power has been returned to my humble abode, I've been digging into new recipes, mostly breakfast-related yummies… this is always my favorite go-to recipe site.
It's updated daily which I love because I'm always looking to try new things. It's pretty classic for me to try anything, then tweak it to my liking. The more recipes I've made, the better I'm getting at coming up with my own. Soon enough I'll be creating my own recipes and I'm happy to share my failures and successes! Sometimes the recipes look so simple that I don't think they'll come out good. Paleo Rogan Josh.
Jul 13, 2010 Posted by Mel on Jul 13, 2010 in Curries/Stews , Meats/Eggs , Recipes | 61 comments Whenever I mention the Indian dish rogan josh to my friend Stacey, I accidentally call it Josh Rogan, and she says, "Who?
What?" Because she knows it's really called rogan josh . Yesterday, we realized I was reversing the names because of Seth Rogen – and then Stacey was confusing him with Josh Groban . Spicy chicken. F | explore. Feta Cheese Ball. If your calendar looks anything like mine – you're probably only a couple of days away from crazy.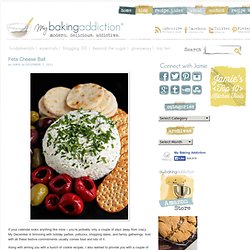 My December is brimming with holiday parties, potlucks, shopping dates, and family gatherings. And with all these festive commitments usually comes food and lots of it. Along with arming you with a bunch of cookie recipes, I also wanted to provide you with a couple of simple appetizers that are sure to make your party prep a little easier and of course – more delicious! Brian and I couldn't get enough of this Feta Cheese Ball. We both kept sneaking into the fridge to steal a nibble throughout the day, even though we were supposed to be saving it for Brian's co-workers. Perfect Prime Rib Recipe, How To Cook Prime Rib, Prime Rib Recipe, Standing Rib Roast, Prime Rib Roast Recipes, Prime Rib Roasting Chart, Prime Rib Dinner, Yorkshire Pudding Recipes, Au Juice Recipes.
Preheat oven to 450 degrees F.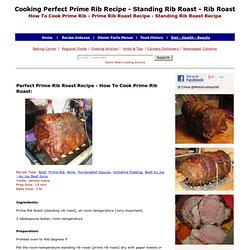 Pat the room-temperature standing rib roast (prime rib roast) dry with paper towels or napkins. Smear the cut ends only of the roast with the butter. Do NOT salt the outside of your prime rib roast, as salt draws out moisture from the meat while cooking. You can use other seasonings, if desired, but I find it is not necessary. Prime Rib. I'm not sure there's anything more special and delicious at Christmastime than a beautiful, perfectly cooked piece of roast beef.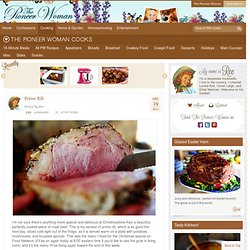 This is my version of prime rib, which is as good the next day, sliced cold right out of the fridge, as it is served warm on a plate with potatoes, mushrooms, and brussels sprouts. That was the menu I fixed for the Christmas special on Food Network (it'll be on again today at 6:00 eastern time if you'd like to see the grub in living color) and it's the menu I'll be fixing again toward the end of this week. It's also the menu I want to eat in Heaven. Kung Pao Chicken. Ingredients Stir Fry 1 red pepper, seeded and diced.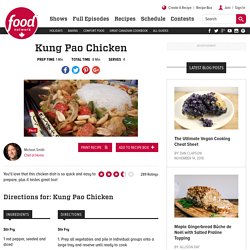 Chicken Stew with Onions, Tomatoes, and Dijon Recipe. 1 Preheat oven to 400°F. 2 Remove the papery outer layers of the garlic bulb, leaving intact the skins of the individual cloves.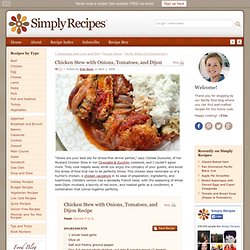 Cut 1/4 to a 1/2 inch off the tops of cloves, exposing the individual garlic cloves. Meyer Lemon Curd. The first time I tasted lemon curd, I fell powerfully and intensely in love with its tart creaminess.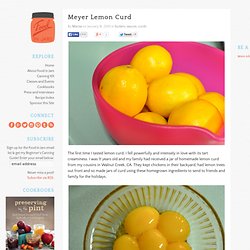 I was 11 years old and my family had received a jar of homemade lemon curd from my cousins in Walnut Creek, CA. They kept chickens in their backyard, had lemon trees out front and so made jars of curd using these homegrown ingredients to send to friends and family for the holidays. For a few days, I kept up the charade of sharing this sunshiny jar with my parents and sister, dutifully dolloping scant spoonfuls onto toast. However, on the third day, I couldn't continue to resist. Spaghetti Squash with Moroccan Spices Recipe at Epicurious. Yield Makes 4 servings active time 10 min total time 25 min. Creamed Spinach Recipe : Emeril Lagasse. Cauliflower with Pine Nuts and Bacon Recipe. Method 1 Bring a large pot of salted water to a boil and cook the cauliflower for 5 minutes. Drain and set aside. 2 While the water is heating, toast the pine nuts in a dry sauté pan until lightly browned.
Chicken Paprikash Recipe. We like cooking chicken skin-on and bone-in, but this recipe will easily work with boneless, skinless chicken pieces as well, if that's what you prefer. Paprika can go flat and tasteless if it is too old. So check your paprika first, before starting this dish. Spicy Lamb Stew Recipe. You will get more flavor if you use less expensive lamb pieces that come bone-in, in which case you'll likely want to remove the bones before serving. Pick lamb pieces that have some fat. Ingredients 2-3 lbs of lamb shoulder stew meat, cut into 1½-inch cubesOlive oil2 yellow onions, chopped4 cloves garlic, minced2 red bell peppers, chopped2 dry pasilla chiles, chopped, stems and most seeds removed1 Tbsp hot Hungarian paprika*1½ teaspoon ground cuminPinch of ground cardamon1½ cups chicken stock (use gluten-free stock for gluten-free version)14 oz of canned whole tomatoes, put through a food mill, or puréed8-10 sprigs fresh flat leaf parsley4-5 sprigs of thyme1 bay leaf2/3 cup raisinsSalt and pepper.
Caramelized Fennel and Onions Recipe. Zucchini and Spinach Gratin Recipe. Remoulade Sauce Recipe. Baked pumpkin and sour cream puddings. Rutabaga Sweet Potato Puree recipe - Food Canadian Living. Vinegar Chicken.
---