meditation
Get flash to fully experience Pearltrees
Research is confirming the medicinal effects that advocates have long claimed for meditation. For thousands of years, Buddhist meditators have claimed that the simple act of sitting down and following their breath while letting go of intrusive thoughts can free one from the entanglements of neurotic suffering. Now, scientists are using cutting-edge scanning technology to watch the meditating mind at work.
All of the Dalai Lama's guests peered intently at the brain scan projected onto screens at either end of the room, but what different guests they were. On one side sat five neuroscientists, united in their belief that physical processes in the brain can explain all the wonders of the mind, without appeal to anything spiritual or nonphysical. Facing them sat dozens of Tibetan Buddhist monks in burgundy-and-saffron robes, convinced that one round-faced young man in their midst is the reincarnation of one of the Dalai Lama's late teachers, that another is the reincarnation of a 12th-century monk, and that the entity we call "mind" is not, as neuroscience says, just a manifestation of the brain.
Public release date: 5-Apr-2011 [ Print | E-mail | Share ] [ Close Window ] Contact: Marguerite Beck marbeck@wakehealth.edu 336-716-2415 Wake Forest Baptist Medical Center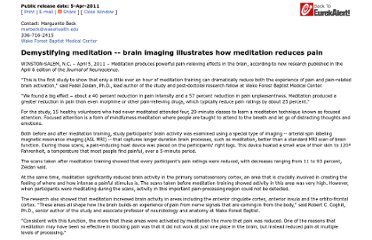 Jan. 21, 2011 — Participating in an 8-week mindfulness meditation program appears to make measurable changes in brain regions associated with memory, sense of self, empathy and stress.
Morning "Check In" — What is present and what is arising? Steve Goodheart Essay
1. Meditation has to be done sitting – with legs crossed and eyes closed : Nothing could be further from the truth, meditation is the act of concentration and focusing on one specific object with the conscious exclusion of all else, typically experienced as an altered state of consciousness.
September 10, 2010. 100-minute dharma talk given by Thich Nhat Hanh in Singapore during the Peaceful Mind, Open Heart Retreat at the Kong Meng San Pu Jue Zen Monastery. The talk is given in English and Chinese simultaneously. I apologize for posting this out of order – you can hear the previously posted second part of this discourse at Mindful Breathing: Mind and Objects of Mind .
photo credit: mariskar For thousands and thousands of years meditation has been helping people achieve good health, a long life and lasting happiness.
Scientific American :