News
BBC - Homepage. Crikey -- On politics, media, business, the environment and life. Looking Back at 2011: Retrospectives and Ideas for Teaching With Them. Updated | Jan. 1, 2012 We love a good year-end retrospective, and this week we've been rounding up the 2011 crop, from The Times and from around the Web.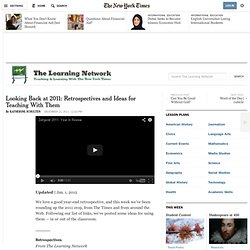 Following our list of links, we've posted some ideas for using them — in or out of the classroom. Retrospectives. Ushahidi :: Home.
Infographics
Murdoch Makes Fresh Apology Over Hacking Scandal. Rebekah Brooks, the News Corp. executive removed last week amid the U.K. phone-hacking scandal, was arrested by police as Chairman and Chief Executive Officer Rupert Murdoch made a fresh apology in national newspapers.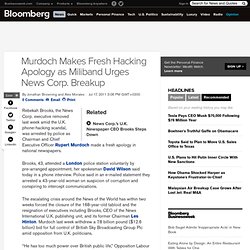 Brooks, 43, attended a London police station voluntarily by pre-arranged appointment, her spokesman David Wilson said today in a phone interview. Police said in an e-mailed statement they arrested a 43-year-old woman on suspicion of corruption and conspiring to intercept communications. The escalating crisis around the News of the World has within two weeks forced the closure of the 168-year-old tabloid and the resignation of executives including Brooks, CEO of the News International U.K. publishing unit, and its former Chairman Les Hinton.
Murdoch last week withdrew a 7.8 billion pound ($12.6 billion) bid for full control of British Sky Broadcasting Group Plc amid opposition from U.K. politicians.
---