Open Access
Potential, possible, or probable predatory scholarly open-access journals This is a list of questionable, scholarly open-access journals. We recommend that scholars read the available reviews, assessments and descriptions provided here, and then decide for themselves whether they want to submit articles, serve as editors or on editorial boards. The criteria for determining predatory journals are here .
LIST OF INDIVIDUAL JOURNALS | Scholarly Open Access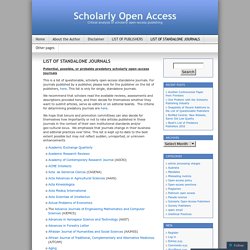 Manifeste de la Guérilla pour le Libre Accès « Guerilla Open Access Manifesto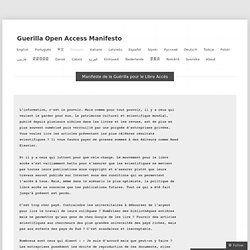 L'information, c'est le pouvoir. Mais comme pour tout pouvoir, il y a ceux qui veulent le garder pour eux. Le patrimoine culturel et scientifique mondial, publié depuis plusieurs siècles dans les livres et les revues, est de plus en plus souvent numérisé puis verrouillé par une poignée d'entreprises privées. Vous voulez lire les articles présentant les plus célèbres résultats scientifiques ? Il vous faudra payer de grosses sommes à des éditeurs comme Reed Elsevier.
Jailbreaking the PDF Hackathon
Open Data Study – New Technologies
Political power, information and rights issues have been energised in the US and UK by the pioneering introduction of open data. Making information about services, education and other data has been made publicly available on the web in both countries to help improve services and contribute to future economic growth. But can this approach be replicated to support progress in middle-income and developing countries? This paper explores the feasibility of applying a similar approach to open data in middle income and developing countries and identifies the factors behind the success in the US and UK and the pivotal strategies adopted in these contexts which helped bring together civil servants and 'civic hackers' to release government data. The report finds that 3 key groups or 'layers' were crucial to the successful introduction of open data.
HAL - LIRMM
Bernard Rentier, Recteur
L'open data continue de s'étendre avec une nouvelle initiative sud américaine. Le Brésil, engagé dans l'Open Data Partnership, a lancé le 4 mai dernier son portail d'ouverture des données publiques, dados.gov.br . Ce portail a été construit avec des outils gratuits et open source, dont la plate-forme CKAN développée par l'OKF, gage de la volonté du gouvernement brésilien de promouvoir l'utilisation des logiciels gratuits au sein des administrations publiques. Cette initiative a fait la part belle à la participation citoyenne, avec l'organisation de forums de développement et de discussion ouverts à tout citoyen interéssé par le sujet.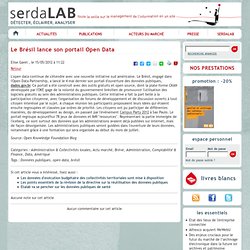 Le Brésil lance son portail Open Data
Journal of Nanobiotechnology
Mirabel
OAPEN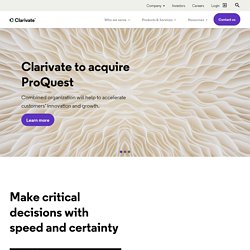 Free Scientific Resources
Intelligent Information for Life : discover how our customers use intelligent information to achieve exciting new discoveries and life-changing innovation Training : enhance your information searches with our training sessions and reference materials Thomson Reuters Community - Forums : stop by to ask questions about our products or have discussions with fellow users Select additional free resources using the tabs below: Master Journal List : search the master database of all the journal titles we cover Expert Essays : find in-depth, explanatory information relating to citation databases and other information tools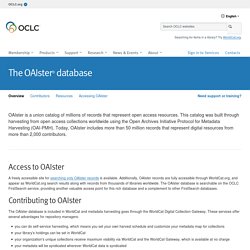 Access to OAIster A freely-accessible site for searching only OAIster records is available at http://oaister.worldcat.org/ . Additionally, OAIster records are fully accessible through WorldCat.org, and will be included in WorldCat.org search results along with records from thousands of libraries worldwide. They will also continue to be available on the OCLC FirstSearch service to Base Package subscribers, providing another valuable access point for this rich database and a complement to other FirstSearch databases.
Gallica