Writing
Story Starters for Kids. Publishing Learners' Writing. Light summer dresses beckon behind the door as the sun finds its path through slanted shades.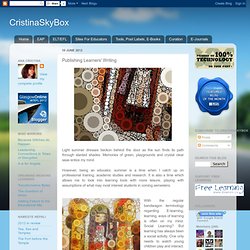 Memories of green, playgrounds and crystal clear seas entice my mind. However, being an educator, summer is a time when I catch up on professional training, academic studies and research. It is also a time which allows me to look into learning tools with more leisure, playing with assumptions of what may most interest students in coming semesters. With the regular bandwagon terminology regarding E-learning, learning, ways of learning is often on my mind. Social Learning? 31 Online Resources for Better Writing. Here are 31 online resources to help you improve your writing and become a better writer.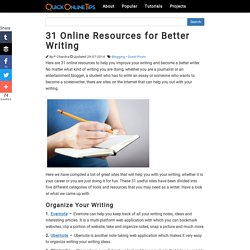 No matter what kind of writing you are doing, whether you are a journalist or an entertainment blogger, a student who has to write an essay or someone who wants to become a screenwriter, there are sites on the Internet that can help you out with your writing. Advertisements Here we have compiled a list of great sites that will help you with your writing, whether it is your career or you are just doing it for fun. These 31 useful sites have been divided into five different categories of tools and resources that you may need as a writer. Have a look at what we came up with. iPads can't improve learning without good teaching Pt 2 – Writing. Used with permission from Debbie Ridpath Ohi at Inkygirl.com ( ) Writing and technology has been a controversial subject for many traditionalists in education.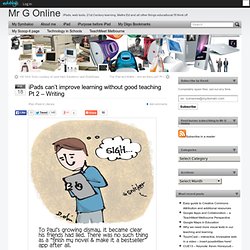 "Spell check stops children from learning to spell". "All students do today is copy and paste from Wikipedia and Google searched articles." " Children need to handwrite all their drafts". "William Shakespeare didn't have a laptop" ( OK, i just threw that in for fun!) Paper Rater: Free Online Grammar Checker, Proofreader, and More.
Boom Writer. BoomWriter lets you easily incorporate and experience the benefits of technology as your students are engaged in the following (or similar) standards-based learning activities: Grade 3 CCSS.ELA-Literacy.W.3.3 - Write narratives to develop real or imagined experiences or events using effective technique, descriptive details, and clear event sequences.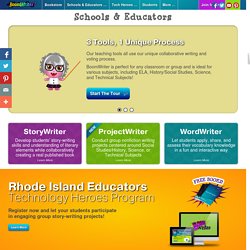 Using BoomWriter's feature allowing teachers to create their own story start, students collaboratively create imagined multi-paragraph personal narratives using a teacher generated prompt (e.g. "When I woke up on Saturday morning, I had no idea I was in for the craziest day of my entire life…"). Quality Student Blogs Part One – Posts. Posted by Mrs Kathleen Morris on Sunday, June 10th 2012 As I have written about before, I have a system in my classroom where students can earn their own blog.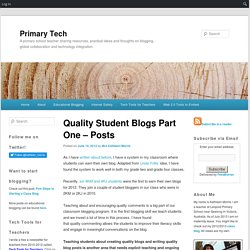 Adapted from Linda Yollis' idea, I have found the system to work well in both my grade two and grade four classes. Quality Student Blogs Part Two – Post Topics. Posted by Mrs Kathleen Morris on Tuesday, June 19th 2012 Last week I wrote about how students with their own blogs can be guided to create quality posts.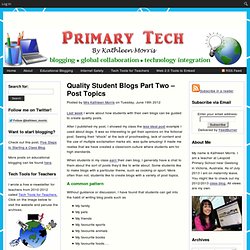 After I published my post, I showed my class the less ideal post example I used about dogs. It was so interesting to get their opinions on the fictional post. Seeing their "shock" at the lack of proofreading, lack of content and the use of multiple exclamation marks etc. was quite amusing! It made me realise that we have created a classroom culture where students aim for high standards.