2010
How the COPPA, as Implemented, Is Misinterpreted by the Public:
Authored by danah boyd, Urs Gasser, John Palfrey Download PDF Mr. Chairman, Members of the Senate Subcommittee, and Commissioners of the United States Federal Trade Commission: Thank you for focusing attention on the important issues of youth privacy and safety online. As researchers, we welcome the opportunity to provide input into these hearings regarding the Children's Online Privacy Protection Act (COPPA). We write as individuals, but we work together as the principal investigators of the Youth and Media Policy Working Group Initiative at Harvard's Berkman Center for Internet and Society.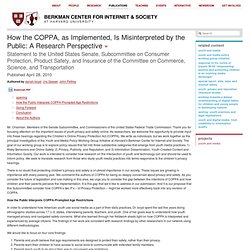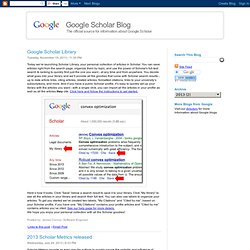 Google Scholar Blog
Earlier this year, we launched Scholar Metrics which provides an easy way for authors to quickly gauge the visibility and influence of recent articles in scholarly publications. Today, we are updating Scholar Metrics to make it easier for you to explore publications in research areas that you are interested in. To get started, you can browse publications in broad areas like Engineering & Computer Science, Health & Medical Sciences, or Social Sciences.
Top 150 Management & Leadership Blogs I thought it was time for a new top list on this blog. The readers of this blog know that I did this several times before, with the Top 200 Blogs for Developers, the Social Media Blogs Top 200, the Top 100 Best Books for Managers, Leaders & Humans, and many more… This time I wanted a list of the best management and leadership blogs in the world. And after a few weeks of browsing I had collected more than 150 blogs fitting the category.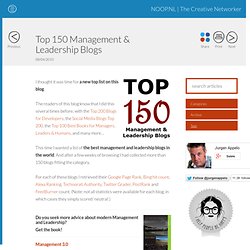 Adults ruined blogs for kids, study shows / The Christian Scienc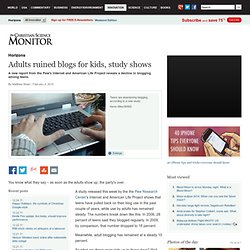 You know what they say – as soon as the adults show up, the party's over. Skip to next paragraph Recent posts
Widgets are mini web applications that you can insert into your website and/or social networks. They're a popular way to add interesting third party content to your web presence. In this post we look at the top web widgets from Yola and Widgetbox. It's clear from our analysis that widgets are well past the early adopter stage and are now very mainstream.
Top 10 Web Widgets
Top 10 Social Media Blogs – The 2010 Winners | Social Media Exam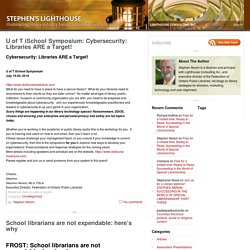 From HBR Blog: How to engage your employees and stop wasting everyone's time: http://bit.ly/1hIzC8O Stephen Librarians are #38 on the list. Click the "all 200" link in the box to see the details.
by David Armano | 9:54 AM November 2, 2009 In 2009 we saw exponential growth of social media. According to Nielsen Online, Twitter alone grew 1,382% year-over-year in February, registering a total of just more than 7 million unique visitors in the US for the month. Meanwhile, Facebook continued to outpace MySpace. So what could social media look like in 2010? In 2010, social media will get even more popular, more mobile, and more exclusive — at least, that's my guess.