Jackets/Coats/Wraps
Rectangle with a Cowel Neck
Cape/Cloak/Capelet etc etc etc
How To Make a Long Sleeve Drapped Cardigan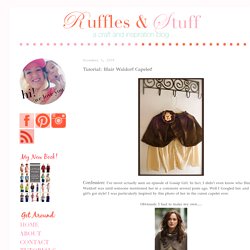 Tutorial: Blair Waldorf Capelet!
Confession: I've never actually seen an episode of Gossip Girl. In fact, I didn't even know who Blair Waldorf was until someone mentioned her in a comment several posts ago. Well I Googled her, and the girl's got style! I was particularly inspired by this photo of her in the cutest capelet ever. Obviously, I had to make my own..... While this is not a no-sew project, like my last cape, it's almost as easy!
Sew the Eva Collar
New Green Mama: Anthro Inspired Scarf Tutorial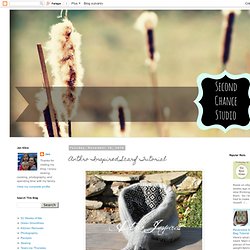 What you will need: sweater contrasting fabric sewing machine thread needle
Embroidery Designs at Urban Threads
T Shirt Bolero
Crewneck To Cardigan
Craft Projects | Cut Out
T Shirt Shrug | Version | Cut Out
Burtonesque Biker Jacket | Creation | Cut Out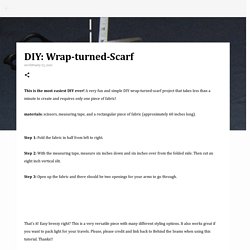 This is the most easiest DIY ever! A very fun and simple DIY wrap-turned-scarf project that takes less than a minute to create and requires only one piece of fabric! materials: scissors, measuring tape, and a rectangular piece of fabric (approximately 60 inches long). Step 1: Fold the fabric in half from left to right.
Easy Shrug
Easy Peasy This project is really easy to make. I had quite a hard time figuring out the pattern but once you'll get it, it's really easy. The fabric I used is a lace jersey, it's pretty stretchy which is perfect.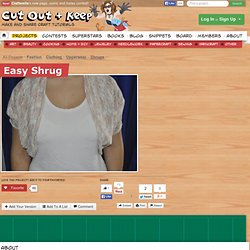 How romantic. My friend and I went to the arthall in Rotterdam and saw an exhibition called ICON DRESSED designed by Annette Meyer, each garment was made of paper and represented a decade of women clothing from the 1800's till now. I was amazed by a garment which looked exactly like the dress Keira Knightley wore in Pride & Prejudice, I went home got into a romantic state of mind, converted that into creativity and made this.