Mestre-cuca
Fashion and Food
Receitas
1. Misture 1/2 litro de água quase em ebulição c/ 3 colheres de sopa de capim cidreira (ou ½ colher de erva doce); 2. Abafe e deixe descansar por 5-10 min. 3. Descasque uma maçã pequena e bata o chá coado com a maçã no liquidificador. 4. Acrescente mel e limão a gosto. Yakisoba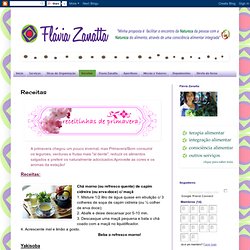 Funciona assim, o chef André Falcão chega na cozinha e há em cima da mesa uma caixa fechada com alguns ingredientes ainda desconhecidos. O chef abre a caixa, descobre seu conteúdo e rapidamente tem que apresentar um prato com os ingredientes encontrados. Toda vez que essas receitas aparecem entre os programas da Discovery h&h tento fazer o mesmo exercício que o chef.
Gastronomia Doméstica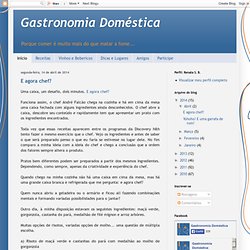 Culinária
In The Kitchen | the creative mama
I never thought I'd be one of those parents to cook something just because you know your kids will like it. I'm a firm believer in introducing kids to all foods and all tastes and strongly against cooking a separate meal for the kids. They can eat what we eat.
Meal Planning 101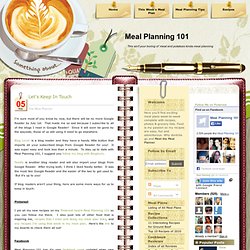 Receitas GNT - As receitas dos chefes do GNT e dos melhores restaurantes na web
Nigella
A Cozinha Caseira de Annabel
Save With Jamie Jamie's latest book, Save with Jamie, and tie in TV series, Jamie's Money Saving Meals, has seen Jamie take you through his favourite tips and tricks to help you "shop smart, cook clever and waste less." If you missed the series, don't panic, you can catch up on 4OD or head to our Save with Jamie hub for daily tips, inspiration from readers and some of our favourite recipes from the book. It's time to get Kitchen Smart! See more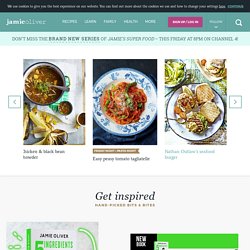 Panelinha
Pimenta no Reino | Comida honesta, casa cheirosa
Algumas vezes a gente vai pra cozinha sem saber ao certo o que vai cozinhar – o resultado vai depender daquela vasculhada básica na geladeira e na despensa, do humor, da disposição, do tamanho da fome… de modos que às vezes a gente pensa em uma coisa e acaba saindo outra completamente diferente. Eu tinha um restinho de carne seca desfiada e pretendia fazer um risoto. Só que o parmesão não existia e a manteiga era pouca. Uma batida de olho na fruteira e lá estavam umas batatas já quase ficando verdes me chamando, fazendo com que eu não conseguisse prestar atenção em mais nada (batatas podem ser bem impertinentes quando querem…rs) Ok, eu tinha batatas que precisavam de providência e carne seca. Dava pra sair um escondidinho, mas rolava também uma ligeira preguicinha (tem dias que amassar batata parece uma tarefa hercúlea, não tem?)