Book
Wikibooks. The big list of free Kindle tools. There are quite a few programs and web services that can be really useful to Kindle owners.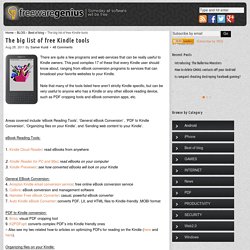 This post compiles 17 of these that every Kindle user should know about, ranging from eBook conversion programs to services that can broadcast your favorite websites to your Kindle. Note that many of the tools listed here aren't strictly Kindle specific, but can be very useful to anyone who has a Kindle or any other eBook reading device, such as PDF cropping tools and eBook conversion apps, etc. Areas covered include 'eBook Reading Tools', 'General eBook Conversion' , 'PDF to Kindle Conversion', 'Organizing files on your Kindle', and 'Sending web content to your Kindle'. Forums. HTML5. This specification defines the 5th major revision of the core language of the World Wide Web: the Hypertext Markup Language (HTML).
In this version, new features are introduced to help Web application authors, new elements are introduced based on research into prevailing authoring practices, and special attention has been given to defining clear conformance criteria for user agents in an effort to improve interoperability. This section describes the status of this document at the time of its publication. Ebookee: Free Download eBooks Search Engine!
HolyBooks.com – download free ebooks. Free Programing Ebooks Downloads.
---