EINES I RECURSSOS
Scratch | Proyecto | PEIXOS!
Mapa Cmaaptools GITC
Sites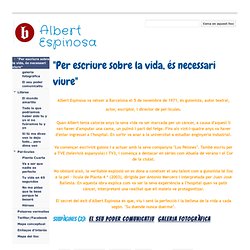 Albert Espinosa va néixer a Barcelona el 5 de novembre de 1971, és guionista, autor teatral, actor, escriptor, i director de pel·lícules. Quan Albert tenia catorze anys la seva vida va ser marcada per un càncer, a causa d'aquest li van haver d'amputar una cama, un pulmó i part del fetge. Fins als vint-i-quatre anys va haver d'estar ingressat a l'hospital. En sortir va anar a la universitat a estudiar enginyeria industrial. Va començar escrivint guions i a actuar amb la seva companyia "Los Pelones". També escriu per a TVE (televisió espanyola) i TV3, i comença a destacar en sèries com Abuela de verano i el Cor de la ciutat.
Albert Espinosa
Google Reader has been discontinued. We want to thank all our loyal fans. We understand you may not agree with this decision, but we hope you'll come to love these alternatives as much as you loved Reader. Sincerely, The Google Reader team Frequently-asked questions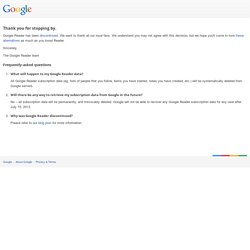 Docs
UNESCO ISTE
Pràctiques by Lídia Cortés on Prezi
lidiach24
Dossier d'aprenentatge
Aquest museu és un gran centre de recerca de documentació i té activitats per a atendre des dels més petits als més adults. Disposa d'activitats molt dinàmiques per a fer en família, de rutes per a turistes i també ofereix numeroses conferències sobre la ciència. Hem triat aquesta institució perquè té una oferta educativa molt àmplia. El mNACTEC té un servei d'atenció personalitzada a l'ensenyament, en el que s'ofereix informació i assessorament per a preparar les visites escolars.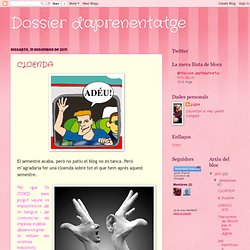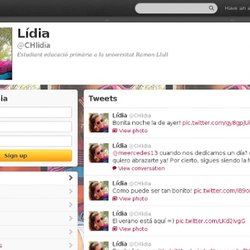 Have an account? Sign in New to Twitter? Join Today » Forgot password? Already using Twitter via text message? Language: English
Lídia Cortés Herrera (chlidia) en Twitter