Sécurité Informatique
Antivirus, spam, malware ...... Tout ce qui tourne autour de la sécurité informatique. Aug 12
Analyse gratuite de site internet - SEO - infositeweb.fr
Vous souhaitez des conseils en référencement ? Infositeweb vous aide a améliorer votre SEO Référencement
Currently, January 17, 2014 at 4:51pm PST, Your IP Address Is: NOTE: Your IP Address could be different tomorrow. It's not personal—It's just your connection Welcome to whatismyIPaddress.com. Your IP address is something you probably rarely think about, but it's vitally important to your online lifestyle.
关于VirSCAN VirSCAN.org 是一个非盈利性的免费为广大网友服务的网站,它通过多种不同厂家提供的最新版本的病毒检测引擎对您上传的可疑文件进行在线扫描,并可以立刻将检测结果显示出来,从而提供给您可疑程度的建议。 VirSCAN.org 不能替代安装在您个人电脑中的杀毒软件,我们并不能实时的保护您的系统安全。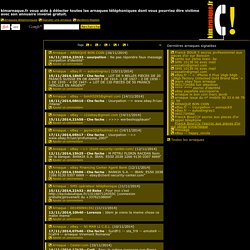 kimarnaque.fr vous aide à détecter toutes les arnaques téléphoniques dont vous pourriez victimeavec son annuaire inversé gratuit. soutenir kimarnaque.fr Page 1 2 3 4 5
SecuGate - « Malware Analysis & Diagnostic »
PestPatrol - Scan anti-spywares anti-trojans gratuit en ligne
Assiste.com vous offre, en partenariat avec Computer Associates CA eTrust PestPatrol, la possibilité d'analyser en ligne, très rapidement, les emplacements privilégiés de votre ordinateur. Le service, appelé PestScan, est gratuit (nécessite Internet Explorer avec ActiveX). Cliquez sur l'image ou le lien suivant et suivez les instructions.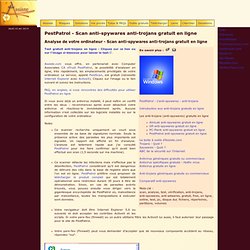 Fahad Hassen fahad@correctors.co.uk www.correctors.co.uk SCAM No. 114, Marikkar Street Kalutara Western 12000 Sri Lanka spammer Thomas Hopkins Tel. +1.2018548692 thomkins22@yahoo.com allwebflirt.com 95.211.109.103 Thomas Hopkins thomkins22@yahoo.com 5807 Hudson Ave West New York New Jersey,07093 US Tel. +1.2018548692 Name: allwebflirt.com IP: 95.211.109.103
Découvrez les bons plans du Web et les sites à éviter.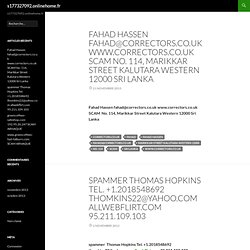 Digital and Antipiracy Solutions