Sécurité Informatique
Antivirus, spam, malware ...... Tout ce qui tourne autour de la sécurité informatique.
Analyse gratuite de site internet - SEO - infositeweb.fr. What Is My IP Address? Lookup IP, Hide IP, Change IP, Trace IP and more... URLespion. VirSCAN.org - Le programme d'analyse virale multi-moteur v1.02, Support de 36 moteurs antiVirus. Retrouvez l'ensemble des arnaques avec kimarnaque.fr. - Vérifier la réputation d'un site. McAfee SiteAdvisor : évaluation de la sécurité et Secure Search sur les sites web. Signal Spam. SecuGate - « Malware Analysis & Diagnostic » PestPatrol - Scan anti-spywares anti-trojans gratuit en ligne.
Assiste.com vous offre, en partenariat avec Computer Associates CA eTrust PestPatrol, la possibilité d'analyser en ligne, très rapidement, les emplacements privilégiés de votre ordinateur.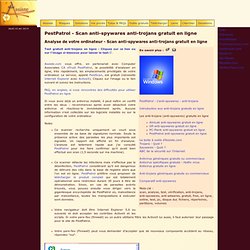 Le service, appelé PestScan, est gratuit (nécessite Internet Explorer avec ActiveX). Cliquez sur l'image ou le lien suivant et suivez les instructions. ANTIVIRUS GRATUIT en ligne: ActiveScan 2.0 - PANDA SECURITY. Découvrez les bons plans du Web et les sites à éviter. Securité.
Sécurité en ligne. Digital and Antipiracy Solutions.
---