TS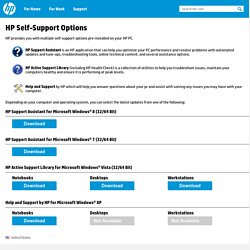 Support Assistant
HP Support Assistant is an HP application that can help you optimize your PC performance and resolve problems with automated updates and tune-ups, troubleshooting tools, online technical content, and several assistance options. Maintain : Automate PC maintenance tasks (HP software updates, PC Health Analysis, and PC tune-up), review suggested actions to take and tips to consider, and get a history of PC actions taken using HP Support Assistant. Troubleshoot : Get status on different aspects of your computer (storage, performance, etc.), and access diagnostic tools and information to solve problems on your own.
Doug's Windows 95/98/Me/XP/Vista Tweaks and Tips
Zen Virtual Apps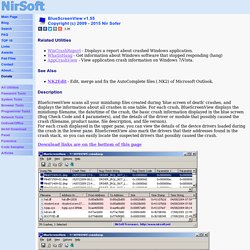 Related Utilities WinCrashReport - Displays a report about crashed Windows application. WhatIsHang - Get information about Windows software that stopped responding (hang) AppCrashView - View application crash information on Windows 7/Vista.
Answers-startpagina
FaultWire - Solutions to PC problems in one click!
Fix Internet Explorer add-on problems when IE hangs or freezes
Back Up and Restore Outlook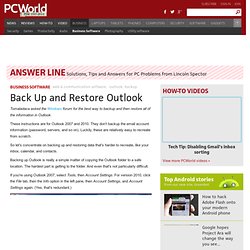 Tomaladaca asked the Windows forum for the best way to backup and then restore all of the information in Outlook. These instructions are for Outlook 2007 and 2010. They don't backup the email account information (password, servers, and so on).
restore accidentally deleted files and folders in windows 7 | Windows Reference
If you're new here, you may want to subscribe to Windows Reference RSS feed Thanks for visiting! If you delete your files or folders Accidentally in windows 7 use the following procedure In Windows 7 if you have restore points created, "Previous Versions" of files and folders might be available. All you need to do is right-click on the folder your data was located in (or the folder above) and choose Properties–if your music was located in the Music library, the path to the folder should be c:\users\username\My Music.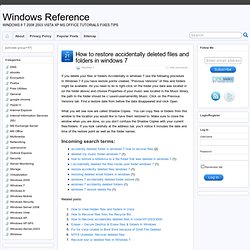 Vista Forums
How to Troubleshoot a Vista or Windows 7 Sleep Mode Problem Information Note When your computer is in hibernation , the only way to wake it is to tap the case power button. If this sleep mode problem just started recently, then you might consider doing a System Restore before or after trying the steps below if they do not help. Common Problems: Computer will wake up for no reason. Sleep mode does not work any more. Hibernate option is not available in Power Options, then you accidentally deleted the Hibernation file Cleaner in Disk Cleanup.
Power Options and Sleep Mode Problems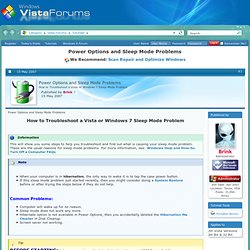 How to Fix the Error "The User Profile Service failed the logon. User profile cannot be loaded." Information Note CAUSE: The jury is still out on the exact cause, but so far : This issue may occur if the user profile was manually deleted by using the command prompt or Windows Explorer by a user or by some program.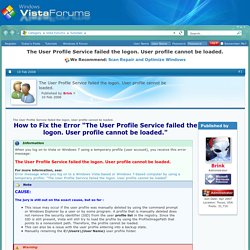 The User Profile Service failed the logon. User profile cannot be loaded.
Keyboard Layout - Change
Default File Type Associations - Restore