Bases de données documentaires (divers)
Welcome to ProQuest Dialog™ Specializing in professional content and workflow solutions for pharmaceutical, engineering, and patents research, ProQuest Dialog enables searchers of all types to discover new concepts and ideas while staying current on industry trends and competitors. Our unique approach to precision search makes it easy for users of all skill levels — from novice to expert — to search, refine and share results. Learn more... New white paper: From Information to Insight for Info Pros Today's information professionals must compete with the convenience, speed, and ubiquity of Google while trying to convince users of the value of accessing digital collections.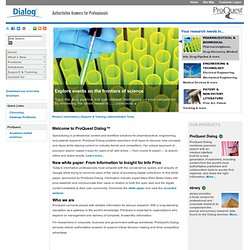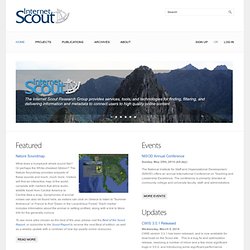 This page from the SAGE 2YC project provides a number of useful career profiles, which were produced from interviews conducted with geoscience professionals in a variety of workforce sectors. The profiles discuss what the individual does in their position and the educational path that led to their position. Some feature advice for others who would like to pursue a similar career path. Users may use the search feature or browse the categories of academic, industry, government or alternative.
Internet Scout Project
The Chemical Database
- Recherche Google
AGRICOLA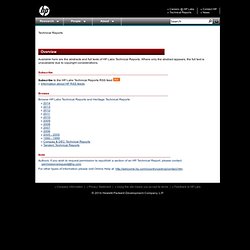 Labs : Technical Reports
Technical Reports Overview Available here are the abstracts and full texts of HP Labs Technical Reports. Where only the abstract appears, the full text is unavailable due to copyright considerations. Subscribe Subscribe to the HP Labs Technical Reports RSS feed
Access to OAIster A freely-accessible site for searching only OAIster records is available at http://oaister.worldcat.org/. Additionally, OAIster records are fully accessible through WorldCat.org, and will be included in WorldCat.org search results along with records from thousands of libraries worldwide. They will also continue to be available on the OCLC FirstSearch service to Base Package subscribers, providing another valuable access point for this rich database and a complement to other FirstSearch databases. Contributing to OAIster OAIster continues to grow and expand.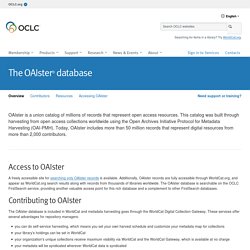 About the BNC The British National Corpus (BNC) is a 100 million word collection of samples of written and spoken language from a wide range of sources, designed to represent a wide cross-section of current British English, both spoken and written. [more] Simple Search from the British Library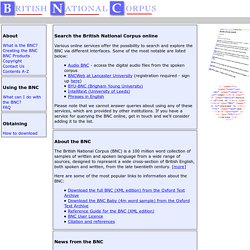 14 janvier 2014 - France : 66 millions d'habitants La France compte 66 millions d'habitants au 1er janvier 2014. Les régions de Paris, de l'ouest et du sud, avec les grandes métropoles Rennes, Nantes, Bordeaux, Toulouse et Montpellier, représentent la plus grosse part de la croissance démographique française. 13 janvier 2014 - Ethiopie : mise à jour Avec ses presque 90 millions d'habitants et son taux de croissance démographique dépassant les 3% par an, l'Ethiopie sera l'un des prochains grands d'Afrique.
World Gazetteer: World Gazetteer home
Graphics Interface is the Canadian annual conference devoted to computer graphics, interactive systems, and human-computer interaction. It is the oldest regularly-scheduled computer graphics and human-computer interaction conference; the first conference was held in 1969. GI 2014 information Alain Fournier Ph.D. Thesis Annual Award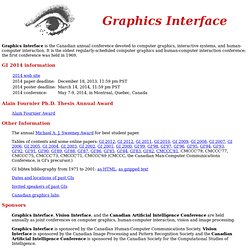 Graphics Interface home page
The Visual Computer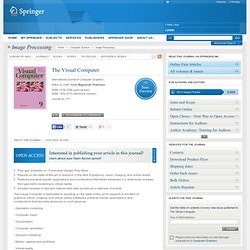 Copyright Information For Authors Submission of a manuscript implies: that the work described has not been published before (except in form of an abstract or as part of a published lecture, review or thesis); that it is not under consideration for publication elsewhere; that its publication has been approved by all co-authors, if any, as well as – tacitly or explicitly – by the responsible authorities at the institution where the work was carried out. Author warrants (i) that he/she is the sole owner or has been authorized by any additional copyright owner to assign the right, (ii) that the article does not infringe any third party rights and no license from or payments to a third party is required to publish the article and (iii) that the article has not been previously published or licensed. The author signs for and accepts responsibility for releasing this material on behalf of any and all co-authors.
Image hosting, free photo sharing & video sharing at Photobucket
Color LaserJet 1600 Printer -  HP LaserJet 1600 Printer - Clear
This section contains information about clearing jams. Figure 1: Paper path top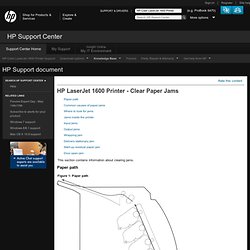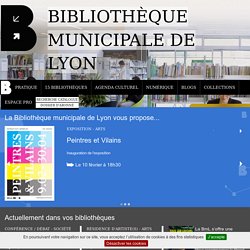 UNE FABRIQUE DE L'INNOVATION : Le « carré magique lyonnais » Table ronde avec Philippe Brossette, Gérard Chavancy, Bernard Mauchamp, Yves Moreau et Bernadette Angleraud. jeudi 16 janvier à 18h30 Bibliothèque de la Part-Dieu en savoir plus QUELLES ENERGIES POUR DEMAIN ET A QUEL PRIX ? Pétrole, gaz et charbon : que reste-t-il des hydrocarbures fossiles ?