Gestes tactiles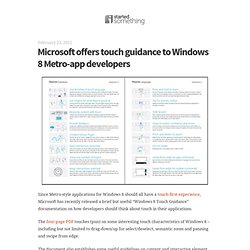 Microsoft offers touch guidance to Windows 8 Metro-app developers
Since Metro-style applications for Windows 8 should all have a touch-first experience, Microsoft has recently released a brief but useful "Windows 8 Touch Guidance" documentation on how developers should think about touch in their applications. The four-page PDF touches (pun) on some interesting touch characteristics of Windows 8 – including but not limited to drag-down/up for select/deselect, semantic zoom and panning and swipe from edge.
Dan Rodney's List of Mac OS X Multi-Touch Gestures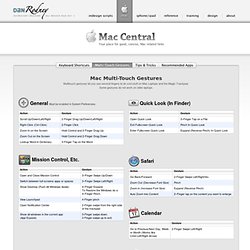 Multitouch gestures let you use several fingers to do cool stuff on Mac Laptops and the Magic Trackpad. Some gestures do not work on older laptops.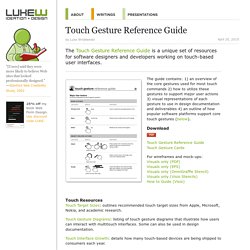 The Touch Gesture Reference Guide is a unique set of resources for software designers and developers working on touch-based user interfaces. The guide contains: 1) an overview of the core gestures used for most touch commands 2) how to utilize these gestures to support major user actions 3) visual representations of each gesture to use in design documentation and deliverables 4) an outline of how popular software platforms support core touch gestures (below). Download Touch Gesture Reference Guide Touch Gesture Cards For wireframes and mock-ups:Visuals only (PDF)Visuals only (EPS)Visuals only (OmniGraffle Stencil)Visuals only (Visio Stencils)How to Guide (Visio)
Je découvre avec plaisir le travail de Luke Wroblewski, spécialiste en ergonomie et design d'applications. Parmi ces différents travaux, Luke a consolidé de nombreuses recherches sur les interactions tactiles (Touch Gesture) qui gagnent peu à peu notre quotidien via les smartphones et autres tablettes. Il a ainsi rédigé un guide complet sur toutes les actions tactiles possibles en essayant de normaliser les noms donnés à ces gestes (en anglais) : Tap, Drag, Flip, Press and Tap, etc.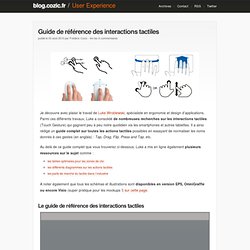 Guide de référence des interactions tactiles
Les éléments tactiles envahissent de notre vie quotidienne.
Une synthèse des gestuelles tactiles – Les Smartphones « Convergence Tactile
Comme vous le savez sûrement, les gestes que l'on utilise dans la vie courante sont dépendants de la culture dans laquelle on a grandi. Si vous n'en êtes pas encore convaincus, voici une liste, plutôt édifiante, de gestes et leurs significations dans différents pays :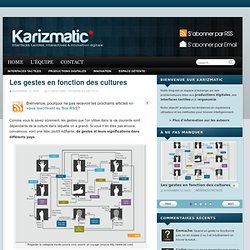 Les gestes en fonction des cultures | Karizmatic
Dans un article précédent nous avons étudié les secteurs d'activité où l'iPad s'est rapidement implanté et les usages qu'il permet. Allons un peu plus loin aujourd'hui.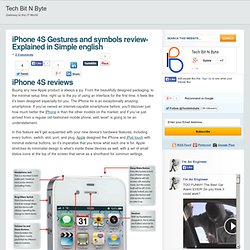 Buying any new Apple product is always a joy.
iPhone 4S Gestures and symbols review-Explained in Simple english - Tech Bit N Byte
The proliferation of rich interactive web applications across the cloud and mobile devices continues to create new opportunities for creative design and development.
UX guidelines for Metro style app development | BlendInsider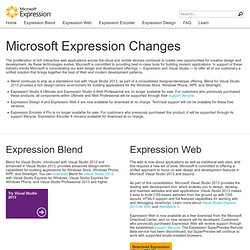 Common Windows 8 Touch Interactions and Features
As you might know the new Windows operating system, Windows 8 is a touch-centric and more mobile oriented than any earlier Windows versions. On touch-enabled PCs, Windows 8 touch interactions let you manipulate the things on your screen in a way that feels comfortable.