Gestes tactiles
Microsoft offers touch guidance to Windows 8 Metro-app developers. Since Metro-style applications for Windows 8 should all have a touch-first experience, Microsoft has recently released a brief but useful "Windows 8 Touch Guidance" documentation on how developers should think about touch in their applications.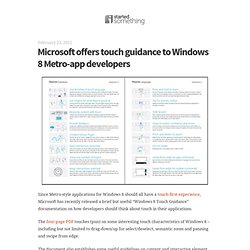 The four-page PDF touches (pun) on some interesting touch characteristics of Windows 8 – including but not limited to drag-down/up for select/deselect, semantic zoom and panning and swipe from edge. The document also establishes some useful guidelines on content and interactive element placements for different grip positions – landscape and portrait, and positions – one hand, two hand, rested on surface or on stand. Through user research, Microsoft has also found a 7x7mm touch target optimal for the average index finger width of 11mm.
If you're designing or developing a Metro-style app for Windows 8, make sure to add this document to your required reading list. Dan Rodney's List of Mac OS X Multi-Touch Gestures. Multitouch gestures let you use several fingers to do cool stuff on Mac Laptops and the Magic Trackpad.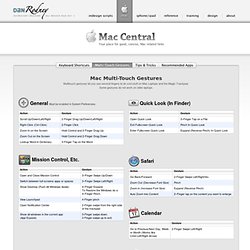 Some gestures do not work on older laptops. General Must be enabled in System Preferences. Quick Look (In Finder) Mission Control, Etc. Safari. Touch Gesture Reference Guide. The Touch Gesture Reference Guide is a unique set of resources for software designers and developers working on touch-based user interfaces.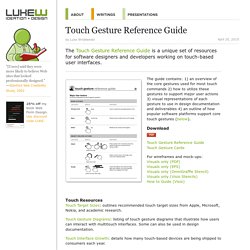 The guide contains: 1) an overview of the core gestures used for most touch commands 2) how to utilize these gestures to support major user actions 3) visual representations of each gesture to use in design documentation and deliverables 4) an outline of how popular software platforms support core touch gestures (below). Download Touch Gesture Reference GuideTouch Gesture Cards For wireframes and mock-ups:Visuals only (PDF)Visuals only (EPS)Visuals only (OmniGraffle Stencil)Visuals only (Visio Stencils)How to Guide (Visio) Touch Resources.
Guide de référence des interactions tactiles. Je découvre avec plaisir le travail de Luke Wroblewski, spécialiste en ergonomie et design d'applications.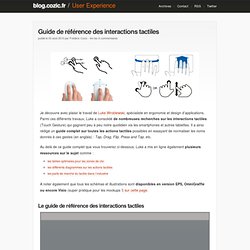 Parmi ces différents travaux, Luke a consolidé de nombreuses recherches sur les interactions tactiles (Touch Gesture) qui gagnent peu à peu notre quotidien via les smartphones et autres tablettes. Il a ainsi rédigé un guide complet sur toutes les actions tactiles possibles en essayant de normaliser les noms donnés à ces gestes (en anglais) : Tap, Drag, Flip, Press and Tap, etc. Une synthèse des gestuelles tactiles – Les Smartphones « Convergence Tactile. Les éléments tactiles envahissent de notre vie quotidienne.
Ce n'est pas une La Palissade que de dire cela. Le moindre lecteur de MP3, aussi petit soit-il se retrouve avec une surface tactile et même multitouch dans certains cas… Cette explosion des surfaces tactiles ne s'accompagne pas d'une réelle normalisation des gestuelles (gestures en anglais). Du moins, cette remarque n'est pas tout à fait juste. En effet, les gestes sont souvent les mêmes mais la traduction dans les environnements (OS) ne correspond pas toujours à la même chose. Les gestes en fonction des cultures | Karizmatic. Comme vous le savez sûrement, les gestes que l'on utilise dans la vie courante sont dépendants de la culture dans laquelle on a grandi.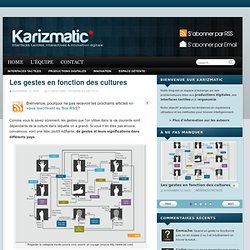 Si vous n'en êtes pas encore convaincus, voici une liste, plutôt édifiante, de gestes et leurs significations dans différents pays : Regarder la catégorie insulte pourra vous sauver un voyage (source Bonne nouvelle pour les designers Partant de ce constat, les chercheurs Syliva Le Hong et Jakob Biesterfeldt ont réalisé une étude intitulée : l'impact de la culture sur l'intuitivité des gestes multitouch. Pour cela, ils ont demandé à 340 participants issus de 9 pays de faire le geste qui leur parait le plus naturel pour déclencher certaines actions classiques (annuler, supprimer, ouvrir etc…). iPad : conception et ergonomie de l'interface. Dans un article précédent nous avons étudié les secteurs d'activité où l'iPad s'est rapidement implanté et les usages qu'il permet.
Allons un peu plus loin aujourd'hui. Pour replacer le contexte, une étude de comScore de juin 2011 montrait que l'iPad représentait 89% du trafic mondial de données sur tablette. L'iPad est donc actuellement hégémonique sur ce marché et c'est lui qui définit les conventions d'interactions sur tablettes. Plus globalement, l'usage du PC recule : les ventes ont chuté de 3,2% au premier trimestre 2011 (article de tablette-tactile.net). Celui des tablettes lui explose : 1,45 millions de tablettes vendu en France en 2011, soit plus que les PC de salon !
iPhone 4S Gestures and symbols review-Explained in Simple english - Tech Bit N Byte. Buying any new Apple product is always a joy.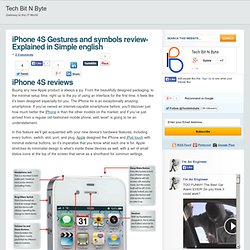 From the beautifully designed packaging, to the minimal setup time, right up to the joy of using an interface for the first time, it feels like it's been designed especially for you. The iPhone 4s is an exceptionally amazing smartphone. If you've owned an internet-capable smartphone before, you'll discover just how much better the iPhone is than the other models on the market; and if you've just arrived from a regular old-fashioned mobile phone, well,'wow!'
Is going to be an understatement. UX guidelines for Metro style app development | BlendInsider. The proliferation of rich interactive web applications across the cloud and mobile devices continues to create new opportunities for creative design and development.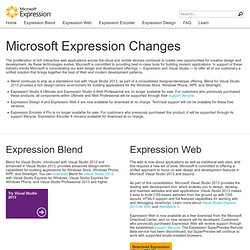 As these technologies evolve, Microsoft is committed to providing best-in-class tools for building modern applications. In support of these industry trends Microsoft is consolidating our lead design and development offerings — Expression and Visual Studio — to offer all of our customers a unified solution that brings together the best of Web and modern development patterns. Blend continues to ship as a standalone tool with Visual Studio 2013, as part of a consolidated designer/developer offering. Common Windows 8 Touch Interactions and Features. As you might know the new Windows operating system, Windows 8 is a touch-centric and more mobile oriented than any earlier Windows versions.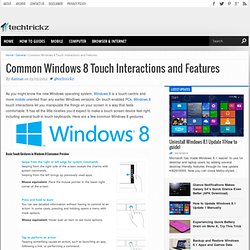 On touch-enabled PCs, Windows 8 touch interactions let you manipulate the things on your screen in a way that feels comfortable. It has all the little niceties you'd expect to make a touch screen device feel right, including several built-in touch keyboards. Here are a few common Windows 8 gestures. Basic Touch Gestures in Windows 8 Consumer Preview Comparing to Windows7, Windows 8 has following features.
---