On va marcher sur Mars
En image : le parachute de Curiosity photographié par l'orbiteur MRO. Spectaculaire photographie faite par l'orbiter MRO montrant la descente de Curiosity sous son parachute.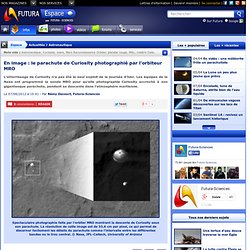 La résolution de cette image est de 33,6 cm par pixel, ce qui permet de discerner facilement les détails du parachute comme l'intervalle entre les différentes bandes ou le trou central. © Nasa, JPL-Caltech, University of Arizona En image : le parachute de Curiosity photographié par l'orbiteur MRO - 3 Photos Hier, juste avant le remarquable atterrissage à seulement 250 m du point prévu, un autre exploit a été réalisé quand la sonde Mars Reconnaissance Orbiter (MRO) est parvenue à photographier Curiosity pendant sa descente, freiné par son parachute de 20 m de diamètre (16 m pour la section efficace une fois déployé) et long de 50, le plus grand jamais réalisé pour un vol extraterrestre.
Mars Science Laboratory. Scène d'un atterrissage martien. Scene of a Martian Landing The four main pieces of hardware that arrived on Mars with NASA's Curiosity rover were spotted by NASA's Mars Reconnaissance Orbiter (MRO).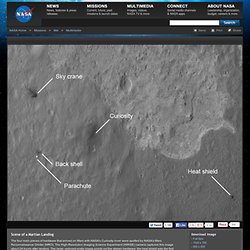 The High-Resolution Imaging Science Experiment (HiRISE) camera captured this image about 24 hours after landing. The large, reduced-scale image points out the strewn hardware: the heat shield was the first piece to hit the ground, followed by the back shell attached to the parachute, then the rover itself touched down, and finally, after cables were cut, the sky crane flew away to the northwest and crashed. Relatively dark areas in all four spots are from disturbances of the bright dust on Mars, revealing the darker material below the surface dust.
---