Misc Interesting Stuff
The Quack Doctor
Happy Christmas! ADvent Calendar Day 24 I hope you've enjoyed the daily posts during December – I've had fun compiling them! I leave you with a festive late-19th century trade card for Burdock Blood Bitters or 'B.B.B.' This famous tonic, which was around 20% alcohol, was advertised as the solution to numerous conditions including indigestion, flatulence and hysteria.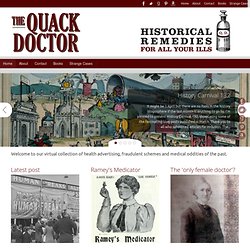 Art and Picture Collections
[Woman Looking In An Artist's Studio.], Digital ID 834230, New York Public LibraryMid-Manhattan Library, 3rd floor455 Fifth Avenue at 40th StreetNew York, NY 10016212.340.0871(Art) | 212.340.0878 (Pictures) | mmart@nypl.org | mmpic@nypl.org Hours: Monday - Thursday 8 a.m. to 9 p.m.Friday 8 a.m. to 8 p.m.Saturday 10 a.m. to 6 p.m.Closed Sunday The Circulating Art Collection contains books, magazines, and online databases covering all aspects of the visual arts, including fine and decorative arts, crafts, design, architecture, photography, fashion and biography.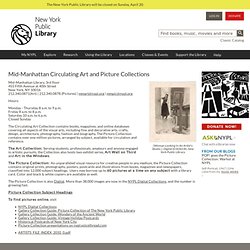 Share Book Recommendations With Your Friends, Join Book Clubs, Answer Trivia
Cracked.com - America's Only Humor & Video Site Since 1958
Welcome to the Archive's library of Open Educational Resources and university lectures. This library contains hundreds of free courses, video lectures, and supplemental materials from universities in the United States and China. Many of these lectures are available for download. Browse Open Educational Resources hide item descriptions A single course, a series of lectures, or a conference may be included in this collection of university level materials.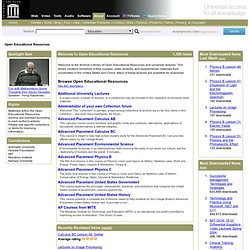 Download & Streaming : Open Educational Resources : Internet Archive
post written by: Marc Chernoff Email All education is self-education.
12 Dozen Places To Educate Yourself Online For Free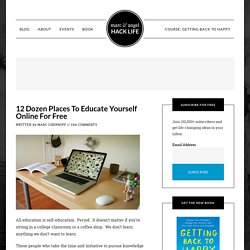 On average, it will cost $55,600 to attend Princeton, Penn, Michigan or Stanford next year. But now you can enroll in online courses at all four universities online for free. The universities won't just be posting lectures online like MIT's OpenCourseWare project, Yale's Open Yale Courses and the University of California at Berkeley's Webcast. Rather, courses will require deadlines, evaluations, discussions and, in some cases, a statement of achievement.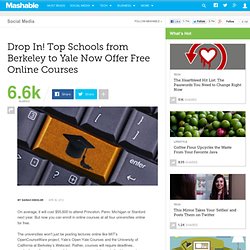 Top Schools from Berkeley to Yale Now Offer Free Online Courses
Technophilia: Get a free college education online
Science Fiction/San Francisco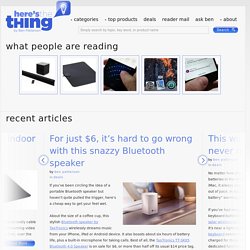 So, you know all the pictures and video clips sitting in the various text-message threads on your iPhone and/or iPad? Well, for one thing, they're probably (and quietly) gobbling up a lot of precious storage space. Read More One my of favorite new features in iOS 7 is the ability to automatically silence iPhone or iPad alerts during the wee hours—and now, thanks to Apple's recent "Mavericks" update, you can set your Mac to muzzle notifications on a daily (or nightly) basis, too.
here's the thing | making sense of gadgets and technology
Charles A. Whitaker Auction Company :: Home
Charles A. Whitaker Auction Company :: Past Sale Highlights
Ray Caesar - Home Page
The treasure trove of Victorian items included a 19th-century cook bookAlso found were pastry cutters and antique fire extinguishers By Jaya Narain Updated: 20:23 GMT, 15 September 2011 Shrouded in a thick layer of dust and hidden under piles of junk, a complete Victorian kitchen lay forgotten for more than a generation. Archie Graham-Palmer and his wife Philippa discovered the incredible time capsule when they began rummaging in the basement of the family home. They found an entire kitchen kitted out as if the cook had just stepped out for a breath of air.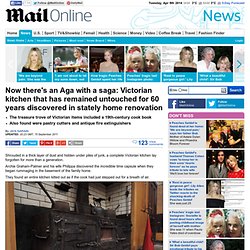 Victorian kitchen that has remained untouched for 60 years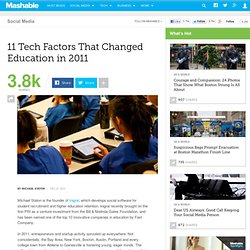 Michael Staton is the founder of Inigral, which develops social software for student recruitment and higher education retention. Inigral recently brought on the first PRI as a venture investment from the Bill & Melinda Gates Foundation, and has been named one of the top 10 innovative companies in education by Fast Company. In 2011, entrepreneurs and startup activity sprouted up everywhere. Not coincidentally, the Bay Area, New York, Boston, Austin, Portland and every college town from Abilene to Gainesville is fostering young, eager minds.
11 Tech Factors That Changed Education in 2011
4 Tools for Finding the Perfect Job
When you're on the job hunt, it's easy to take an "anything will work" approach to the scope of your search. Everyone remembers the grade-school saying "beggars can't be choosers," but it's not enjoyable to be saddled with a job that's not a good fit. Here's some good news: There are simple tools that will not only ensure the jobs you're applying to are great fits for your personality but also customize your current job portfolio to give you an edge. There are so many ways to find out whether the job you're applying for suits your skills and work style, and plenty that require no cost to use.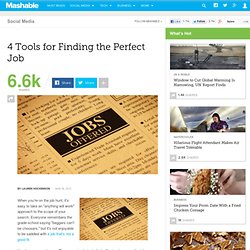 Dear Young Me, I still don't know what the hell to tell you. -Older Me. I miss you.. -sincerely, me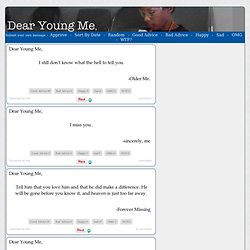 Dear Young Me, - StumbleUpon
Post written by Leo Babauta. So you've followed the Short But Powerful Guide to Finding Your Passion, and have chosen something you're passionate about. Now you need to make it a career — but are perhaps a bit lost. I have to admit I was there, only a few years ago, and three years later I've successfully done it, even if I'm a bit battered from the attempt.
The Simple, Ridiculously Useful Guide to Earning a Living from Your Passion... - StumbleUpon
Curtis Botanical
No Fear Shakespeare puts Shakespeare's language side-by-side with a facing-page translation into modern English—the kind of English people actually speak today. Table of Contents Characters Prologue Prologue Act 1
Romeo & Juliet
Russia in color, a century ago
The iPad. Touchy, tappy, swipey tablet of wonder. But this groundbreaking gadget's touchscreen can do more than just follow your finger. Did you know, for instance, that it can track and digitally reproduce the touch of a paintbrush? Not any paintbrush, mind, but with the right equipment (and some clever apps) you can actually paint with your iPad.
Nomad Brush