British
Directory of Royal Genealogical Data. At this site I have a database containing the genealogy of the British Royal family and those linked to it via blood or marriage relationships.
It contains, in fact, the genealogy of almost every ruling house in the western world because of the intermarriage that took place between them at some time or another. There are in excess of 30,000 individuals from the earliest times to the present in the database. The date spread of the records is available for those interested, as well as statistics on the ten most popular monarchs , and the most prolific readers top 10. Rulers. History ::Home - TimeSearch. Search the Web through Timelines(and surprise yourself with what you find) Icons on the left link to Google or HistoryWorld (H) Yellow icons on the right link to related images in GoogleMove your pointer over an icon to see the search terms To start at Big Bang just click Go (above)To go to a specific period enter a year (above)For a more focused timeline use the Areas and Themes menus (top left) Or you may prefer Single-subject Timelines.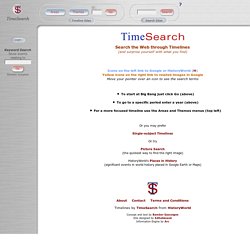 British History Online. A Vision of Britain through Time | Your national on-line library for local history | Maps, Statistics, Travel Writing and more. Uk Genealogy-links. Free Genealogy Resources - Home. How to find family records using the best free Internet resources Bookmark This Site (Ctrl+D) There are literally millions of web pages on genealogy and it is easy to get lost so that you can't see the forest for the trees.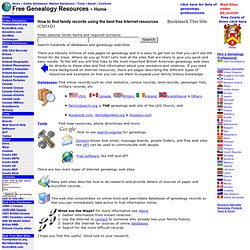 Where do you go first? Let's look at the sites that are likely to give you quick and easy results. UK & Ireland Genealogy. England. Many sets of records were kept for England and Wales together, so that the problems of locating them and using them are very similar in the two countries.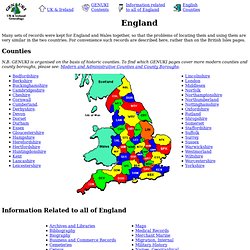 For convenience such records are described here, rather than on the British Isles pages. Counties. British-Genealogy.com is dedicated to British family history research. UK Online Parish Clerks.
---