British
Directory of Royal Genealogical Data
At this site I have a database containing the genealogy of the British Royal family and those linked to it via blood or marriage relationships. It contains, in fact, the genealogy of almost every ruling house in the western world because of the intermarriage that took place between them at some time or another. There are in excess of 30,000 individuals from the earliest times to the present in the database. The date spread of the records is available for those interested, as well as statistics on the ten most popular monarchs , and the most prolific readers top 10.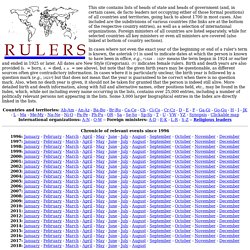 This site contains lists of heads of state and heads of government (and, in certain cases, de facto leaders not occupying either of those formal positions) of all countries and territories, going back to about 1700 in most cases. Also included are the subdivisions of various countries (the links are at the bottom of the respective country entries), as well as a selection of international organizations. Recent foreign ministers of all countries are listed separately. In cases where not even the exact year of the beginning or end of a ruler's term is known, the asterisk (*) is used to indicate dates at which the person is known to have been in office, e.g., *1924 - 1925* means the term began in 1924 or earlier and ended in 1925 or later. All dates are New Style (Gregorian).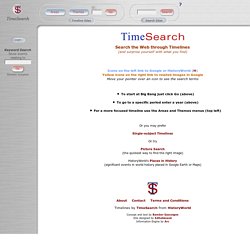 Search the Web through Timelines(and surprise yourself with what you find) Icons on the left link to Google or HistoryWorld (H) Yellow icons on the right link to related images in GoogleMove your pointer over an icon to see the search terms To start at Big Bang just click Go (above)To go to a specific period enter a year (above)For a more focused timeline use the Areas and Themes menus (top left) Or you may prefer Single-subject Timelines
Primary sources: the texts of original documents, such as the Journals of the Houses of Commons and Lords, Acts and Ordinances of the Interregnum, and the Statutes of the Realm. Secondary texts: works by modern historians, such as the Victoria County History of the Counties of England, Fasti Ecclesiae Anglicanae, English Heritage's Survey of London, and Office Holders in Modern Britain. Guides and calendars: summaries of primary sources, prepared by modern editors, such as multiple series of the Calendars of State Papers, the Catalogue of Ancient Deeds, and the Letters and Papers of Henry VIII.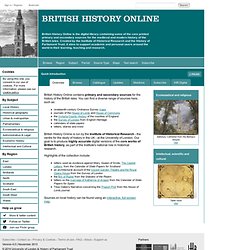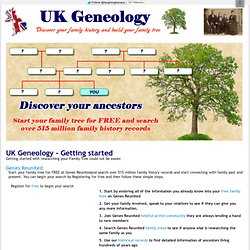 Getting started with researching your Family Tree could not be easier. Genes Reunited Start your family tree for FREE at Genes Reunitedand search over 515 million family history records and start connecting with family past and present. You can begin your search by Registering for free and then follow these simple steps. Register for free to begin your search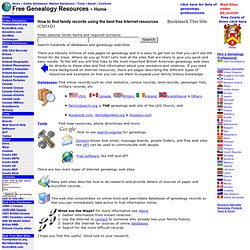 How to find family records using the best free Internet resources Bookmark This Site (Ctrl+D) There are literally millions of web pages on genealogy and it is easy to get lost so that you can't see the forest for the trees. Where do you go first? Let's look at the sites that are likely to give you quick and easy results.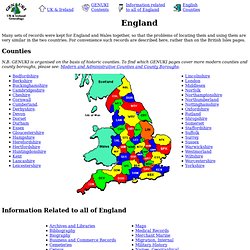 Many sets of records were kept for England and Wales together, so that the problems of locating them and using them are very similar in the two countries. For convenience such records are described here, rather than on the British Isles pages. Counties
Everything here is FREE! If you are truly a family history researcher, it is not enough just to collect names to build a family tree. It is important to find out everything possible about your ancestors and put meat on the bones with information about where they lived, how they lived their lives, information about their occupations and what influenced their thinking and decision making.