Writing
Lace Under the Stars. It was another Twitter poetry party, and the poetic lines just glistened.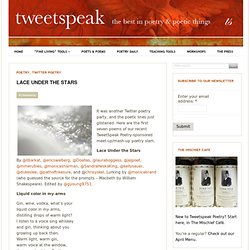 Here are the first seven poems of our recent TweetSpeak Poetry-sponsored meet-up/mash-up poetry slam. Lace Under the Stars. I Don't Remember... by Ash L Bennett. I don't remember, any more, The exact shape of your handsAs I held them in mine, Caressed them, Memorized the length of your fingers, The depth of your calluses.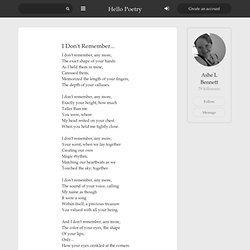 I don't remember, any more,Exactly your height, how muchTaller than meYou were, whereMy head rested on your chestWhen you held me tightly close. I don't remember, any more, Your scent, when we lay togetherCreating our ownMagic rhythm, Matching our heartbeats as weTouched the sky, together. I don't remember, any more, The sound of your voice, calling My name as thoughIt were a song Within itself, a precious treasure You valued with all your being. And I don't remember, any more, The color of your eyes, the shapeOf your lips, Only...How your eyes crinkled at the cornersAnd your laugh, as you told me,
10 Tips on Writing from David Ogilvy. By Maria Popova "Never write more than two pages on any subject."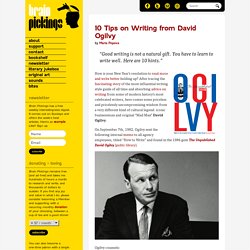 The better you write, the higher you go in Ogilvy & Mather. People who think well, write well.Woolly minded people write woolly memos, woolly letters and woolly speeches.Good writing is not a natural gift. You have to learn to write well. Here are 10 hints:Read the Roman-Raphaelson book on writing. Homework Center: Writing Skills - FactMonster. 55 Interesting Ways to Support Writing in the Classroom. Writing Task Resource List. Summary: This resource will help you find OWL material for the many different kinds of writing tasks you may face in school and in the workplace.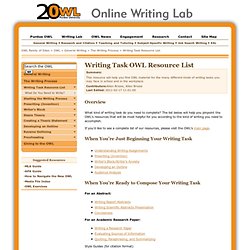 Contributors:Allen Brizee, Allen BrizeeLast Edited: 2011-02-17 11:01:05 Overview What kind of writing task do you need to complete? The list below will help you pinpoint the OWL's resources that will be most helpful for you according to the kind of writing you need to accomplish. Descriptive Writing Techniques. Creative Writing Prompts. [description]Get daily creative writing prompts for your short story, fiction or nonfiction novel, essay and more at WritersDigest.com.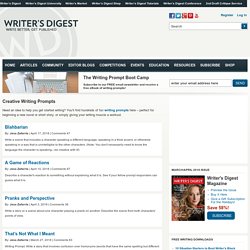 [/description] [keywords]writing prompts, creative writing prompts, expository writing prompts, writing prompt[/keywords] Need an idea to help you get started writing? You'll find hundreds of fun writing prompts here – perfect for beginning a new novel or short story, or simply giving your writing muscle a workout.
---