Aging
In just four generations, we've massively slashed human mortality
You know what? Old age is not all it's cracked up to be. I'm only 56, but that's just 14 years away from how old my hero Dennis Ritchie was when he died. I'm thinking about buying a new car. Before the decision wasn't so serious, because I knew it was unlikely to be the last car I ever owned. But since my current car is 14 years old, it's entirely possible that my next purchase will in fact be my last.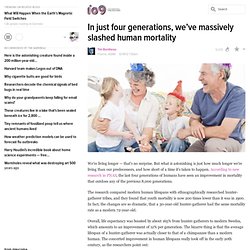 Fitness trends come and go, but weight training in particular never seems to come into style. Part of the problem is that most people associate it with bodybuilding culture, and women in particular are reluctant to join the guys at the back of the gym. But as the latest studies show, strength is a key factor in longevity and an extended healthy life.
Why getting physically stronger will help you live longer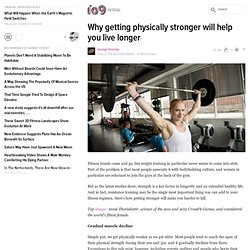 Neurons of the retina Ray Kurzweil and other so-called transhumanists have promised that in coming decades we will be able to transfer a digital copy of the trillions of connections among nerve cells in our brains into a computer. We would essentially reincarnate ourselves as non-biological beings that persist for eternity inside a laptop, on the endless links of the Internet or as avatars inside a television set.
Will You Live Forever—or until Your Next Software Release—by Uploading Your Brain into a Computer?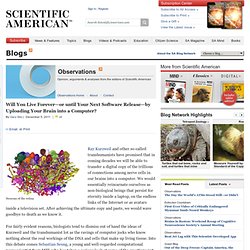 Biomaterials - The prolongation of the lifespan of rats by repeated oral administration of [60]fullerene
a UMR CNRS 8612, Faculté de Pharmacie, Université Paris Sud XI, Rue J-B Clément-F92296, Châtenay-Malabry, Franceb Unité Elements Trace et Antioxydants, Laboratoire de Biophysique and Service d'anatomie et de Cytologie Pathologiques, CHU de Médecine de Monastir, 5000, Tunisiec Barrières Physiologiques et Réponses Thérapeutiques (EA 4123), Faculté de Pharmacie, Université Paris Sud XI, Rue J-B Clément-F92296, Châtenay-Malabry, Franced Laboratoire d'Etude des Techniques et Instruments d'Analyse Moléculaire, GCAPS, EA 4041, IUT d'Orsay, Université Paris Sud XI, Plateau de Moulon, 91400 Orsay, Francee Unité de Physico-Chimie Moléculaire, Ipest, Université de Carthage, 2070 Carthage, Tunisie Received 10 January 2012 Accepted 10 March 2012 Available online 10 April 2012