Aging
In just four generations, we've massively slashed human mortality. You know what?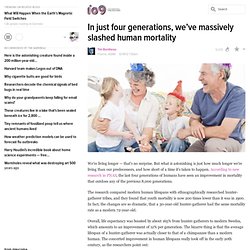 Old age is not all it's cracked up to be. I'm only 56, but that's just 14 years away from how old my hero Dennis Ritchie was when he died. I'm thinking about buying a new car. Before the decision wasn't so serious, because I knew it was unlikely to be the last car I ever owned. But since my current car is 14 years old, it's entirely possible that my next purchase will in fact be my last.
Why getting physically stronger will help you live longer. Will You Live Forever—or until Your Next Software Release—by Uploading Your Brain into a Computer? Neurons of the retina Ray Kurzweil and other so-called transhumanists have promised that in coming decades we will be able to transfer a digital copy of the trillions of connections among nerve cells in our brains into a computer.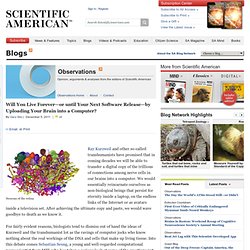 We would essentially reincarnate ourselves as non-biological beings that persist for eternity inside a laptop, on the endless links of the Internet or as avatars inside a television set. Biomaterials - The prolongation of the lifespan of rats by repeated oral administration of [60]fullerene. Abstract Countless studies showed that [60]fullerene (C60) and derivatives could have many potential biomedical applications.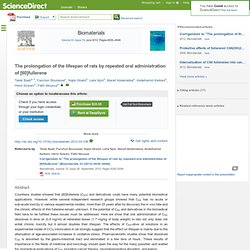 However, while several independent research groups showed that C60 has no acute or sub-acute toxicity in various experimental models, more than 25 years after its discovery the in vivo fate and the chronic effects of this fullerene remain unknown. If the potential of C60 and derivatives in the biomedical field have to be fulfilled these issues must be addressed. Aubrey de Grey: A roadmap to end aging.
SENS Foundation | Advancing Rejuvenation Biotechnologies.
---